Editor's Note: An informal Memorial Service celebrating Graham Raynold's life and memory will be held on Saturday, June 18, at 11 a.m. at one of his favorite spots: the picnic area on the bank of the Connecticut River just north of the Hadlyme Ferry landing.  All are welcome, please bring a folding chair if you need one.
IN MEMORIAM – Graham Nelson Raynolds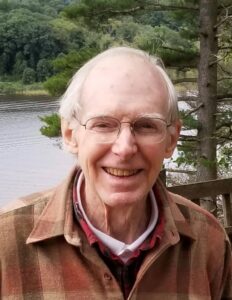 HADLYME/LYME — Graham Nelson Raynolds was born Feb. 15th, 1931, in the depths of the Great Depression and nearly eleven years before Pearl Harbor pulled the United States into World War II. He died on New Year's Day, 2022.
His father Randolph Raynolds had served as a medic in Europe during World War I, and while those historic times along with his father's resulting PTSD and alcoholism (unrecognized and hidden, of course) profoundly shaped Graham and his brother Randy's young lives and character, Graham was known by all who encountered him in his 90 years as friendly, engaging, thoughtful, intelligent and good-humored.
In 1936 the family bought one of the houses built by Samuel Brooks circa 1799 at the Hadlyme Ferry, adjacent to the 122 acre property then owned by William Gillette (now Gillette Castle State Park). Along with his older brother, Graham attended a series of boarding schools in Connecticut including the Avon School and Choate Rosemary Hall, from which he graduated in 1949.
He attended Brown University for two years from 1949 to 1951, and then enlisted in the U.S. Air Force during the Korean War, serving a four-year stateside enlistment during which he received training in electronics, and receiving an Honorable Discharge in March of 1955.  His eyesight had surely disqualified him from receiving pilot training from the Air Force, but having been introduced to flying by his Choate classmate and lifelong friend Henry Blodgett, Graham earned his private pilot license during the later 1950s, while returning to Brown from 1958 to 1960 and earning a degree in Geology.
Graham eventually learned to fly both fixed and rotary-wing aircraft and during the '60s and '70s made his living that way, living and working for various lengths of time along the U.S. Gulf Coast flying helicopters to offshore oil rigs, in the Middle East for Saudi Arabian Helicopters, and in Alaska flying seaplanes as a bush pilot.  It was here that had his most colorful adventure, surviving for nearly a week while wearing only street clothes, after having to crash land the plane on a glacier due to low visibility, thanks to a down sleeping bag loaned to him minutes before takeoff by a concerned airport attendant and a fortuitously discovered hunting cabin stocked with a few long-expired canned goods.
His return to Hadlyme as a more-or-less permanent resident from the '70s on to live with his aging mother unfortunately caused him to become one of the original sufferers of Lyme Disease, which of course was not recognized and so named until fellow resident Polly Murray, whose husband and sons had become afflicted with the now-widely recognized symptoms, brought their plight (along with that of dozens of other locals) to the attention of the Connecticut Board of Health.
The slow recognition and development of effective treatment for Lyme disease by the "medical establishment" made Graham a "healthy skeptic" of conventional doctors and hospitals for the rest of his life. Anyone who knew him from the mid-90s on, however, could not escape hearing of his admiration for Dr. Linus Pauling and his enthusiasm for Pauling's doctrine of the wide-ranging disease-fending and life-extending benefits of daily mega-dosing Vitamin C.
Although he eschewed most aspects of organized religion as an adult, Graham loved baroque music and choral singing whenever and wherever he could find it, which was ironically often in church – but even if it was just in a holiday sing-along at the family home in Hadlyme with the score of 'The Messiah' on his lap.  In what proved to be one of the highlights of his later life, Graham joined The Chorus of Westerly (Rhode Island) in 1994 and remained an active participant for the next 19 years, gladly traveling 45 minutes each way weekly or more often to practice the craft along with so many other dedicated and welcoming singers.
He participated in many, many performances with the Chorus over the years including the annual Twelfth Night, Summer Pops, and performances of many classic works of Brahms, Handel, Mozart, and many more. He loved to accompany the group on its summer excursions to singing camp, attending numerous annual sessions at Camp Ogontz in Lyman, New Hampshire, where he thrilled to learn from the legendary British choral conductor, organist, composer and music administrator Sir David Willcocks.
He also enjoyed traveling, participating in the Westerly Chorus' 1995 trip to England, where the group sang all services at Westminster Abbey on Aug. 5 and 6th and their concert at St. Alban's Cathedral was recorded live by Classic FM of Britain and later broadcast nationwide with introductory comments by John Julius Norwich. Graham had other brushes with fame (or at least famous people), working for years on website design and management and assorted odd jobs for the local renowned (and later infamous) antique firearms expert, dealer and author Larry Wilson.
Always fascinated by advances in technology, Graham was always among the first to own a new gadget, and anything he considered especially well-engineered – whether that was one of the first Texas Instruments red LED calculators, an audiophile-quality "boom box" by JVC, a Sony Trinitron color TV, or one of the original Apple Macintosh computers (and every edition of the "Mac" after that!). 
Putting this interest in technology and electronics into practice, he started a business in the '80s with a local friend called "Prime Time Satellite TV" installing large satellite dishes in backyards around Lyme, East Haddam and environs for a decade or so, until cable TV overtook them. In the realm of well-engineered gadgets, Graham owned a red 1969 VW Camper bus and did some solo traveling and hiking, sometimes accompanied his brother's family on camping trips to New Hampshire's White Mountains. 
In the 70s he bought a small open-topped motorboat with a 50 HP Mercury outboard and enjoyed taking his nephews and niece boating and waterskiing out on the Connecticut River and in Selden Creek.
Throughout his life he was a lover of the outdoors, enjoying hiking and camping and even writing membership checks to the Appalachian Mountain Club. Right up until the end, he loved to walk the trails of the Gillette Castle grounds and he became something of an expert on the life and estate of the eccentric Gillette. 
During his long adult life in Hadlyme, Graham served on the Board of the Hadlyme Ferry Association and was an early member of the volunteer Lyme Ambulance Corps.
He was predeceased by his mother, Ellen (Nelson) Raynolds, his father Randolph Raynolds and his brother Randolph Raynolds Jr.  He is survived by his niece Alex Raynolds Skinner of Littleton, MA and his nephew Ned Raynolds of Portsmouth NH.