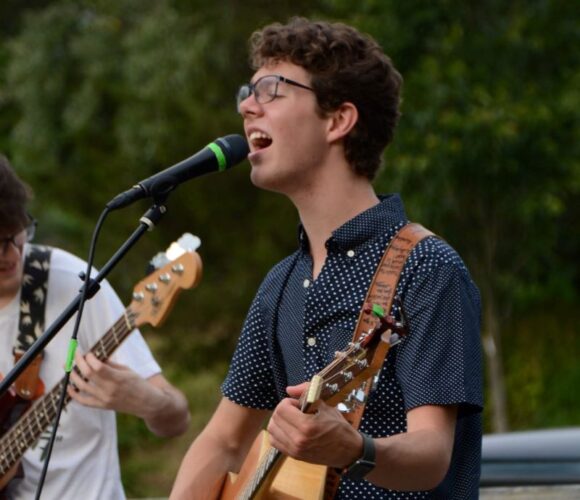 OLD LYME – A popular live music stroll along Lyme Street, Make Music Old Lyme, returns Tuesday, June 21, 2022 from 5 to 7 p.m. An international celebration of free music for all, the Old Lyme Arts District is producing the town's event in conjunction with the Southeastern Connecticut Cultural Coalition and the MusicNow Foundation.
As in previous years, the Make Music Old Lyme celebration takes place on Lyme Street, spanning from the First Congregational Church of Old Lyme where Steve Dedman will play, to the Lyme Academy of Fine Arts where Braiden Sunshine will entertain on the front lawn.
On the Center School front lawn, the Old Lyme Town Band will entertain from 5:30 to 7 p.m.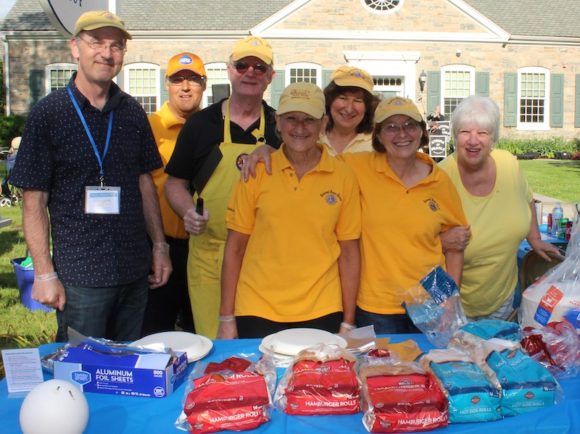 The Lyme-Old Lyme Lions Club will also be in front of Center School with grill items including hamburgers and hot dogs for sale from 5 to 7 p.m.
A dozen or so musicians will play in front of businesses and public buildings along the three-quarter-mile length of Lyme Street south of Halls Road. Genres include bluegrass, folk, indie-rock, and pop.
In addition to Braiden Sunshine, Steve Dedman, and the Old Lyme Town Band, musicians also on the Music Stroll include Midnight Anthem, Moving Target Band, John Brown & Friends, Steve Patarini, Lucas Neil, Colin Hallahan, Hot Strings Café, Five Bean Row, Ned Ruete, Sue Way, Jordan Cavalier, and Paul Loether.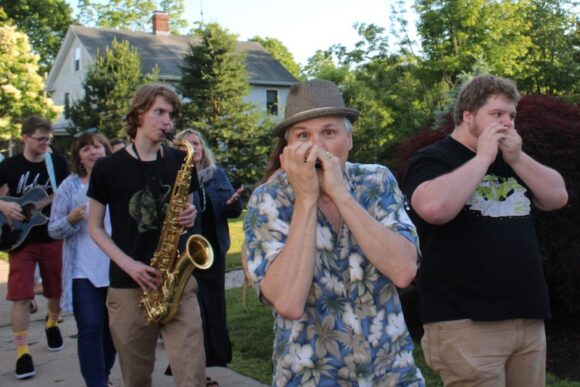 To  summarize who will be playing where (with thanks to LYSB for creating the list!), the Lyme Street music line-up is as follows:
Colin Hallahan & Friends @ LYSB
Hot Strings Café @ Pat Spratt for the Home
Nightingale's Showcase@ Nightingales
Five Bean Row @ 71 Lyme Street
Braiden Sunshine @ Lyme Academy of Fine Arts
Old Lyme Town Band @ Center School
Midnight Anthem @ OL Town Hall
Steve Patarini/Not My Friend @ OLPGN Library
Lucas Neil @ Old Lyme Ice Cream Shoppe
John Brown & Friends @ Cooley Gallery
Moving Target Band @ Village Shoppes
Steve Dedman @ First Congregational Church of Old Lyme
Other activities/food offerings during the Stroll are as follows:
Children's crafts @ Old Lyme Historical Society
Lions Club Grill @ Center School
Del's Lemonade @ LYSB
Sunny Train to Perform at LYSB From 4 to 5pm
Returning this year an hour before the stroll, Sunny Train, pictured above, will perform a children's concert with lots of audience participation at LYSB from 4 to 5 p.m.
A children's craft will be available in front of the Old Lyme Historical Society from 5 to 7 p.m. during the Stroll. 
Some businesses on Lyme Street will be open during the Stroll including The Cooley Gallery, The Chocolate Shell, Old Lyme Ice Cream Shoppe, and Carla's at the Nightingale Cafe.
Lawn chairs or blankets are encouraged for the Braiden Sunshine concert at Lyme Academy, the Old Lyme Town Band at Center School, and Steve Dedman at the First Congregational Church.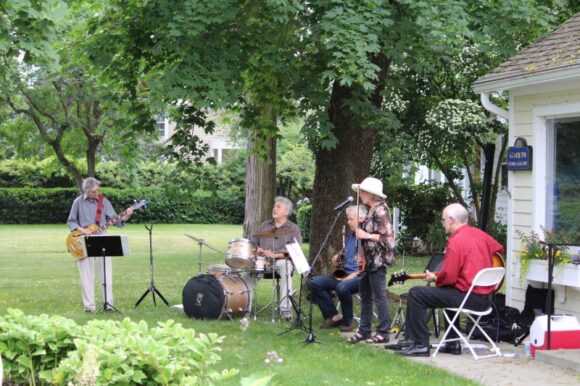 According to Cheryl Poirier, one of the volunteer organizers of the event, "We're thrilled to bring back Make Music Old Lyme and provide local residents a great evening of entertainment."
She continued, "Dan and Gail Stevens have done another remarkable job putting together a great lineup for us. We are are fortunate so many musicians will perform in the true spirit of the international Make Music Day's 'free music for all.'"
Launched in France in 1982, Make Music Day is an international musical festival open to all who would like to participate, and takes place in over 1,000 cities in 120 countries on June 21, the summer solstice. The State of Connecticut Office of the Arts debuted the State's effort in 2018 with 528 free musical performances at 224 locations across the state, including Old Lyme. 
For a complete lineup of activities (including weather contingencies), visit www.exploreoldlyme.com/makemusic.
A handout with musician locations will be available at the event. The Old Lyme Arts District is a partnership of a dozen organizations and businesses promoting arts and culture on Lyme Street.

For further information on individual organizations involved in make Music Day, visit theses websites:
Old Lyme Arts District website 
Southeastern CT Cultural Coalition:
MusicNow Foundation and Nightingale's Acoustic Cafe
International Make Music Day
Lyme-Old Lyme Lions Club