Over the years, I learned a lot about buying cookbooks. Never mind the first one I ever had: it was a cookbook that was part of the first (and only) encyclopedia we order for our daughter. I bet no one under fifty years old has ever bought one.
My second was Craig Claiborne's New York Times Cookbook. It was one hell of a cookbook and still is. I learned to cook from that one. I began to buy chefs' cookbooks. Like a kid, I loved the pictures. One, the French Laundry Cookbook by Thomas Keller, was gorgeous, but I never cooked a single recipe from it.  The recipes looked easy, just eight or seven ingredients, but embedded were words like "see page this or see page that." To finish the entrée or dessert I would have had to make two or three different recipes first.
Today I buy cookbooks written by the brilliant Jacques Pepin and television star Ina Garten; I own books from the Moosewood Collective along with Sheila Lukins and Julee Rosso. These people are cooks, teachers and recipe writers, rarely restaurant chefs.
Jacques buys most of his ingredients from farmers' markets or Stop and Shop. Ina Garten shops in the Hamptons. They both have their own gardens. Sheila Lukins cooked for her own little shop called The Silver Palate. New Haven's own Claire Criscuolo's Claire's Corner Copia books are treasures.
So here's the deal: in the recipe below, there are 18 ingredients, but nine are veggies, a bunch, literally, are herbs and there is some liquid. Most of them are probably in your own kitchen. The soup will feed eight to 10 people and cost you maybe $15. And I found that recipe  from Yankee magazine, which couldn't be more New England-ish.
This soup is delicious.
Roasted Winter Vegetable and White Bean Chowder
From In the Thick of It by Nadine Nelson (Yankee, January-February, 2022)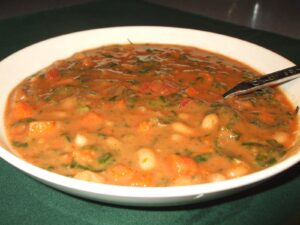 2 ½ cups diced butternut squash
2 ½ cups sliced carrots
2 cups diced russet potatoes
1 cup diced parsnips
1 fennel bulb, diced
2 tablespoons plus 3 tablespoons olive oil
2 teaspoons kosher salt, divided
3 cups diced onion
1 cup diced celery
5 fresh thyme sprigs
1 fresh rosemary sprig
1 bay leaf
1 teaspoon freshly ground black pepper
2 tablespoons flour (all-purpose or gluten-free)
8 cups vegetable stock (chicken stock if you are not a vegetarian)
2 14-ounce cans cooked white beans, drained
2 cups sliced mushrooms, any kind
2 cups milk of your choice (2 percent is fine)
Fresh thyme sprigs and ground paprika or smoked for garnish
Heat oven to 425 degrees. In a large bowl, toss five veggies in 2 tablespoons olive and and 1 teaspoon kosher salt. Divide vegetables between two large rimmed baking sheets and roast until tender and browned, about 40 minutes, turning them a few times while roasting.
While vegetables are roasting, prepare the soup base: heat 3 tablespoons olive oil in a large pot over medium-high heat, then add onions, celery, thyme, rosemary, bay leaf, black remaining and 1 teaspoon salt, then cook, stirring occasionally, until soft, about 6 minutes.
Stir in the flour and cook, stirring constantly, for 1 minute. Add stock and beans.
Bring to a boil, then reduce heat to a simmer and cook for 10 minutes. Add mushrooms and milk, bring to a simmer, and stir in roasted vegetables.
Taste and add additional salt and pepper, if desired.
Serve hot, garnished with fresh thyme and a sprinkle or paprika. 
About the author: Lee White has been writing about restaurants and cooking since 1976 and has been extensively published in the Worcester (Mass.) Magazine, The Day, Norwich Bulletin, and Hartford Courant. She currently writes Nibbles and a cooking column called A La Carte for LymeLine.com and the Shore Publishing and the Times newspapers, both of which are owned by The Day. She was a resident of Old Lyme for many years but now lives in Groton, Conn. Contact Lee