OLD LYME — UPDATED 9/13 with additional photos. The Old Lyme Fire Department commemorated the 20th anniversary of the attacks on the United States of America that took place on Sept. 11, 2001, by flying the Stars and Stripes prominently on a fire truck parked in front of  their building on Lyme Street.
Meanwhile, down at the Old Lyme Police Department building on Shore Rd., the Old Lyme Board of Selectmen held a ceremony at 9 a.m. recognizing the 20th anniversary of the Sept. 11, 2001 attacks.
Thank you to the OLFD for this poignant and so important reminder of such a tragic day and thank you to the OLPD for hosting the commemorative ceremony.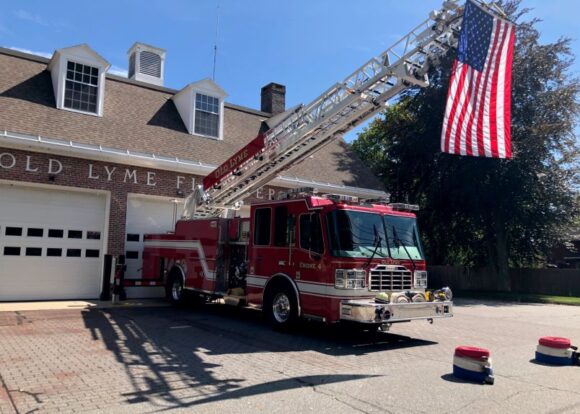 Many thanks also to Ellen Cole for sending us the OLFD photos and also to the Old Lyme Fire Department/Town of Old Lyme for those taken at the ceremony at the OLPD.