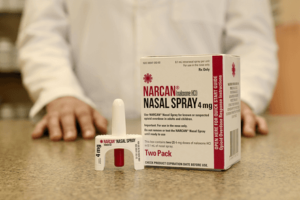 LYME/OLD LYME — On Thursday, Aug. 19, from 6:30 to 8 p.m., Lymes' Youth Service Bureau (LYSB) and the Lyme/Old Lyme Prevention Coalition will be hosting a free Narcan and Question, Persuade, Refer (QPR) training session.
NARCAN (naloxone) is an opiate antidote.  Opioids include heroin and prescription pain pills such as oxycodone, codeine and morphine. NARCAN is a prescription medicine that blocks the effects of opioids and reverses an overdose.
NARCAN® Nasal Spray may counteract the life-threatening effects of an opioid overdose. Since most accidental overdoses occur in a home setting, it was developed for first responders, as well as family, friends, and caregivers—with no medical training required. Its characteristics are:
Needle-free
Designed for ease-of-use in the community setting
Inhalation not required
The Narcan training from 6:30 to 7 p.m. will provide participants with knowledge about overdose prevention strategies, administering Narcan, and support information and resources. Each participant will go home with a free Narcan kit.
The QPR portion from 7 to 8 p.m. will help participants learn the three steps to help save a life, warning signs of a suicide crisis, how to respond, and where to go for resources and support.
These sessions will be held at Old Lyme's Memorial Town Hall.  Register for one or both trainings at this link.
Data indicates that emergency personnel are seeing a slight uptick in overdose calls in our region with state and national data showing that the pandemic has contributed to this rise.
Every week in the US, an average of 20 people die from a drug overdose, and eight by suicide. Accidental overdose is now the leading cause of death for Americans under 50, and suicide is the 10th leading cause of death.
This training is crucial if you ever find yourself in the position to save a life. It will be facilitated by staff from SERAC (Supporting and Engaging Resources for Action and Change).
For more information about the training sessions, visit this link.
Mental health problems and substance use disorders sometimes occur together. More than one in four adults living with serious mental health problems also has a substance use problem. Substance use problems occur more frequently with certain mental health problems, including depression, anxiety disorders, schizophrenia and personality disorders because:
Certain illegal drugs can cause people with an addiction to experience one or more symptoms of a mental health problem.

Mental health problems can sometimes lead to alcohol or drug use, as some people with a mental health problem may misuse these substances as a form of self-medication.

Mental health and substance use disorders share some underlying causes, including changes in brain composition, genetic vulnerabilities, and early exposure to stress or trauma
Someone with a mental health problem and substance use disorder must treat both issues. Treatment for both mental health problems and substance use disorders may include rehabilitation, medications, support groups, and talk therapy.
Shared decision making allows an individual and their healthcare provider to determine together the most appropriate treatment or care choices. It is a fundamental process in primary care and behavioral health care integration — making it vital that individuals with behavioral health conditions acquire skills to participate in decisions with their healthcare providers.
For more information on mental health and substance use disorders, visit samhsa.gov  and/or www.lysb.org/prevention
About the Author: Alli Behnke, MSW, MA is the Prevention Coordinator at Lymes' Youth Service Bureau. She has been a Social Worker for 20 years working in the fields of prevention, therapy, youth leadership, and health coaching. Alli believes strongly in providing accurate information, education, and tools for success when empowering the Lyme/Old Lyme Prevention Coalition and REACH Youth Coalition to work together on strengths-based campaigns. The Coalitions address substance abuse and other risky behaviors challenging our youth and families. Contact her at abehnke@lysb.org or visit  www.lysb.org to become involved in this important community work.