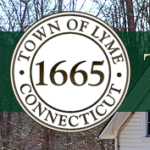 LYME — (from a press release) As the state of Connecticut prepares to loosen stay-at-home practices to foster an increase in commerce, the Town of Lyme has prepared for a measured, phased reopening of Town facilities beginning Wednesday, May 20, in accordance with the Governor's plan.
While it is hoped to return to as much "normal" as possible, the Lyme Board of Selectmen stress that things will clearly be different as new procedures to protect Lyme residents and employees are instituted to avoid experiencing a recurrence of rising virus infections in our community.
The board of selectmen will monitor the reopening process closely, remaining vigilant should another wave of COVID-19 return. Although the board hopes there will not be a need to close Town facilities again, board members emphasize that they will always put the health and safety of Lyme residents and employees paramount when faced with that decision.
The reopening of Town facilities does not signal an end to the pandemic nor an end to the risk we all share. The board of selectmen strongly urge all Lyme citizens to continue to wear masks when outdoors and to maintain at least a six-foot distance from others.
Residents who are 60 or older or who have other medical conditions that place them at risk should continue to stay home as much as possible. Everyone must continue to look out for each other and practice the simple behaviors that limit transmission.
Full details of the phased reopening are at this link with separate sections on
Public Works
Brush Hill Transfer Station
Hamburg Recycling Center
Town Hall & Lyme Public Library
Other Town Facilities.
There is a also a calendar detailing the reopening visually.