OLD LYME — Oh, what a day!  The 33rd Old Lyme Midsummer Festival was deemed a roaring success judging by the huge crowds drawn to the town yesterday to celebrate the event.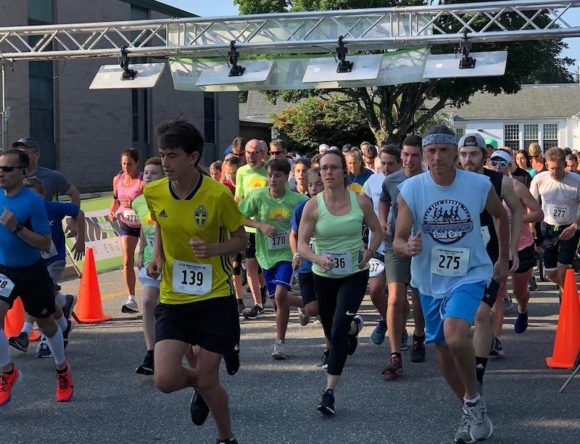 The day began with LYSB's 5K run …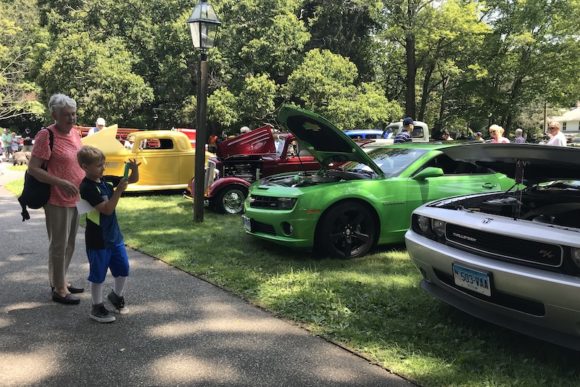 …and then moved to vintage cars photographed by the young …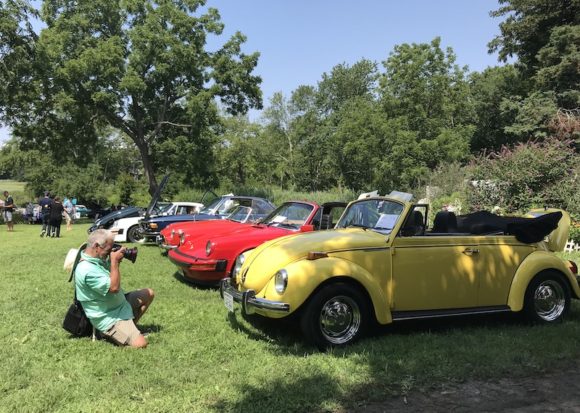 …and the not so young!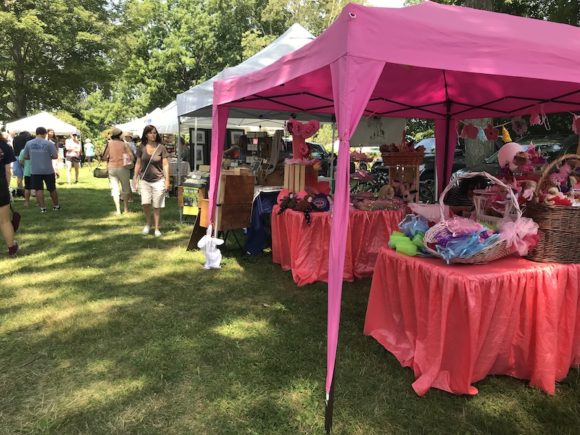 The Bohemian Fair at the Florence Griswold Museum sported tents in a variety of shades …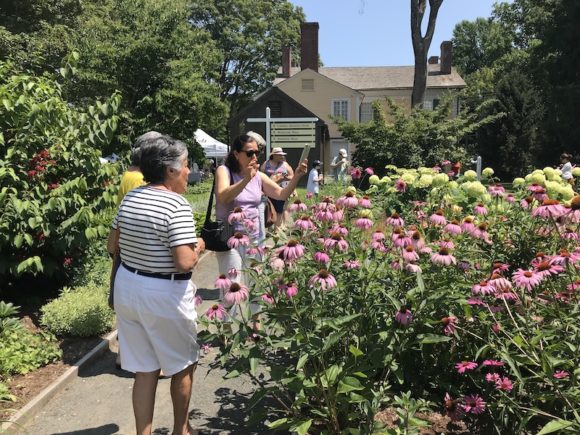 … while the gardens drew scores of admirers.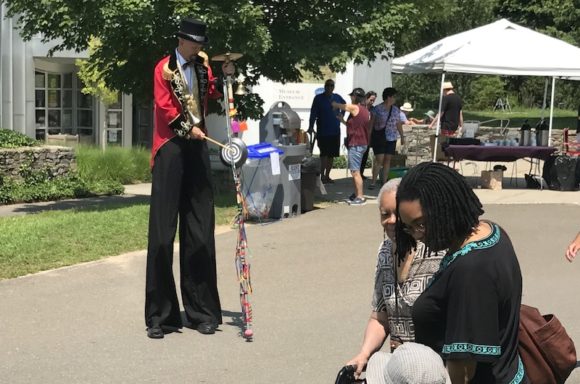 There were tall folks …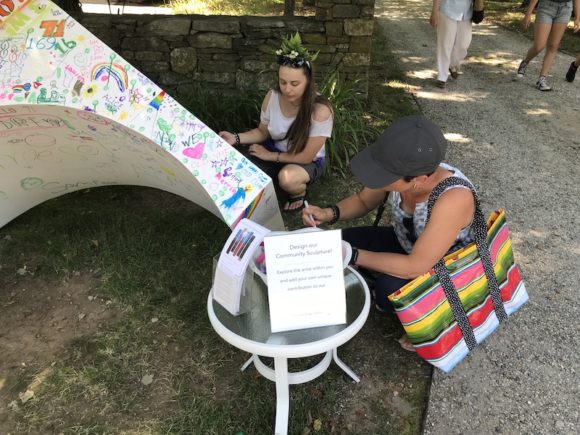 … and smaller folks, here working on the community sculpture at Studio 80 + Sculpture Grounds …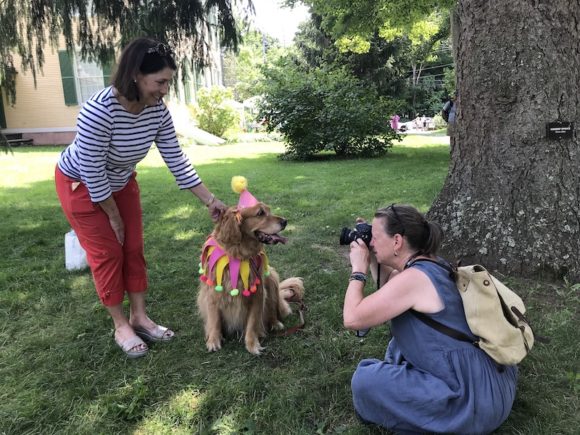 … and four-legged folks!  This is Boomer, who won the Best Trick contest in the Parading Paws competition, posing for a photo!
Sales of art by alumni at Lyme Academy of Fine Arts were brisk …
… while artists took their time to draw or paint the delightfully-clothed model.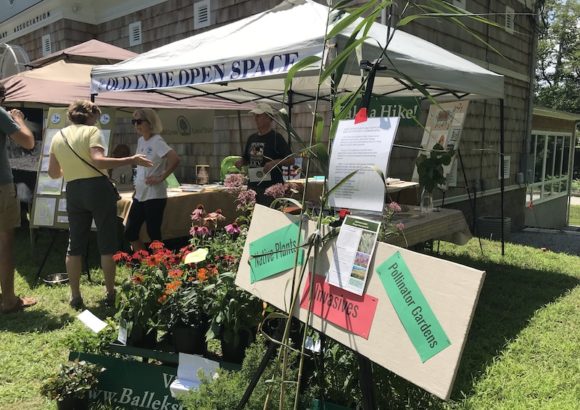 In front of the Lyme Art Association, the Old Lyme Land Trust hosted a wonderful display of native pollinator plants and …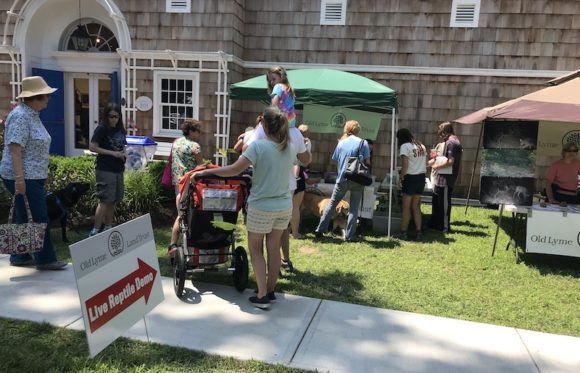 … another of live reptiles!  The latter was presented by the Denison Pequotsepos Nature Center.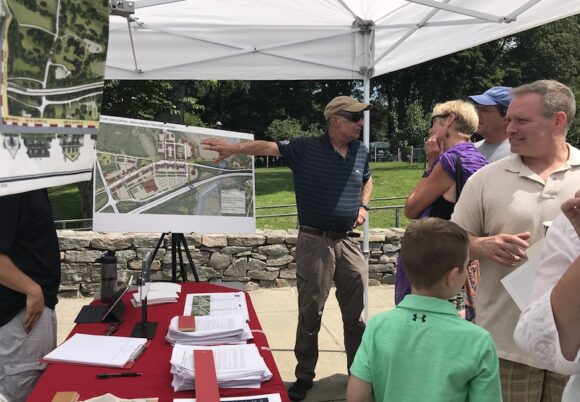 Members of the Halls Road Improvement Committee were on hand to discuss the various proposals that are still in the development stage for making Halls Road an altogether better place.  Howard Margules is seen here hard at work.
Old Lyme Emergency Services Technicians were on hand to answer questions or spring into action …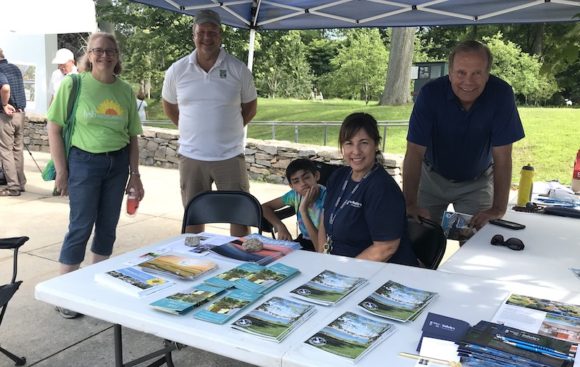 … as were board members of the Lyme-Old Lyme Chamber of Commerce. From left to right, Jean Wilczynski, President Rich Shriver, Heather Gagnon and Dan Henderson.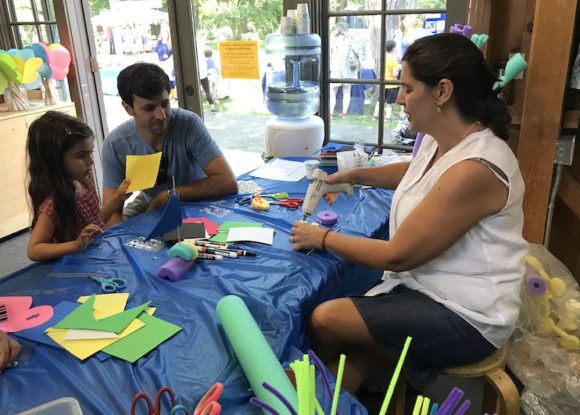 Kristen Thornton (right) of the Florence Griswold Museum helped youngsters create all sorts of wonderful arts and crafts. Her 'customers' included Faye Casey (left), who, with her father James Casey (center), had come all the way from Brooklyn,NY, to attend the Festival.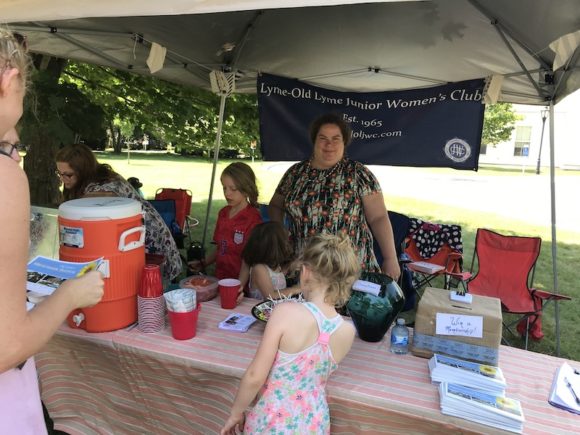 Lyme-Old Lyme Junior Women's Club was ready to sign up new members …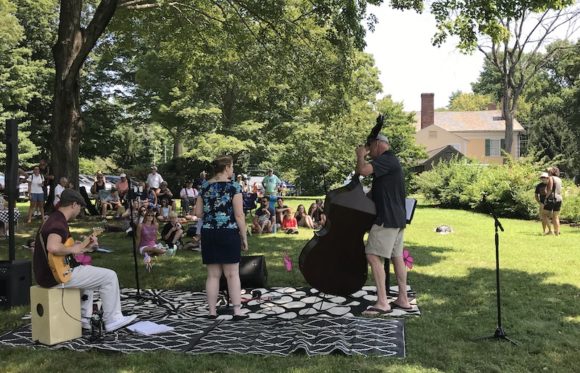 … and The Moonshiners Trio was one of many bands that entertained as part of the Lymestock Music Festival down on the banks of the Lieutenant River.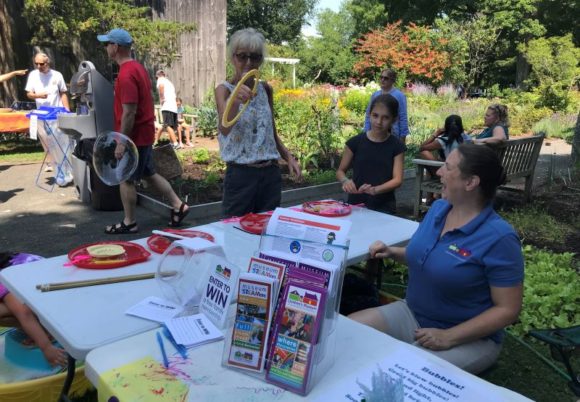 Big bubbles were the order of the day at the Children's Museum booth and Jolee Caldwell of Ivoryton clearly excelled at the task.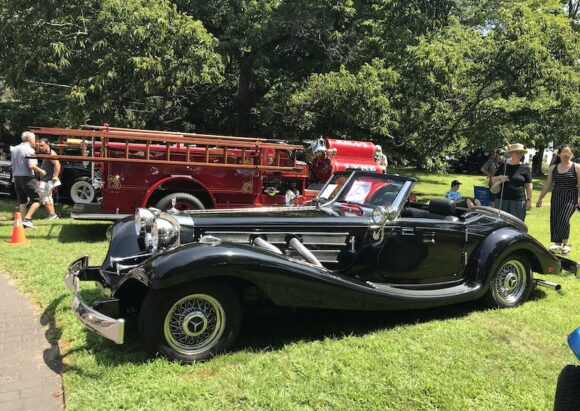 The range and quality of vintage cars on display at the Lyme-Old Lions Classic Car Show were nothing short of amazing —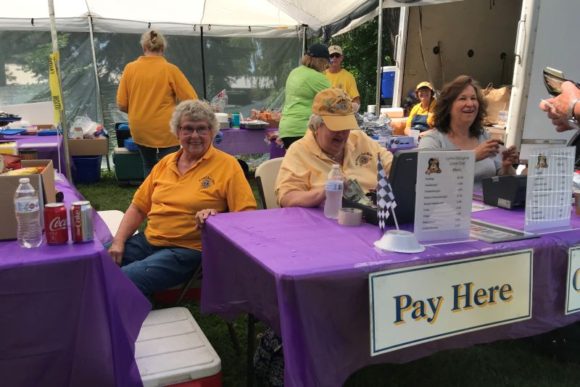 … as were the ladies collecting the fees! Hard at work are, from left to right, Bev Pikna, Lesley Chick at the cash register, and Marianne Szreders.  All funds raised at the Car Show are used to fund scholarships awarded annually to Lyme-Old Lyme High School seniors.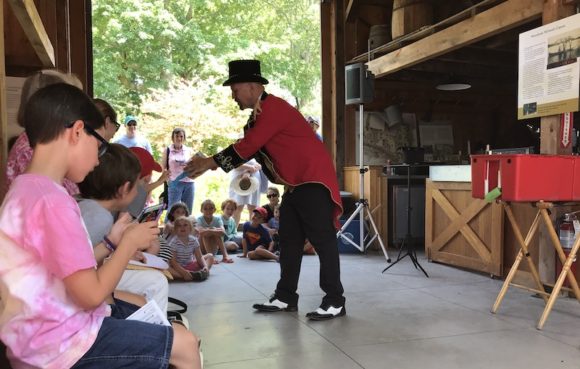 A magician entertained in the Hartmann Education Center …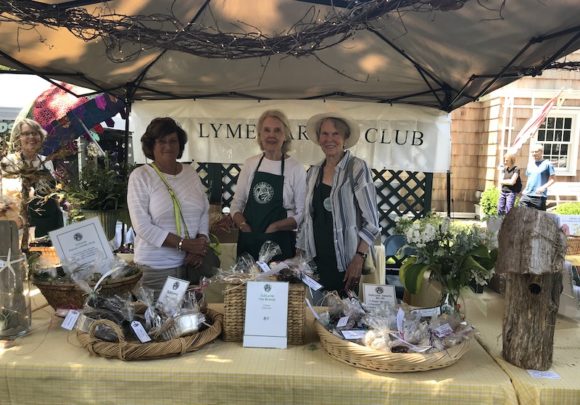 … and the ladies of Lyme Garden Club had all sorts of goodies for sale!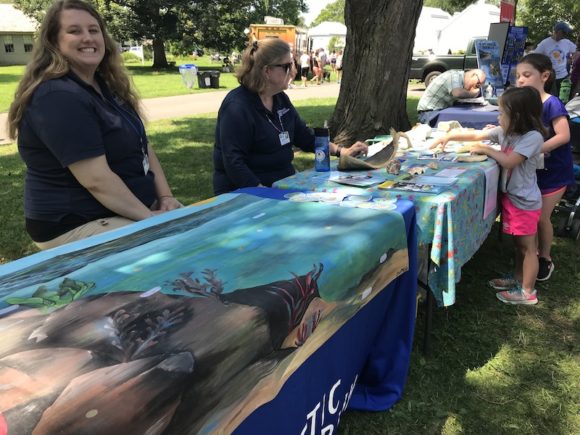 The Mystic Aquarium stand was a very popular feature and there were so many more.
Day slowly turned into night and then the whole event …
…ended with a bang!
So now, to conclude, all we can say is, oh, what a day … and night!