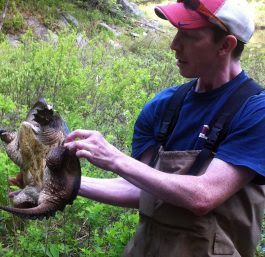 Ever wonder how that Spotted Turtle you saw swimming under the ice survives the winter, or why that Snapping Turtle crawls across your backyard every June?
Come learn about the impressive diversity of species that share our state, and the interesting ways they make their livings in our midst.
Starting at 7 p.m. this evening at the Roger Tory Peterson Estuary Center  in Old Lyme, RTPEC staff and volunteers will highlight the habitat needs and behaviors of different species, as well as conservation threats and the things you can do to help these charismatic creatures.
Learn how water quality affects turtle habitats, and get up close to live turtles.
The cost is $25 per person; register here.