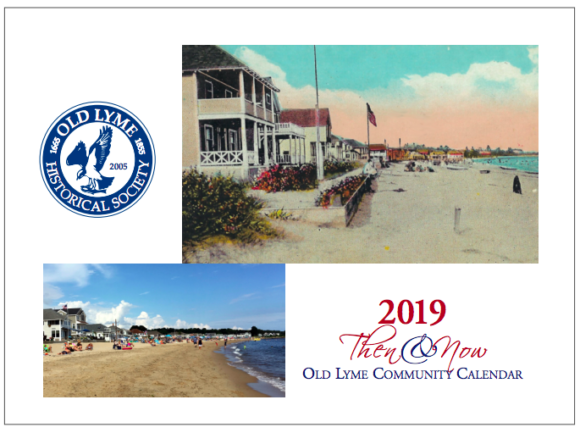 The Old Lyme Historical Society (OLHS) will be celebrating the release of the new 2019 Now & Then Old Lyme Community Calendar at a free public reception Thursday, Nov. 8, from 4 to 6 p.m. at the OLHS building at 55 Lyme Street, Old Lyme.  The calendar, along with other publications, will be for sale at the event. All are welcome to attend: wine, beer and light refreshments will be served, music will be played, and a door prize will also be awarded.
This is the sixth year that the OLHS has published this popular calendar that incorporates a different set of photographs from the organization's archives, again juxtaposing the historical images with contemporary ones of the same scene.  The images included in the calendar are a small sampling of the many interesting archived photographs of Old Lyme establishments,  landscapes, and scenes dating back to the beginning of the twentieth century.
Each calendar month is generously sponsored by a different community organization and includes the dates of their events throughout the year.  The intent is to highlight and assist in marketing activities occurring in Old Lyme in 2019 as well as remembering the past.
The 2018 Now & Then Old Lyme Community Calendar was designed by James Meehan and edited by Alison Mitchell.  Michaelle Pearson was the copy-editor.
The mission of the OLHS is to "collect, preserve, and interpret the rich history" of Old Lyme.  To find out more about the OLHS and its interesting activities, explore their website at www.oldlymehistoricalsociety.org or stop by its office at 55 Lyme St.