Spring is a time of renewal and rebirth.  Every year in New England nature reminds us of this.  Crocuses emerge, the landscape turns from brown to green and many animals have their babies: foxes, otters and black bears, just to name a few. 
I look fondly back on my grandmother's stories about lambing season in Ireland.  Human babies are born year round, of course, but my thoughts went this month from lambs to human babies. 
Not only is birth the start of a new life but it is the start of a new (or newly reconfigured) family.  It is often a time of unimaginable joy, but it is also a time of stress.  Stress is defined as, "… bodily or mental tension resulting from factors that tend to alter an existent equilibrium."
Few could argue that a new baby alters an existent equilibrium in ways that are delightful and challenging at the same time.  A new member (in this case tiny and cute) affects the family identity in that constellation in a whole array of ways: emotionally, physically, socially and economically.  All the resources, whether few or many, need to be allocated differently.
Just as adolescence has been described as the transition from childhood to adulthood, the transition to motherhood has been called "matrescence" by anthropologists — for more information, visit this link.  A similar term for the transition to fatherhood does not exist as far as I know, though it has received attention in both academic and popular circles and the media, with online forums such as fathersforum.com. Similarly some attention has been given to the transition to grandparenthood and "older-sibling-hood."  (I am waiting for an especially gifted and precocious 3-year-old to blog about the challenges of losing attention to a tiny usurper in the house.)
Societies and cultures around the world have different constructs that help or hinder the development of a new family.  These constructs range from policies (paid parental leave) to the practical matters (village and neighborhood folks bringing food to the new family). 
Looking at and understanding how we can support families in transition at this stage of the family life cycle and the stressors that they face (stress being a challenge to equilibrium, not positive or negative) can only be a good thing.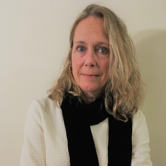 Betsy Groth is an APRN, PMHS – BC and a pediatric nurse practitioner with advanced certification in pediatric mental health.
She is a counselor, mental health educator and parent coach in Old Lyme and writes a monthly column for us on 'Family Wellness.'
For more information about Betsy and her work, visit Betsy's website at betsygroth.com