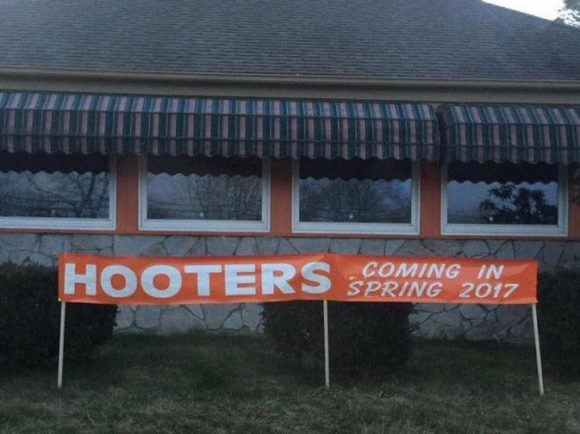 Life is strange, isn't it?
Since this past Friday, the threat of a high speed rail route passing under, or perhaps, over our beloved little town has become very real, but astonishingly — in some ways — we have actually received more direct communications about the possibility of "Hooters" moving into town than reactions to the railroad proposal!
We asked Jane Cable, Chair of the Old Lyme Zoning Commission, about the 'Hooters' sign (pictured above), which was placed in front of the former Illiano's on Boston Post Rd. on Friday, and she said categorically, "It's a hoax," adding, " … the banner has been moved around Lyme and Old Lyme."
So that's it folks — no 'Hooters' in Old Lyme … for the moment anyway!  Now let's move on to dealing with this train issue and remember we only have 30 days to respond.