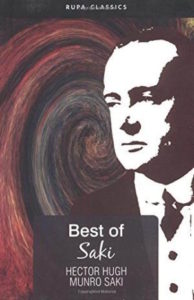 Yet another trip to our home library to retrieve an aging paperback read many years ago.
Hector Hugh Munro, the English author also known as "Saki," wrote these delicious satirical skewerings of the English upper classes just before the First World War. Despite the enormous changes that have taken place since then, in Blighty and the rest of the world, these 49 short stories remain pungent, pithy and provoking, stirring regular outbursts of noisy laughter.
Do read them on your spring porch or in a secluded back room, otherwise your spouse may think you've lost it (again!)
Munro's first admonition: beware all aunts: they are forever dangerous and demanding.
Then revel in his extraordinary names, such as Mavis Tellington, Loona Bimberton, Arlington Stringham, Lestor Slagby, Brimley Bomefields, Crefton Lockyer, Septimus Brope, Groby Lington, Sir Lulworth Quayne, Dora Bittholz, Framton Nuttel, Bassel Harrowcluff, Kenelm Jertom, Jane Thropplestance, James Cushat-Prinkly, Octavian Ruttle and, perhaps best of all, Crispina Umberleigh. I wish we'd had these names at hand before we named our children. Loona and Crispina for the ladies; Crefton and Framton for the boys!
Just a few quotes:
"It is the penalty and safeguard of genius that it computes itself by troy weight in a world that measured by vulgar hundredweight."
"There was something alike terrifying and piteous in the spectacle of these frail old morsels of humanity (two old ladies) consecrating their last flickering energies to the task of making each other wretched."
" … (He) discovered how the loss of one's respect affects one when one has gained the esteem of the world."
He was "feverishly engrossed in the same medley of elaborate futilities that had claimed his whole time and energies …"
He was "one of those lively cheerful individuals on whom amiability had set its unmistakable stamp, and, like most of his kind, his soul's peace depended in large measure on the unstinted approval of his fellows."
Do step into the past of Merrie Olde England for a few hours.
Editor's Note: 'The Best of Saki' by H. H. Munro was published by Picador, London 1976.
About the Author: Felix Kloman is a sailor, rower, husband, father, grandfather, retired management consultant and, above all, a curious reader and writer. He's explored how we as human beings and organizations respond to ever-present uncertainty in two books, 'Mumpsimus Revisited' (2005) and 'The Fantods of Risk' (2008). A 20-year resident of Lyme, he now writes book reviews, mostly of non-fiction that explores our minds, our behavior, our politics and our history. But he does throw in a novel here and there. For more than 50 years, he's put together the 17 syllables that comprise haiku, the traditional Japanese poetry, and now serves as the self-appointed "poet laureate" of Ashlawn Farms Coffee, where he may be seen on Friday mornings. His wife, Ann, is also a writer, but of mystery novels, all of which begin in a bubbling village in midcoast Maine, strangely reminiscent of the town she and her husband visit every summer.