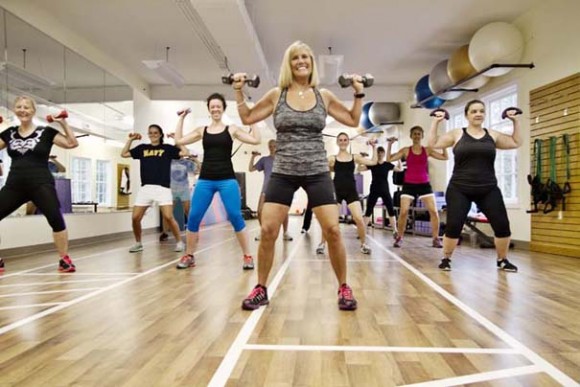 The New Year is just around the corner and Donna Scott of Old Lyme is ready to help you with that  (possibly long-standing) resolution to lose weight.
Scott is the owner of IFoundFitness in Deep River and has just announced her 7th annual River Valley Slimdown.  While participants will compete to lose the most weight over 12 weeks, they will also be raising funds for charity.  Those who take the challenge will be dropping the holiday pounds for the good of both their health and their community.
The next River Valley Slimdown begins on Jan. 11, 2014 and runs through April 5.  Over the past six challenges, Scott and her team at IFoundFitness have helped over 120 participants shed over 860 pounds.  They have also raised over $1,100 for multiple organizations, including Shoreline Soup Kitchens, and Tri-Town Youth Services, to name just a few.  The Winter 2014 River Valley Slimdown will donate 20% of the challenge jackpot to a charity decided upon by the participants.
The jackpot itself is determined by those who take the weight loss plunge.  Participants agree to pony up $65 to participate in the challenge, which includes a weekly weigh-in.  Any weight gain results in a penalty fee.  All penalties plus the original registration fees go towards the final jackpot, which is then divided between the contest winners and the charity of choice.
"People love that extra motivation," notes Donna, continuing,  "While, of course, we tend to over-indulge during the holidays, it's also a time to give back to others.  My clients are amazing.  Their dedication to their health is only matched by the dedication they have to helping these charities."
The Fall 2013 River Valley Slimdown resulted in a jackpot of over $2,300.  Both the first and second place winners dropped over 10 pounds each.
For the upcoming challenge, Scott will again be working with Penny Smyth, CHHC, AADP Certified Health Coach, to provide nutritional and weight management seminars to the challenge-takers throughout the challenge.  RVSD will also be offering a Brand New On-Line Meal Planning Program through which participants can choose from over 450 menu choices, including vegan and gluten-free diets.
And there's still one more reason to become involved.  Sign up before Jan. 1, to receive a free pass card to five fitness classes at IFoundFitness (new members only).
Registration is currently open for the Winter 2014 River Valley Slimdown.  Email Scott at donna@ifoundfitness.com for complete rules and registration forms.
For more information on the River Valley Slimdown, visit http://ifoundfitness.com/rv-slim-down/