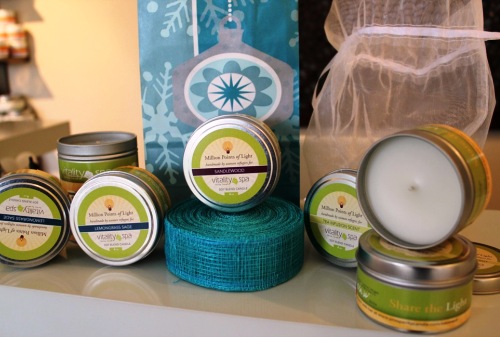 This holiday season, Vitality Spa in Old Lyme is offering a unique gift in its boutique that exemplifies the spa's client philosophy to "Live Long, Live Well". 
Beginning this month, Vitality will feature Prosperity Candles, pictured above, a venture that invests in enterprising women living in distressed areas of the world who are motivated to start their own businesses producing distinctive candles for local and international markets.
Prosperity Candle imagines a world lit by millions of points of candlelight, each reflecting the resilience and courage of women who have survived inconceivable hardship and who seek to create a better future through the simple craft of candle-making.
Lindsay Eisensmith, owner of Vitality Spa, learned about Prosperity Candle while in Massachusetts for her Smith College reunion.  "I was immediately struck by how this organization helps women rebuild their lives and the lives of their families amidst destruction and conflict."  The women who make the candles for Vitality are refugees who have resettled in West Springfield, Mass., from Burma and Bhutan.  For many, making candles was their first job. 
The philosophy of Prosperity Candle and the attitudes of the entrepreneurial women who have decided to take charge and change their lives, embody the spirit of "Live Long, Live Well," which is the foundation that has shaped Lindsay Eisensmith's own life and business.
"Living well is about a journey and a practice." says Lindsay.  "It is about being at ease with your attitude and with your environment, and about having the courage to make a change in your life to achieve those goals.  Prosperity Candle provides a business model, start up tools and training so these women can support their family and others.  The women from Burma and Bhutan are courageous, and I am honored to carry their beautiful candles in hopes that we can make a positive impact on their lives."
Vitality offers a unique brand of Spa Therapy in an intimate setting conveniently located at the Village Shops in downtown Old Lyme. The tranquil environment offers a wide range of holistic and therapeutic services including Therapeutic Massage, 100% Organic Skin care, Health Counseling, Acupuncture, Yoga & Meditation.
In addition to a complete range of therapeutic treatments, Vitality Spa offers a boutique setting with a range of beauty and wellness products, clothing, jewelry and eco-conscious gifts for the home.  Vitality also holds events and workshops such as Mindfulness Meditation and Mother & Daughter Nights.
This evening from 5:30 to 8 p.m. Vitality is hosting a Client Appreciation Night & First Birthday Party. There will be a free raffle for a Silk Body Package, Gentlemans Retreat Package or a Vitality Gift Basket. Free skincare evaluations will also be offered.
Vitality Spa is located at 14 Lyme Street in Old Lyme, Conn. 
For more information, visit www.vitalityspa.com