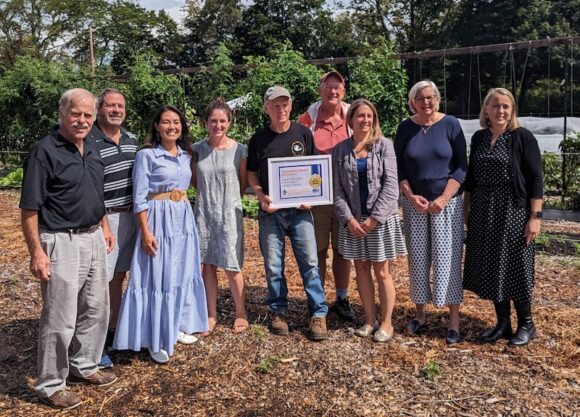 LYME/OLD LYME — As part of United Way of Southeastern Connecticut's annual Engagement Awards program, the Lyme-Old Lyme Food Share Garden is one of three giving gardens in New London County, which have been honored for innovation. 
The other two gardens honored are the Craig Floyd Giving Garden at Coogan Farm, Denison Pequotsepos Nature Center, and the East Lyme Giving Garden.
An awards presentation was made on Sept. 13, at the East Lyme Giving Garden, 4 Church Ln., East Lyme for the partners to coincide with Hunger Action Month, occurring annually in September. 
After receiving the award, LOLFSG founder and board chair Jim Ward commented exclusively to LymeLine.com, "The Innovation Award from United Way of New London reflects the dedication of the residents and businesses of Lyme and Old Lyme." He added, "The success of the garden is a testament to our dedicated volunteers and the generous financial support from the communities."
Last year, the giving gardens provided more than 37,000 pounds of fresh produce to the Gemma E. Moran United Way/Labor Food Center (Food Center), marking a 65 per cent increase over the previous growing season. The Innovation Award is being presented to them for this increase, in addition to tailoring their produce based on a guest survey regarding which food items are most requested and needed. 
September is Hunger Action Month to help increase awareness of hunger and hunger-related issues. Currently the food insecurity rate in New London County is nearly 11 percent overall and 12.3 percent in children. 
It is often difficult and expensive for families struggling to make ends meet to afford fresh food items. They may also have limited access to food. The giving gardens provide nutritious, healthy items for families to which they may not otherwise have access. 
Volunteers at all three gardens are actively involved in planting, weeding, harvesting, and washing the vegetables prior to being picked up for delivery to the Food Center. 
Volunteers at the Food Center's warehouse in New London package the produce, whence it is then either distributed to member agencies or through the Mobile Food Pantry program. 
Representatives from each garden meet regularly to discuss best practices and techniques, and to give feedback to United Way. They also work to vary the items each one grows for a more diverse selection and based on survey results. 
Editor's Note: This article is based on a press release issued by the Lyme-Old Lyme Food Share Garden.