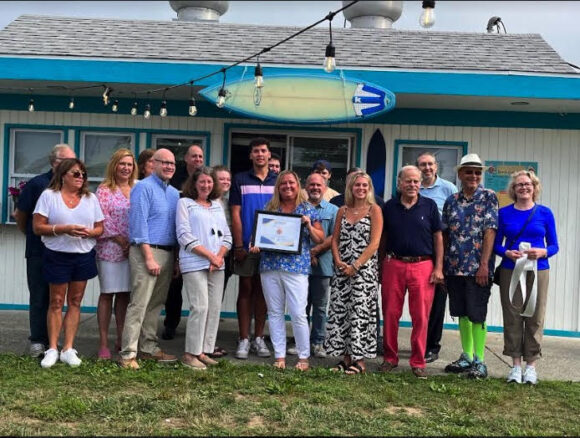 OLD LYME — UPDATED 1pm with name corrections. The Salty Monkey in the Sound View Beach community is the latest new business to be celebrated with a ribbon-cutting by the Town of Old Lyme.
Yesterday morning, The Salty Monkey owner Kristin Garcia and her staff were joined by members of the Old Lyme Economic Development Commission (EDC) and Board of Selectmen, Sound View Beach Commission, and Shoreline Gateway Committee at the event held on site at the eatery on Hartford Ave.
Garcia has enjoyed summers in the Sound View community since 1996 when she worked at Cherrystone's on Shore Road. She explained, "I worked there for two summers before going to school in Newport, Rhode Island. In Newport, I continued to work in restaurants and catering including at the Ocean Cliff Hotel."
Garcia has combined her education in human resources and education with her work experience to build several businesses in the food industry. In addition to The Salty Monkey, which opened at the beginning of the summer season at Sound View, Garcia operates The Grill at Copper Hill in East Granby; "K & Co" which meets the catering needs of weddings, celebrations of life, showers, and other gatherings; and Rhode Island Pizza Company, a pizza bus business at Misquamiquat Beach in Westerly, R.I.
Garcia partners with others in several of her businesses and gives the credit for making her businesses successful to the high quality of her staff.
She also relies on family for giving her businesses longevity, "Without them I wouldn't be successful," she said, adding, "My focus is family, and I love including my children and my stepchildren, giving them the opportunity to learn how to be successful businesspeople. I especially love showing the young women in my family how to be a successful businesswoman."
Family includes Garcia's son Brandyn and daughter Jordyn, who both play a role in building her businesses. The Salty Monkey is managed on-site by Kristen's friend Joe Day. Garcia's stepson Xavier Gonzalez is the cook and his girlfriend Ashley Papapietro both cooks and works at the front window with a smile. 
Having built friendships with neighbors while spending the summers in Sound View, Garcia looked at several possible locations to open a business. She landed on 83 Hartford Ave., noting, "I really wanted the beach vibe, somewhere you could bring the whole family and enjoy some food after the beach."
"I focus on bringing my customers a total experience," she continued. "At The Grill at Copper Hill, I focus on how to bring the golfers the golf experience, and at The Salty Monkey, I want to make it the best beach experience someone can have."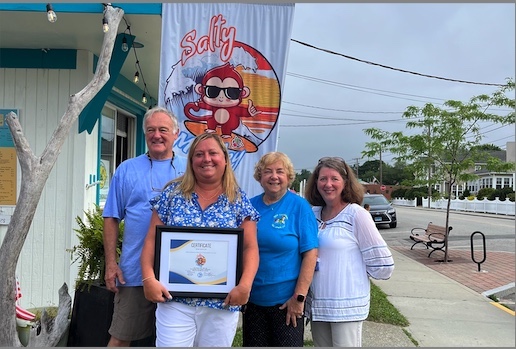 She listens to customers as to what they want. "Customers were asking for fried dough, so we decided to do a twist on that and have fried dough bites. Customers were asking for ice cream, but there's great ice cream three doors down (at The Carousel Shop) and gelato across the street (at Vecchitto's), so I decided to offer Del's Frozen Lemonade, which is different. My customers can come to the window for something cool and refreshing for the whole experience. And if they want ice cream, I let them know the Carousel has ice cream down a few doors."
A special breakfast offering is the popular Deke's Bagels of Niantic. "I reached out to Deke and he was more than happy to have their bagels here. We offer breakfast sandwiches and bagels with butter or cream cheese."
During the Sunday morning ribbon cutting, EDC Chairperson Cheryl Poirier shared with attendees "We love it when someone, who loves an area like Sound View and the beach community, decides they want to be a part of it as a business owner — we can't do better than that."
Old Lyme First Selectman Timothy Griswold continued, "We certainly want to welcome you, the place looks great. This is a wonderful spot so when people come back from the beach and they're hungry, they'll be ready to patronize your business. Thank you very much for being here and doing what you're doing."
State Representative Devin Carney (R-23rd) wished Garcia good luck and offered her congratulations on the opening. He said enthusiastically, "Everything looks wonderful. I love that you're partnering with Deke's Bagels, another local business. Hopefully a lot of people will come down in the morning, get their breakfast sandwiches and then come and enjoy the Sound View area."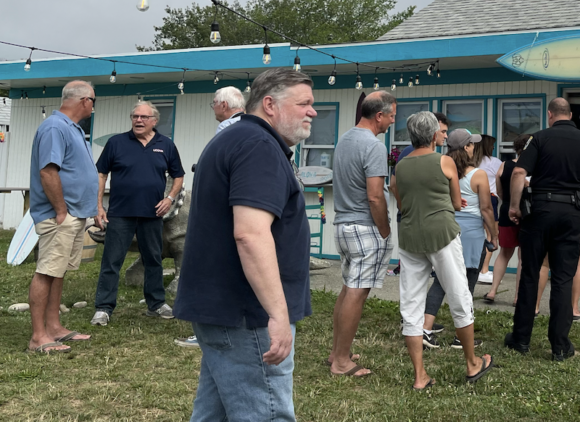 Garcia then thanked the many friends and neighbors, who had joined the celebration, adding, "I'd like to thank my family because without them and Joe (friend and on-site manager) I wouldn't be able to do this, they're the backbone to everything, they're the faces you'll see."
In addition to its breakfast menu, the restaurant offers tacos, wraps, hamburgers, hotdogs, and more. Window orders can be prepared for takeaway or for the outdoor seating that is available.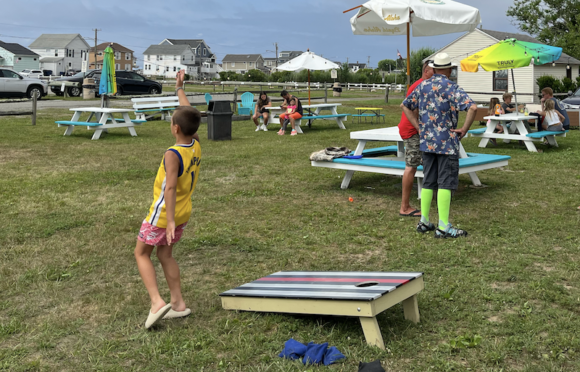 The Salty Monkey is located at 83 Hartford Ave. and open from 8 a.m. to 8 p.m. seven days a week.
For further information and to view the menu, visit SaltyMonkeyMenu.com.