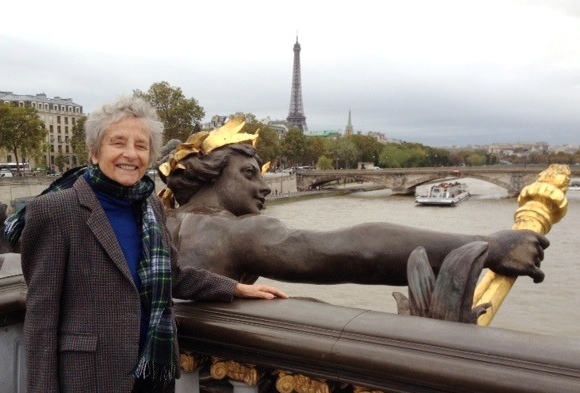 Never before has a US Secretary of State been as utterly bilingual as Antony Blinken. 
Granted, two of the Founding Fathers of America also had special relationships with France. But Benjamin Franklin was 70 when he was appointed ambassador to Paris in 1776. For nine years, he resided in Passy and became a real Parisian.
Thomas Jefferson was 41 when he planted his roots in Paris for five years in 1784. Antony Blinken's case was quite different since he arrived in Paris at the age of nine and remained there during his formative years before entering Harvard University.
As a rule, most US Secretaries of State have enough knowledge of the French language to be able to read it or give a speech while remaining close to their prepared notes.
None of them have sounded as much at ease with the language of Molière as Blinken does. It is an enormous asset to be able to use that tool of diplomacy par excellence.
"Wow!" That was the reaction of my French-speaking daughter when she heard, for the first time, Blinken speak French. She was impressed by his impeccable, fluent use of that language with only a barely detectable trace of a foreign accent.
The quality of his spoken French and almost academic style could put many French people to shame
Being bilingual is not limited to linguistics — it also means to be bi-cultural, to have a mind shaped by the historical heritage of the other's country, to have a thorough understanding of how the people of that country react, reason, and feel about the world.
Understanding and making jokes in the second country is the ultimate test.
In 1971, Blinken moved to the elegant Avenue Hoche in the 8th arrondissement with his mother and stepfather, an international lawyer and attended the Ecole Active Bilingue Jeanine Manuel (EABJM) located at that time near the Parc Monceau in the 17th arrondissement.
Who else knew the American student Blinken better than Jacqueline Roubinet, who was associated for 31 years with EABJM and became its headmistress? I was able to reach her through my children's acquaintances. She was kind enough to answer my many questions in a long letter.   
She is quite passionate about the school, admired both its founder's intelligence and her vision that the key to better international understanding was bilingualism. Jeanine Manuel was a member of the Resistance who joined the Free French living in London in 1940. When she opened the school in 1954, it had nine students. Today the school under its new name — Ecole Jeanine Manuel (EJM) — has 3,000 students from 80 countries.
Roubinet draws a sympathique (as we say in French) portrait of young Blinken, as a student, describing him as, "facetious, quickly integrated in his new environment, with many friends, gifted and modest at the same time."
During his senior year – or terminale – he followed the curriculum in economics of the "serie B." In 1980, he passed the French Baccalaureate. By then, the school had moved its campus to the Rue du Theatre in the 15th arrondissement. 
Blinken was quite popular in the school, Madame Roubinet recalled, and enjoyed extra curricular activities.
With a few friends, including lawyer Robert Malley, who is today part of Joe Biden's foreign affairs team, he created the first Yearbook for the school. They gave an American format to this purely Anglo-Saxon tradition and jazzed it up with humor à la française. 
As a co-editor, he was responsible for the photographs, the interviews, and even the financing of the publication. While speaking at a conference held in EJM's packed amphitheater on Nov. 5, 2015, he remarked, "Jeanine Manuel taught us to think like the other person, see things through the other's eyes, and to respect differences."  
He liked films, sports, but music most of all. One of the anecdotes told in the weekly l'Express  about Blinken as an adolescent  was that he was a fan of Pink Floyd and enjoyed singing " We don't need no education / Hey teachers, leave the kids alone."
Today most of the children of the 10,000 odd American citizens  – diplomats, members of international organizations or of the business world – who live in Paris, attend one of the many bilingual or multilingual schools implanted in the French capital.  They follow in the footsteps of EJM – the pioneer .
On Oct. 4-6 of this year, the US Secretary of State was on an official visit to France to chair the ministerial meeting of the Organization for Economic Cooperation and Development (OECD).  At the end of the month he was in Rome, accompanying US President Joe Biden to the G20 meeting in Rome prior to the opening of the COP26 in Glasgow.
Constantly in the public eye, Blinken's face has become familiar to the general public of France .
The appointment at the head of US State Department of such a francophile and francophone personality to lead American foreign policy is particularly important today and will be even more after January 1, 2022, when France takes over the rotating presidency of Europe by heading the Council of Europe for six months.
It will be a crucial time for France, especially after the departure of Angela Merkel following the Sept. 26 elections. French President Emmanuel Macron is the champion of a strong Europe on the world scene and wants to reinforce the cohesion between himself and France's own Secretary of States to help the US and Europe to work together on multiple geopolitical, economic and environmental issues around the globe.  
On Feb. 6, 2021, Blinken made his first official appearance as the new Secretary of State at the State Department.  President Joe Biden took this opportunity to praise the Foreign Service Officers (FSOs) and their families for  being "the face of America abroad, to be trusted and empowered. "
On a personal note, those words filled me with emotion since they echoed my own  life. I could say that, as a bilingual person myself and having spent my whole life in the world of diplomacy, I could doubly relate to Blinken.
Gerard Araud, French Ambassador to the US  from 2014 to 2019, applauded Blinken's nomination as Secretary of State,  saying that American diplomacy was now headed by a friend of France.
Editor's Note: This is the opinion of Nicole Prévost Logan.
About the author: Nicole Prévost Logan divides her time between Essex and Paris, spending summers in the former and winters in the latter. She writes a regular column for us from her Paris home where her topics will include politics, economy, social unrest — mostly in France — but also in other European countries. She also covers a variety of art exhibits and the performing arts in Europe. Logan is the author of 'Forever on the Road: A Franco-American Family's Thirty Years in the Foreign Service,' an autobiography of her life as the wife of an overseas diplomat, who lived in 10 foreign countries on three continents. Her experiences during her foreign service life included being in Lebanon when civil war erupted, excavating a medieval city in Moscow and spending a week under house arrest in Guinea.