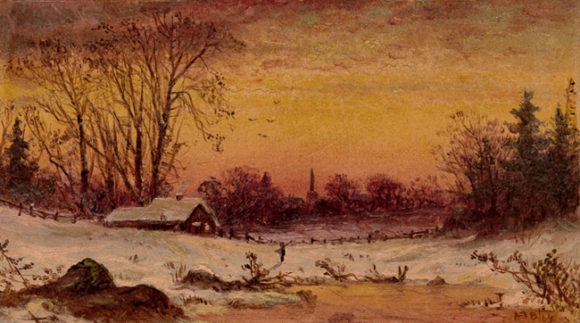 The Cooley Gallery in Old Lyme hosts a reception this evening, Thursday, Nov. 16, from 5 to 7 p.m. to celebrate the opening of their traditional Holiday Sale featuring historic and contemporary art in all sizes.  All are welcome at this great gathering to launch the holiday season
In The Holiday Sale at The Cooley Gallery, newly discovered paintings by Old Lyme colony artists Harry Hoffman, William S. Robinson and Charles Ebert as well as exquisite drawings by Lyme artist Sewell Sillman and the father of American Impressionism, J. Alden Weir, will be featured. "The prices will be commensurate with the spirit of the season," says Jeff Cooley, owner of the gallery.
A select group of contemporary artists is also included in the show. Botanical artist Kelly Lehy Radding will have works in the exhibition as well as New York city painter Michael Budden, realist Barbara Kacicek, and Native American potter Jacquie Stevens.
Founded in 1981 and located in the heart of historic Old Lyme, the Cooley Gallery specializes in fine American paintings from the 19th, 20th, and 21st centuries, including the Hudson River School, American Impressionism, and select contemporary artists.

Gallery hours: Thursday through Saturday 12 – 5 and Sunday 12 -4 or online anytime at www.cooleygallery.com