Long dead and still unidentified.  But now, a startling development … 
It's been more than a century since bank robber XYZ was blasted into eternity during a hold-up attempt at the old Deep River Savings Bank on Main Street.  That bank is Citizens Bank now.
I'm familiar with other men widely known by their initials.  JFK and FDR are just two.  But that's because these two were already famous as John F. Kennedy and Franklin Delano Roosevelt, American presidents.  But XYZ?  He was a nobody.  Or so it seems.
That startling crime made big news way back in 1899.  It's been 11 decades and the mystery about XYZ has never been penetrated.
Who was this little guy?  Where did he come from?  Did he have a family?  Did he have a trade besides robbery?  Townspeople were fascinated about it for days on end.  They still are and there's proof of this.
He was buried in Fountain Hill cemetery.  Its first burial was in 1851.  For years—for decades–it was the biggest and most prestigious cemetery in these parts.  People were even brought in by train and boat to get buried in Fountain Hill.  This was the resting place to be laid in.
All understandable.  Those were the days when the ivory and piano industries had made Deep River the Queen of the Valley.  A proud and prosperous town indeed.  You can see this in Fountain Hill—so many great and fine monuments.  A very beautiful final resting place.  Some folks visit it just to visit it.  They know none of the inhabitants.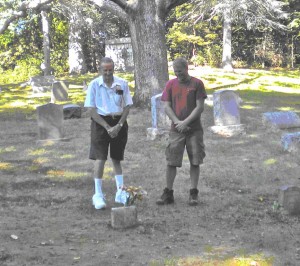 Fountain Hill Cemetery is a scant half mile from where XYZ was shot and killed.  XYZ's grave is in the farthest corner back.  It's the very oldest section of the cemetery.  It's a trick to find his grave.  Up over the hill, down and around some slopes, then around a ravine or two and some great rocky outcroppings, then along a narrow, rutted road.  The worst final yards in the cemetery.  A hearse doesn't carry anybody back here any more.
Finally there it is.  A cut stone, but how tiny.  About half the size of a shoe box, I'd say.  A plain "XYZ" engraved on it.  That's it.  The reason is simple.  Nobody back then knew who he was.  Nobody does today.  He was lucky somebody thought of calling him XYZ.
This is where he rests.  There's a small bouquet of plastic daffodils adorning it.  Faded.  Pathetic.  Looks like it's been there for years.   In the photo at left, Bob Johnson and Shawn Nelson pay their respects. The tiny stone is at Bob's feet. Notice the bouquet.
On XYZ's left under a much bigger monument rests Timothy Hore Cole, a World War I vet.  His neighbor on his right is Josef Hnilicka, also remembered with an imposing monument.  Honorable men, I'm sure.  Unlike XYZ.
Other monuments grace the tranquil green slope, which on this day is mottled with sun and shade.  Back a bit up the slope is a fine, giant oak.  Magnificent.  As old as this old cemetery, I'm sure.  Its great limbs stretch wide in a loving and protective embrace over all.  Tranquility.  Rest.  Peace.  I feel these.  Then I notice that not one of these many superior monuments has even a plastic daffodil on it to show somebody cares.  Interesting.
I never would have found XYZ's grave by myself.  My friend Robert F. Johnson took me to it.  He knows dozens and dozens of the people resting here.  His wife Rosalie is here.  So are his father and mother.  Other loved ones also.  Bob has lived in Deep River his whole 86 years. 
Was a real estate agent here for decades.  The busiest in town, I've heard.  Sold hundreds of houses on these little streets and avenues and lanes.  In fact, is still selling houses.  I'll bet he knows more people in town even today … except maybe Dick Smith, who's been our first selectman for 22 years.
I'm in my 80's, too, but I've lived here only a dozen years.  Just a newcomer, but greatly interested.  Bob is priceless to me.  He's always teaching me new and wonderful things about the town.
He's made me appreciate Deep River more than ever.  Not rich.  Not poor.  Not much phony about it.  Nothing glossy.  People maintain their properties.  Turn out for elections.  Support good schools.  Respect peace and order.  Work.  Yes, a good town.  And so pretty by the Connecticut River.
Well, Bob and I met Cemetery Superintendent Shawn Nelson up there at Forest Hill.  Right at XYZ's grave.  He's just 34 but he's been superintendent for 12 years.  It's a big place–90 acres.  Has different sections, of course, with much of interest.  XYZ's section was the original one.  Fountain Hill grew and spread out from there.
Shawn handles it all.  Keeps the whole place looking good.  Shows people around who are thinking of buying a lot.  Answers their questions.  Digs the graves.  Re-sets monuments when time topples them.  Maintains all the records of who is buried there, and who with, and when that was.  Also keeps an eye out for those coming here maybe for improper reasons.  But that doesn't happen often.
He surprised me when he said he was in the business since he was 8 or 9.  "I grew up in all this."  His dad was superintendent—still is—of Pine Grove Cemetery in Middletown.  So were his grandfather and grandfather.
"I'm the fourth generation in my family to be a cemetery superintendent."  He smiled when he said that.  I could see the pride all over his face.
We talked about XYZ, of course.
Shawn said, "It's amazing.  Nobody knows a thing about him.  Except that he was a bank robber.  But I see people finding their way to this grave all the time.  They come and stand here.  Maybe they say a prayer.  Some drop a coin down there."  He pointed to the ground.
"This guy has the smallest monument in the whole place!"
He pointed to the stone.  "Look at it.  It's just of those stones that paupers get when they die.  In fact, I think it's maybe the only stone like it in the cemetery."
"But there are more than 6,000 buried here.  But this guy gets more visitors than anybody else here!  How to explain that?"
I thought of robber Jesse James and others of his ilk.  Are they famous because they were outlaws … or because they were so daring …  Why?  Why?  Unfortunately I am not a psychologist.  Maybe the psychologists would be puzzled too.
"Look," Shawn said.  He got down on his knees and pointed.  Scattered in front of the tiny monument was a bunch of coins … 27 of them.  A couple of quarters, some dimes and nickels, some pennies.  Some had been there a long, long time, for sure.  A couple looked just minted.
I asked him, "Why do you think people leave money like this?"
"No idea."  He paused.  He was thinking it over.  "Hey, he was a robber.  He wanted easy money.  Well, people are giving him money!"
I glanced at the coins.  They didn't amount enough to even buy a beer at Calamari's Tavern a 15-minute walk from here.
"And look!" he bent down and picked up what I thought was a soda-can ring.  It was a silver ring.  A woman's ring.  Stone missing, it seemed.  Possibly an engagement ring?
"What's that all about?" I asked him.
 "No idea.  But I've seen it there for many years.  " He thought a minute.  "Maybe it ties in with the lady in black who used to come here once a year.  She'd visit the grave and leave a flower.  She still comes, some say."
"Lady in black?"
"Yeah.  So they said.  She'd come on the train.  Young.  Good looking.  Wore a long black cloak with a hood. Never talked to anybody.  Would leave on the train."
"Have you ever seen her?"
Shawn laughed. "No."
Let me tell you how XYZ got killed.  I struck gold—I went online and found a wonderful account.  It's "L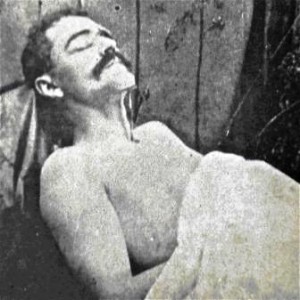 egendary Connecticut" by David E. Phillips, published many years ago.  I recommend it to you.  But pay attention to that word in its title, "Legendary."  My dictionary defines the word as, "of a story coming down from the past—popularly accepted as historical but not verifiable."
Bank robberies were more frequent back then.  There were two banks in town.  The Deep River National and the Deep River Savings.  Big banks for those times.  The banks had seen several hold-up attempts  on them but none successful.
The American Bankers Association sent them word that an attempt was planned.  A big one … a band of robbers!  How it heard that, no idea.  The Savings Bank took action.  It hired a security guard, Harry Tyler, who had a reputation as resolute and fearless.  And a good shot. 
He stood guard every night.  He armed himself with a Winchester.  It was the biggest, best rifle back then.  It was called a riot gun!  The weeks went by.  He maintained his vigil.  Some folks said it was all just a phony rumor.
Very late one dark night—it was Dec. 13—he heard a dog bark and bark.  He saw four men approaching "stealthily."  He reached for his big Winchester.  It was said this rifle could kill two people close together with a single shot.
He saw one holding a revolver.  Tyler didn't wait.  He took careful aim and pulled the trigger.  The man with the gun dropped, dead.  The others fled.  The victim had part of his face blown off.  Later Tyler got $500 for his valor.  A huge sum back then.  That dog deserved a medal.  At least a nice fresh bone.
The undertaker held the body a few days, hoping someone would be able to identify the man.  In his early 30's, it looked like.  A fair build.  A big, wide mustache.  But a mustache was common.  Nobody did provide the answer.  The photo above right shows XYZ at the undertaker's.  The fatal shot hit him on the other side of his face.
Not a word was ever heard from his accomplices or about them.  The cemetery donated the plot for XYZ.  A few curious folks attended the simple ceremony.
Oh, I should mention that sharp-shooter Harry Tyler is buried here also.  About a rifle shot away.  I should go check what his inscription says.
A few weeks after all this, a letter came in a lady's dainty handwriting.  She asked that the robber's grave please be marked with just XYZ.  Did not give her name.  The envelope markings were fuzzy.  Was she the lady in black who came once a year for many years?
A simple wooden cross was put up with XYZ on it.  In time, the basic stone marker replaced it.  Shawn says the records do not say when.  "Maybe the wooden cross wore out.  Maybe the cemetery paid for the stone…."
The stone is weathering just fine.  Those deep letters are good for another century.
All that was long before the F.B.I.  Even before finger-printing.  And now we have DNA testing, which is said to be infallible.  DNA testing is the convincing evidence in more and more trials—absolute proof.  DNA testing has also freed prisoners who have been locked up for years for crimes they never committed. 
Is it possible that DNA testing could finally identify XYZ, resting there six feet under for more than a century?  And give him the name his mom and dad chose for him in the hope, I assume, that he would make that name famous some day?  But famous rather than notorious.
Well, it was time for the three of us to leave XYZ's grave.  Surprise.  Bob dug into his pocket, bent down, and placed a coin among the others.  Another surprise: Shawn did the same thing. 
But why?  I'm sure they had a good reason.  But it beats me.  I did not.  Later I felt a bit guilty about that. 
Hard to explain.
I hope XYZ is aware that Bob and Shawn did that for him.
NOW ABOUT THE STARTLING DEVELOPMENT …
At the Deep River Public Library, I happened to mention to librarian Ann Paietta that I had just finished writing this story.
Her eyes lit up.  "But XYZ was identified!"
 "What???"
 "I'll show you!"
In minutes, she handed me a paper.  "This is a photocopy of an article published in the New Era.  The New Era was the big paper here in those days."
I scannd it eagerly.  It was dated Feb. 23, 1900.  That was a bit more than two months after the shooting.
A headline said, "THE BURGLAR IDENTIFIED. His name Frank Howard, and was a Deep-dyed Criminal."
A full column of reporting followed.  It said that detectives of the American Bankers Association had been working hard on the case.
He was also known as Frank Ellis and Tom Howard.  In another place, as P.E. King.  He was traced back to Mancelona, Michigan, and to Albany, N.Y., and to Springfield, Mass.  He was described as a desperate and hardened criminal.
In one robbery he shot a man (used a revolver).  The man recovered.  In a hardware store, he blew up the safe but got little.  One time he was pursued by two officers.  They tried to arrest him.  He drew his revolver and shot one man in the back (no mention how seriously) and took off.  Was arrested later in the day "after an exchange of several shots.  It was thought for a time that a lynching would follow."  No mention of what happened to Howard as a result of that.  I wonder if he realized he might have been lynched.
The detectives also got information about the three who escaped after the Deep River try.  "The same three men were in the gang that shot the watchman in the Bridgeport affair a few weeks after the killing of the burglar in this place."
Pretty good reporting, I think, given how much more difficult news-gathering was in those days.  The New Era must have had a lot of subscribers.
Now the big question: After the circulation of this sensational article, why did it continue to be said time and again that XYZ was never identified?
I am not sure.  But there's a lot of fun in keeping a mystery going.
John Guy LaPlante is a veteran writer and journalist.  His award-winning columns and articles were previously published in the Main Street News.  He is the author of two books, "Around the World at 75. Alone! Dammit!" and "Asia in 80 Days. Oops, 83! Dammit!"  He completed his service as a Peace Corps Volunteer in Ukraine in early 2010 after a 27-month tour of duty.  John always welcomes comments on his articles.  Email him at johnguylaplante@yahoo.com