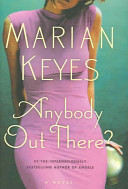 I know I should be reviewing something smarter, or more current, or hipper, but I can't help myself.  I am reading everything I am supposed to — Cleopatra, Unbroken, some book about Voltaire's mistress.  This book really got to me though, so I just can't help but do this.
I went to the Book Barn (akin to Harry Winston in my opinion for sheer delight and fabulousness) and came back with yet another coal bag full of books.  Everything Marian Keyes has written was among them.  
There are five Irish sisters and there is a book about each.  Love, divorce, family trials, etc. … the Walsh Family is a riot.
What I am compelled to say about Anybody Out There is that the mix of humor and pain is notable.  How on earth, I thought, can this really be at all amusing when what I think has happened has happened?
Anna Walsh has a really cool, make-up PR job in the City.  She has moved to the States with her best friend Jacqui and her sister Rachel (Rachel's Holiday) is also there with her fiancé Luke. The gang of their friends is a riot.  The "real men" absolutely will crack you up.  Anna is young and spunky and clever, and falls in love with her dream man.  Aiden is her life.
We meet Anna at her parents house in Dublin recovering from horrifying injuries that she has little recollection of getting.  What is going on?  You figure it before Keyes tells you and it makes you feel sick.
It's just awful.  Interestingly, you don't really see the light at the end of the proverbial tunnel until Anna does.  It goes neither too slow nor too fast, and even though this is essentially a chick-lit beach book, it surprises you with its insight.  Keyes very deftly maneuvers through real pain with real humor.  I was compelled to comment … and so I have.
Jennifer Petty Mann grew up in New York City, moved to London, England, then back to Boston, and is now happily ensconced on the EightMile river in Lyme with three little ones.  A former teacher, window dresser for Saks, and designer, she is taking her love of books to the proverbial "street."