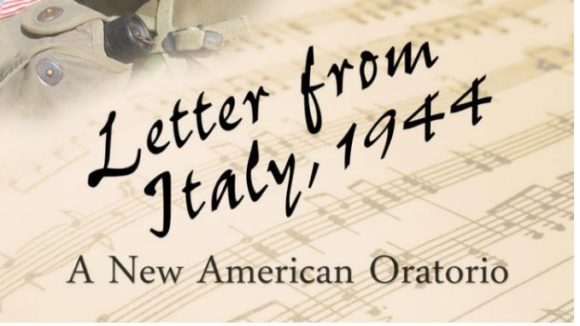 Lyme resident, Sarah Meneely-Kyder, a Grammy-nominated composer, will present a screening of "Letter from Italy, 1944: A New American Oratorio," a one-hour documentary created by Emmy Award-winning filmmaker Karyl Evans and narrated by Academy Award winner Meryl Streep, on Tuesday, April 18 at 12:30 p.m. in the Community Room of the Old Lyme-Phoebe Griffin Noyes Library in Old Lyme. Following the screening, Meneely-Kyder will answer questions.
Meneely-Kyder, together with her sister Nancy Meneely, a noted poet, and in collaboration with Joseph D'Eugenio, artistic director of the Greater Middletown Chorale, wrote "Letter From Italy, 1944," a compelling two-hour American musical drama based on their father's wartime experiences which he shared through his letters home to his family. The documentary takes viewers behind the scenes of the creation and staging of this original oratorio about Dr. John Meneely, who served as a World War II regimental surgeon with the elite 10th Mountain Division.
During his wartime service, he was called upon to witness and provide aid in many difficult and painful situations. While "Letter from Italy, 1944" focuses on the life of the Yale-trained doctor during and following World War II, the Post Traumatic Stress Disorder story that it details still resonates today.
This program is sponsored by Exencial Wealth Advisors of Old Lyme, CT, and will be held in the Community Room of the Old Lyme-Phoebe Griffin Noyes Library, 2 Library Lane, Old Lyme, CT, on Tuesday, April 18, 2017, from 12:30 – 2:30 p.m.
The event is free and open to the public; refreshments will be served. To ensure that sufficient seating and food are available, reservations may be made by calling 860.434.5999.