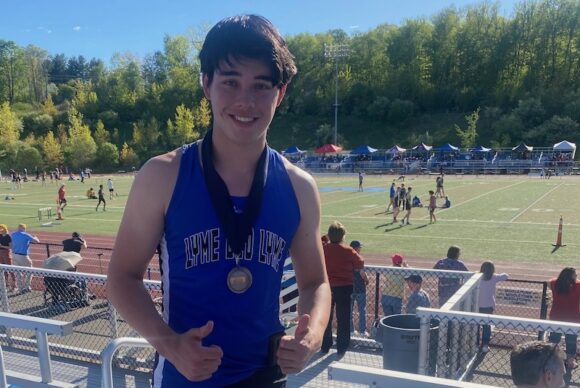 OLD LYME — UPDATED 5/16 with previous record holder's first name — many thanks to John Ressler of Old Lyme for notifying us of it and letting us know that he was there 49 years ago when the previous record was set! On May 6, Lyme-Old Lyme High School (LOLHS) Senior Dylan Sheehan smashed a 49-year-old shot put school record at the 'Shot Put Saturday' Invitational in Middletown
According to LOLHS history teacher Aron Daquila, who manages the track and field program at the school, "The prior record was set in 1974 by P. [Paul] Marshall with a very impressive distance of 51 ft. 4 ins."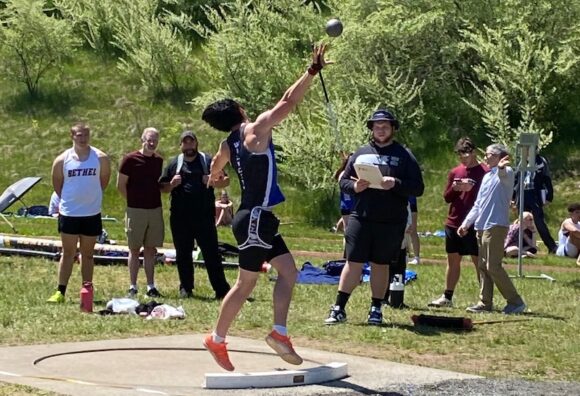 Sheehan threw 54 ft. 3 ins. on his third attempt, thereby breaking the previous record convincingly. Asked by LymeLine today how he felt about breaking a record that had been on the books for 49 years, Sheehan responded by email, "It felt great to break the school record, and it was really special as I've been in a slump since indoor ended."
He added, "I didn't expect this personal record at all, but after trying a big technical change at the meet, the results came through," noting humbly, "While setting a new record was very nice, records are meant to be broken, and my records will surely fall when someone works harder than I did."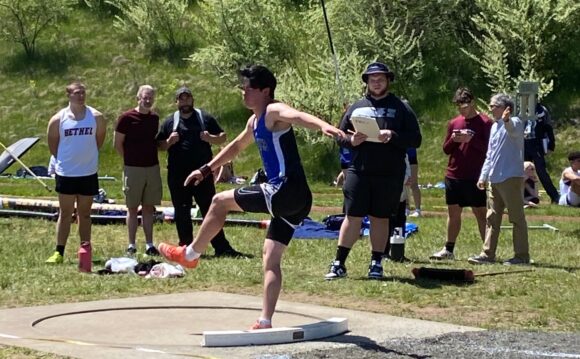 Not only did Sheehan finish second overall in the shot put contest, but he also came away with a first place finish in the discus.
We also connected with Sheehan's coach Nick Bradley, and asked him how it felt to have worked with the athlete, who broke such a long-standing record.
Bradley replied by email, "It was incredible to witness Dylan break this record. Dylan is as hard a worker as they come. He is consistently going above and beyond what is asked of him at practice, so as a coach, there is nothing better than seeing the hard work and dedication of one of your athletes pay off."
Bradley elaborated, saying, "It has been great coaching Dylan for the last two seasons. Not only does he work hard to achieve his goals but he is always helping his teammates to achieve theirs as well. As a coach you couldn't ask for more out of an athlete. He will be missed next season."
Is Sheehan going to rest on his laurels now? Definitely not, according to Bradley, who commented, "Dylan's next goals are to challenge for state titles in shot put, discus and hammer. And in doing so, he is also looking break the schools discus record [of 165 ft.] set by Jared Stanland in 2014, before he (Dylan) heads off to Bates in the fall.
Editor's Note: Congratulations and good luck, Dylan, from all of us at LymeLine.com! And many thanks to John Ressler for giving us the first name of the previous record-holder, Paul Marshall, who was member of the LOLHS Class of 1974. Ressler noted he remembers well the day Marshall achieved the record.