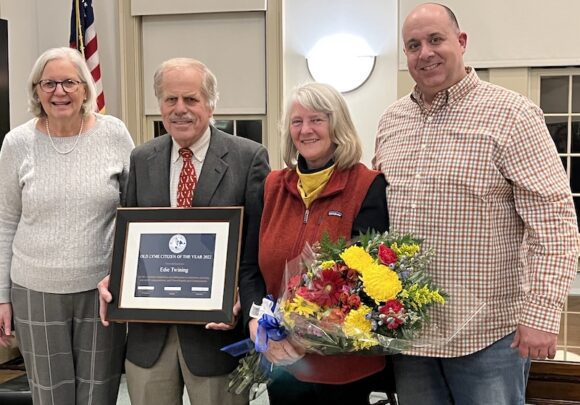 Editor's Note: LymeLine Exclusive: read Twining's subsequent response to receiving the award in this article.
OLD LYME — At Monday night's Annual Town Meeting held in Old Lyme's Memorial Town Hall, Old Lyme First Selectman Tim Griswold enthusiastically declared, "We are excited to announce that Old Lyme's Citizen of the Year for 2022 is the very talented Edie Twining. Edie is passionate about Old Lyme, its history, and its sense of place… and her local involvement speaks to that."
He continued, "Edie is very active serving the Town of Old Lyme in various capacities. Having served on the Economic Development Commission and now as the Chair of the Halls Road Improvement Committee, Edie has worked tirelessly to develop the Halls Road Overlay District that, if approved, will allow property owners along Halls Road greater flexibility to develop their properties. The Committee is also planning to rebuild the Bow Bridge, a pedestrian bridge over the Lieutenant River which was part of the artistic heritage of Old Lyme. On the Town's Economic Development Commission Edie worked toward creating new opportunities for existing Old Lyme businesses and our future businesses."
Griswold added, "Members of the Old Lyme Land Trust are pleased that Edie is on their Board. She has been a long-time steward of the Lohmann-Buck-Twining Preserve and Co-Chair of the Trust's Outreach Committee. She is often seen maintaining trails on Trust properties and she recently led the effort to design and construct benches for the enjoyment of hikers."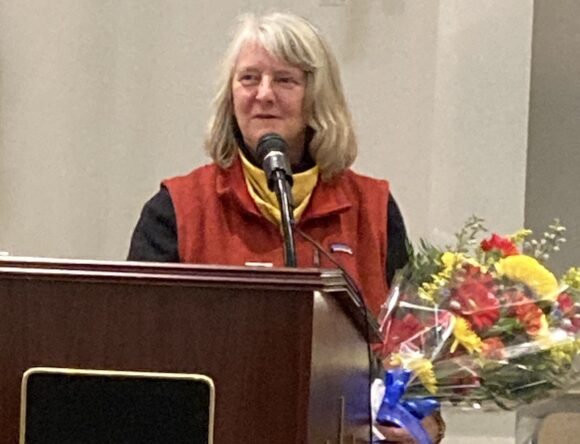 The citation announcing Twining's honor then stated, "Edie brings to everything she does a keen eye for design. As an example, her hand drawn illustrations for the Old Lyme Historical Society's Walking Tour of Lyme Street brochure continues to delight local residents and history buffs alike. As a Board member of the Society, she also volunteers to seasonally refresh the Society's display cases – in the Post Office, in Town Hall and in the Society's building at 55 Lyme Street.
Edie has lent her talents to the Old Lyme Arts District, produced marketing materials for the annual Make Music Old Lyme event and helped create the Explore Old Lyme.com web site."
Griswold concluded, "On behalf of the people of Old Lyme, the members of the Board of Selectmen offer their hearty congratulations to Edie Twining on being designated the Old Lyme Citizen of the Year for 2022."
Others added words of support in the proclamation.
Cheryl Poirier, Chair of Old Lyme's Economic Development Commission and of the Old Lyme Arts District, commented, "I am delighted Edie Twining is being recognized for her unwavering commitment to the Old Lyme community. Edie and I have collaborated on many efforts including the EDC, the Halls Road Improvement Committee, the Old Lyme Arts District, as well as the marketing materials for Make Music Old Lyme, and most recently, the creation of Explore Old Lyme.com."
She continued, " Edie is passionate about Old Lyme, its history, and its continued sense of place. Edie brings to everything she does a keen eye for design, which is reflected in the many things she has created, including the Historical Society's Walking Tour of Lyme Street brochure. Her hand-drawn illustrations and easy to use fold-out brochure continue to delight local residents and history-buff visitors alike."
Poirier noted, "As the Chair of the Halls Road Improvement Committee, and as past commissioner on the Economic Development Commission, Edie has spent countless volunteer hours collaborating to ensure Old Lyme continues to meet the needs of today's residents while creating new opportunities for our future businesses. One of the great things about volunteering in Old Lyme is that you make wonderful friends along the way. I am proud to say that Edie and I not only challenge each other's thinking on our many projects, but she is also my friend. Well done, Edie Twining!"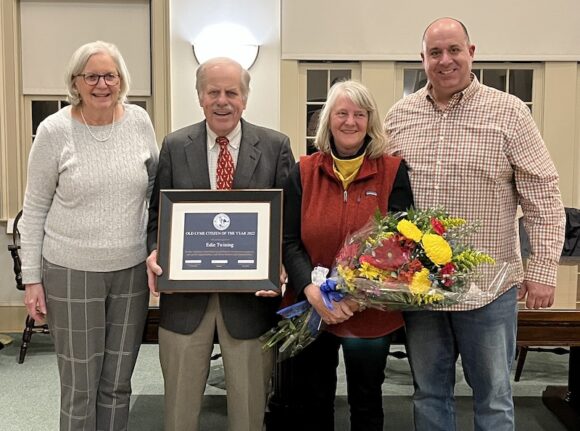 Howard Margules, who served as Co-Chair with Twining on the Halls Road Improvement Committee, said, "Grit, tenacity, smarts, no nonsense common sense, responsible, capable, integrity, caring these are the essence of my friend, Edie Twining. I have worked with Edie for over a decade on both the Economic Development Commission and Halls Road Improvement Committee, and I am always amazed at her dedication and sense of purpose."
He added, "Edie's connection to Old Lyme goes back, way back. Her father played a leadership role in the economic development of Old Lyme in the 1950s and they share that same sense of purpose. Both on a mission to improve, enhance and secure the future of Old Lyme. Edie is not one for seeking the limelight, and I can see her squirming when she receives this award; It is unexpected, but certainly well earned. I applaud the town for recognizing her numerous contributions."
Sabine O'Donnell and Lea Harty, who are member of the Old Lyme Land Trust Board, were gracious in their praise of Twining's contributions to the trust saying, "The Old Lyme Land Trust Board is very fortunate that Edie has chosen to join its ranks. For the past four years, Edie has worked tirelessly to bring insights to board discussions on how the Trust can coordinate its mission and projects with other town organizations to benefit Old Lyme and its citizens."
They said, "Edie is a longtime steward of the Lohmann-Buck-Twining preserve and co-chairs the Trust's Outreach Committee. She enjoys rolling up her sleeves to join other volunteers to maintain the many trails on Trust preserves and, among her many initiatives, recently came up with a bench design and then organized a bench building party at her home that had three generations of local families involved in a fun activity. Edie's many creative talents are also on display whenever new signs or brochures are needed, and she also maintains the Trust's informative website."
O'Donnell and Harty concluded emphatically, "We believe Edie's designation as Volunteer of the Year of the Town of Old Lyme is very much deserved."