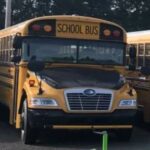 LYME/OLD LYME — Following on from his decision announced Thursday, Feb. 17, that masks will no longer required in Lyme-Old Lyme (LOL) Schools from Feb. 28 onward, LOL Schools Superintendent Ian Neviaser has now decided that masks will no longer be mandatory on school buses.
He had previously said masks would continue to be required on school buses since, "that is governed by the federal government, not the state of Connecticut."
Lyme-Old Lyme Schools reopen Monday, Feb. 28, after a week of winter vacation.
Just after 5 p.m. Sunday (Feb. 27), Neviaser sent out an email to the school community explaining," On Friday, February 25, 2022 the Centers for Disease Control and Prevention (CDC) released a new framework to monitor the level of COVID-19 in communities that includes hospitalizations, hospital capacity, and cases."
In the email, Neviaser noted, "This new tool and guidance does not change the recent school masking guidance released by the Department of Public Health (DPH) and the Connecticut State Department of Education (CSDE) or our recent position statement on optional masking in our schools."
But he pointed out, "As a part of that announcement, the CDC also announced the following: Effective February 25, 2022, CDC is exercising its enforcement discretion to not require that people wear masks on buses or vans operated by public or private school systems, including early care and education/child care programs.
Neviaser concluded in his email, "As such, masks will no longer be required on all Lyme-Old Lyme buses.  Individuals who choose to continue to wear a mask on the bus will still be able to do so."