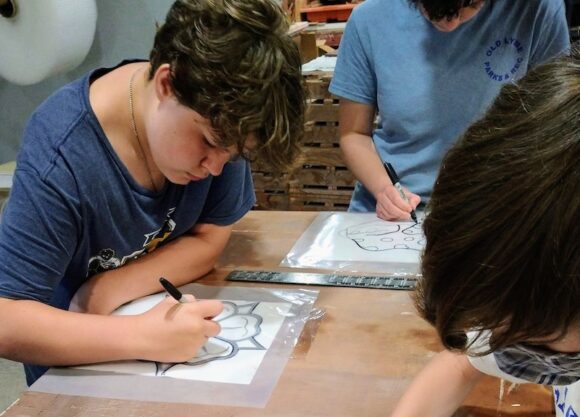 OLD LYME — "Tremendously successful!" That's how Lilywork Artisan Tile founders and owners Paul and Esther Halferty sum up their participation in this year's Lymes Creative Arts program. Their custom-built tile studio is located in the center of Old Lyme at 56 Lyme St. and is the creative endeavor of the husband and wife duo.
The summer program, supported by mini-grants and materials provided by Lymes Creative Arts, aimed to provide transformative and accessible hands-on arts experiences to teenagers in the Lyme and Old Lyme communities.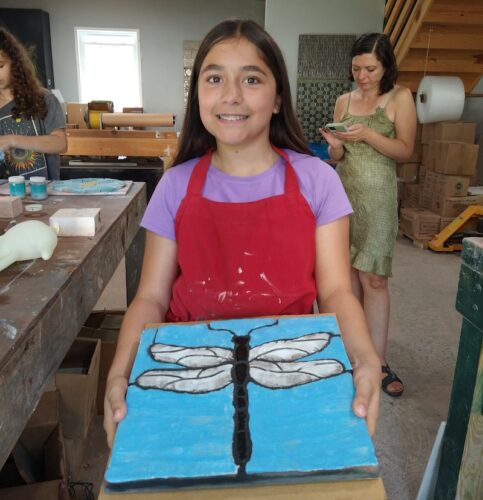 The Halferty's took on the role of instructors for this summer's program. They guided a group of 11 enthusiastic students through the process of creating tile mosaics from start to finish.
Over the course of several weeks, these talented teens immersed themselves in the world of artisan tile making, acquiring invaluable skills and hopefully forming lasting friendships with their fellow classmates.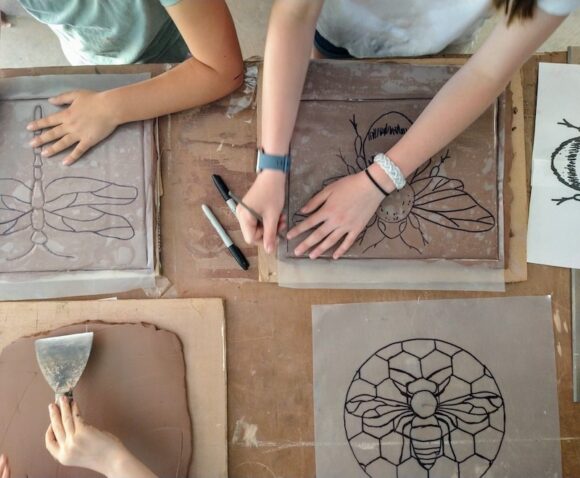 Under the guidance of instructors Paul and Esther, the students embarked on an inspiring artistic journey. From shaping clay and designing unique templates to mastering the art of mosaic cutting and glazing techniques, the students gained some insight into a day in the life of a tile artisan.
As the program drew to a close, students were eagerly anticipating the final stage of setting and grouting their colorful creations.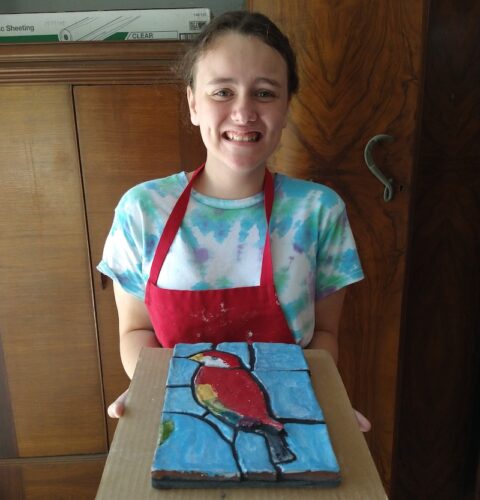 Beyond the acquisition of artistic skills, this Lymes Creative Arts summer program fostered an environment of camaraderie and friendship. The students collaborated closely with their peers, forging new connections and cherishing the opportunity to share their artistic pursuits.
The emphasis on celebrating individual artistic expression allowed each student to gain confidence in their unique artistic journey, regardless of their skill level.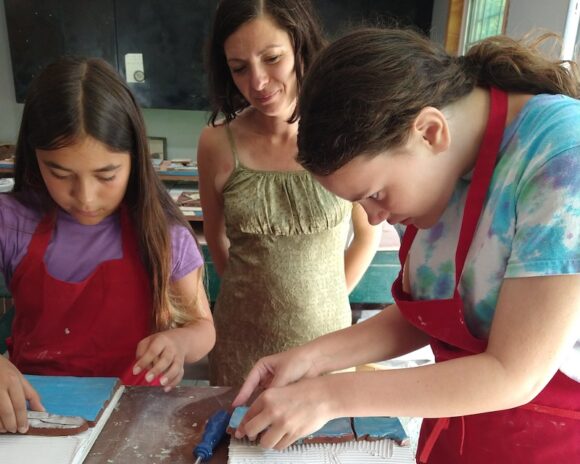 Paul Halferty commented, "As artisan tile makers and instructors, it has been an absolute joy to be a part of the Lymes Creative Arts summer program."
He continued, "We have witnessed the incredible impact of art in the lives of these talented teenagers, as they not only honed their skills but also discovered new ways to express themselves creatively. The program has been a win-win for both student and teacher and we are grateful to have been a part of their artistic journey."
The resounding success of the Lymes Creative Arts program can be attributed to their unwavering commitment and dedication to its core objectives. By offering affordable or free programming, Lymes Creative Arts ensured that aspiring artists from diverse socioeconomic backgrounds had access to these transformative experiences.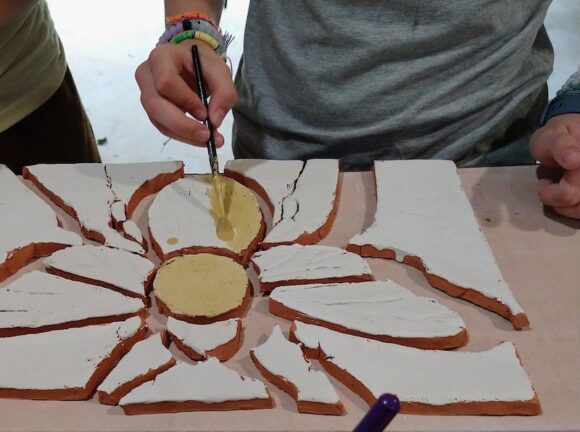 The hands-on arts opportunities provided an outlet for the students to manage stress and find fulfillment through artistic expression. The comprehensive range of art forms, including visual arts, craft making, literary arts, and performing arts, catered to a variety of interests, allowing each student to explore their passion fully.
Esther Halferty said, "We would like to express our heartfelt gratitude to Lymes Creative Arts for entrusting us with this remarkable opportunity to nurture the artistic talents of local teenagers."
She added, "We also extend our appreciation to the Old Lyme community for their unwavering support throughout the program."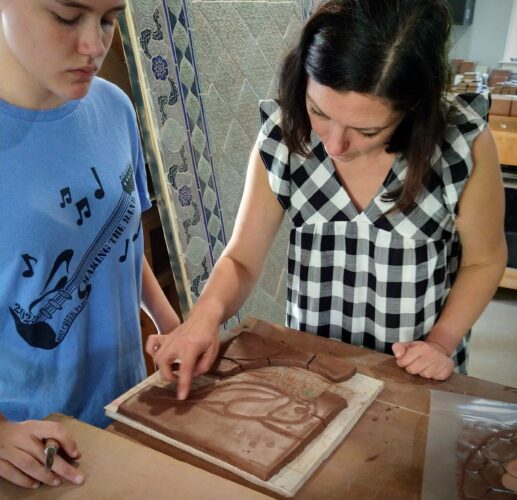 The couple acknowledges the invaluable funding provided by the American Rescue Plan, which made these transformative experiences possible for aspiring young artists in the area.
The story of Lilywork begins at Moravian Pottery and Tile Work, a living history museum in Bucks County, Pa.
Recently back from a year in Turkey, Esther started an apprenticeship at the Tile Works in the Fall of 2005. Esther came to learn the Tile Work's traditional tile-making techniques, as well as, to create work inspired by her love of printmaking, architecture, and tile patterns seen during her time abroad.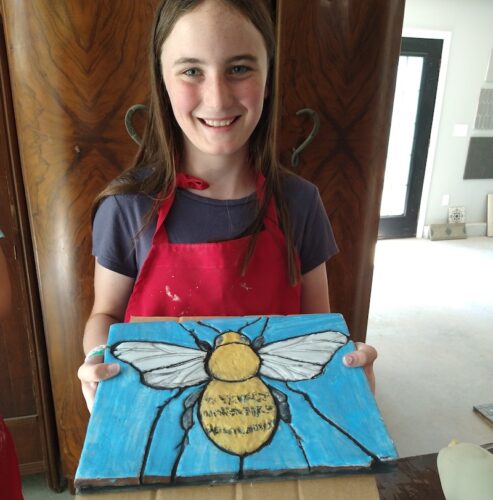 Paul, meanwhile, was working at the Tile Works as mold-maker, ceramist, and teacher.
One year later they were married … and Lilywork Artisan Tile was born.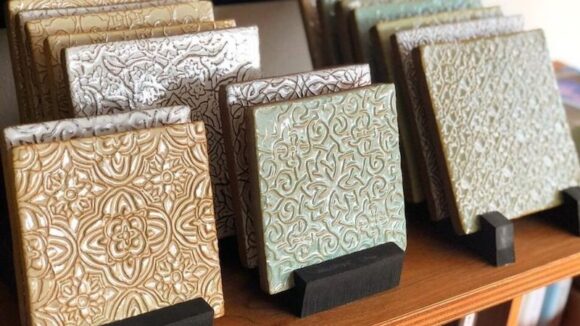 Today, every tile is pressed by hand in Old Lyme. Because every Lilywork backsplash and custom fireplace is made by hand, no two are exactly alike. Every tile carries a story that lends meaning and authenticity to every surface on which they are placed.
Lilywork tiles are inspired by the Halferty's love of travel and traditional design. Lilywork designs are not cutting-edge statements of current fashion, but rather a blending of what has been handed down by craftsmen and designers of the past. Paul and Esther strive to create designs and colors that have relevance across cultures and centuries.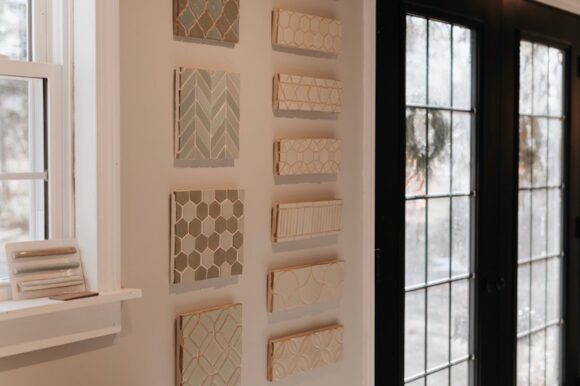 Over the years, the Halferty's worked closely with homeowners, designers, and builders to bring their dreams and visions to life. Their clients come to them seeking something different and unique.
As the Halferty's reflect on the success of the Lymes Creative Arts summer program, they remain steadfast in their commitment to fostering accessible and enriching artistic opportunities for the youth in their community. With their artisan expertise and unwavering passion, the couple eagerly anticipates future endeavors and the positive impact they will continue to have on the lives of aspiring young artists.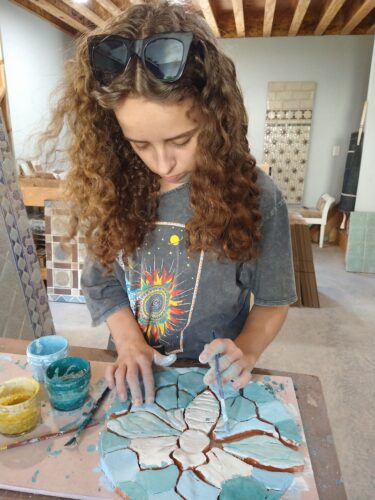 For more information about Lilywork Artisan Tile and their involvement in the Lymes Creative Arts program, visit www.lilyworktile.com or contact Paul Halferty at 860-865-5933 or [email protected].
Editor's Note: This article is based in part on a press release issued by 'Lilywork Artisan Tile.'