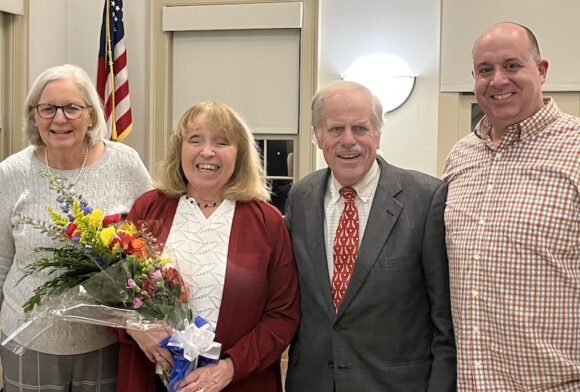 OLD LYME — The Old Lyme Town Report has been edited by the same person for 30 years, but the report approved by residents at Monday night's Annual Town Meeting was her final one.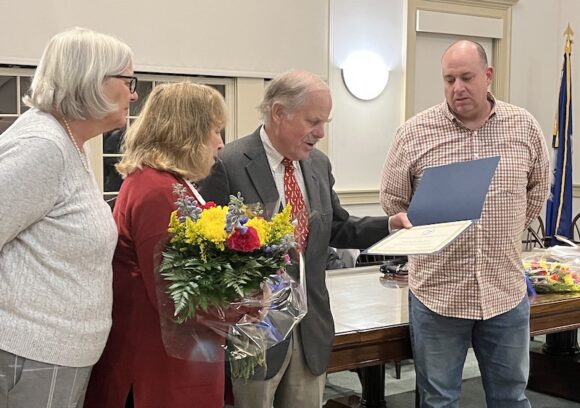 Michele Dickey — a lifelong resident of the town, whose family has lived in Old Lyme for generations — retired from her editor's role and on Monday night, the town honored her extended service with both words and flowers.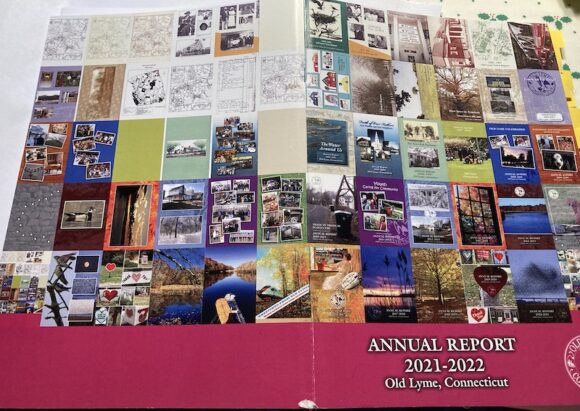 The 2021-22 Town Report is in some ways a tribute to Dickey's 30 years of service since the outside cover includes images of all the reports she has edited.
Griswold brought a stack of reports, all of which Dickey had edited, to offer a visual demonstration of the sheer size of her work during the previous 30 years. He noted how "impressive" her work has been with '30 consecutive Town Reports from fiscal year 1993 to 2022."
Griswold drew chuckles from the audience when he commented, "I worked with her on 18 of them …"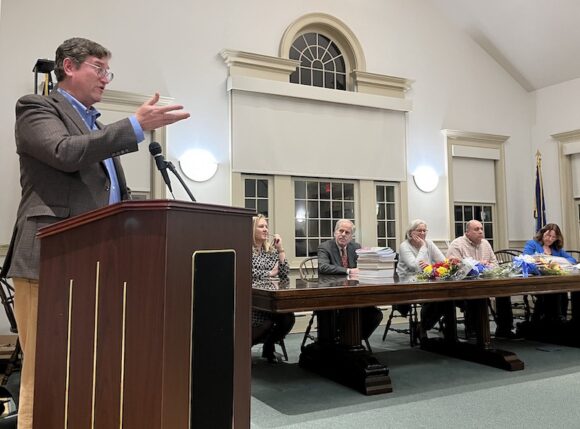 Griswold then remarked that Dickey had created themes for all but five reports and commented that there were, "some notable ones."
He singled out the ones Dickey produced in the following years: 1995, when it was the Equestrian Special Olympics in Old Lyme; 1998, which was the 75th anniversary of the Old Lyme Fire Department; 2007 covered the OL Town Hall expansion; 2013 focused on the big blizzard of that year and also Hurricane Sandy; 2017 celebrated the defeat of the proposed Amtrak rail line through the town; 2020 saw an inevitable theme of COVID, and 2021 explored the tree swallow murmuration.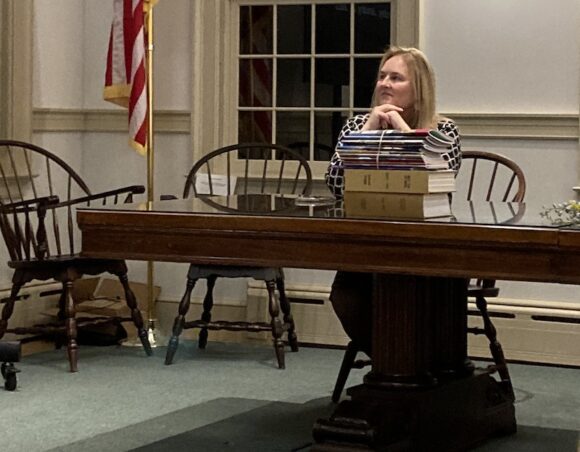 Griswold pointed out that, "The Editor's job is very detailed – listing all newly elected appointed officials in Town with their correct terms of tenure, all Town employees, and all marriages and deaths in the Town. He emphasized though that, "The most challenging aspect of the task is getting 52 or more officials to write their annual articles for their agencies each year," adding, "And last but not least, formatting everything for the printer and proofreading it all."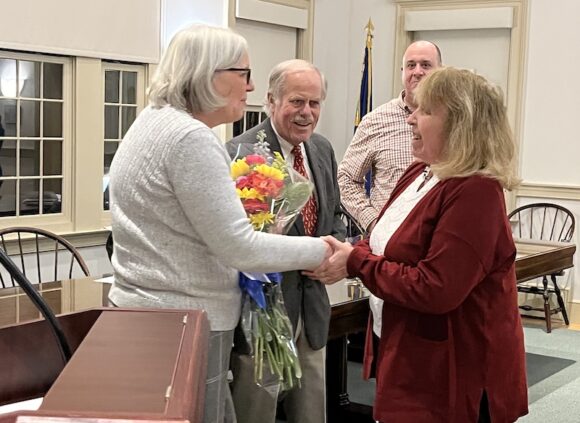 After Dickey had received hugs and been presented with flowers, she received a lengthy, well-deserved standing ovation.
When the celebrations were over, we asked Dickey how she felt about receiving such a touching acknowledgement of her multiple years of service. She wrote in an email, "My thanks to several administrations of the Town of Old Lyme, town hall personnel, and many boards of finance for this extended opportunity. I have worked with and gotten to know through hardcopy in a town-hall mailbox and more recently via email many people, whom I have never met in person."
She continued, "There have been great conversations and many kindnesses!"
Dickey concluded, "But the fact that the town report must be finalized right around the Christmas holidays is always tough, no matter how hard I try to plan ahead. I am looking forward to more free time in the coming years and being able to spend much of it with our two grandchildren — who fortunately live right down the road!"