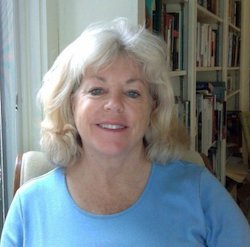 OLD LYME — Sandra Jean Garvin Cameron (Sandy Garvin) passed away peacefully on January 2nd, 2023, at Middlesex Hospital at 72 after a brief and unfair battle with cancer. Sandy was raised in Old Lyme, Connecticut, where she had lived for most of her life. She was born on May 12th, 1950, to H.P. "Perry" and Adeline "Pete" Garvin.
Sandy was, among many things, an incredible artist, mother, friend, and grandmother. She loved and supported her family members without question throughout her life. She is survived by her three children, Douglas, Patrick, and Jennifer, and their spouses, Allyson, Katrina, and Michael. Along with her beloved grandchildren Miller Cameron (5), Adeline Burnell (4), River Cameron (2), Huntley Cameron (1), and two more on the way. She also leaves behind siblings Bonny Clark, Harold Perry "Grub" Garvin, and Julie Riggs, along with a large extended family of cousins, nieces, nephews, and their children.
Sandy graduated from Lyme-Old Lyme High School in 1968 and continued her education at Green Mountain Jr. College (1970) and Northeastern University (1972). She moved to Colorado, with Brian Cameron, to whom she was married from 1976-1993. They lived together in Florida, Arizona, Massachusetts, and Connecticut, raising their three children. They have enjoyed welcoming grandchildren and watching their family expand in recent years.
Sandy's primary career was as an artist and the owner of Garvin Gallery in Essex, CT, and later Garvin Studio in Old Lyme, CT. She also spent many years working and volunteering at the Lyme Art Association. Her beautiful oil paintings of landscapes have been shown and sold in galleries, restaurants, and magazines across New England. Known mainly for her serene landscapes, she also painted beautiful still lifes and portraits. Sandy was able to see beauty in all things and in all people- a true artist in every sense.
Hawk's Nest Beach has been a special place to Sandy and the Garvin family, who have been owners of the summer family beach rentals since 1895 in Old Lyme, Connecticut. It brought Sandy joy to see families delighting in such a special place to make memories. In 2022 she became the owner of The Nest at Hawk's Nest Beach when she and her siblings divided the family business into smaller parts.
Sandy was part of a group of extraordinary women who call themselves "SOS", or sisters of the soul, for over thirty years. This network of friendships provided Sandy with a beautiful community of support, many adventures, and countless sunset dinners at Mile Creek Beach Club. Her family is grateful to this group of friends for their continued love and support.
She will most be remembered for her genuine warmth, generosity, and loving-kindness. She was full of light, life, and curiosity. Sandy touched countless lives with her kind spirit and calming energy. As a wonderful and frequent host, Sandy's home was a sanctuary of joy and comfort. Her family and friends are deeply saddened by this tremendous loss. They will carry on her legacy through kindness, hospitality, and acts of love.
A celebration of her beautiful life will be planned for the spring.