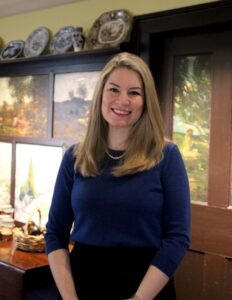 CINCINNATI, OHIO/OLD LYME, CONN.—The Taft Museum of Art's board of directors has announced the selection of Rebekah (Becky) Beaulieu as the museum's next Louise Taft Semple President and CEO.
Beaulieu is currently the director of the Florence Griswold Museum, an American Alliance of Museums accredited National Historic Landmark, house museum, and modern exhibition space dedicated to American art, history, and landscape in Old Lyme, Conn.
Since Beaulieu's appointment in 2018, she has made substantive changes in the depth of programming and connection to the community.
Beaulieu also serves as an accreditation commissioner for the American Alliance of Museums, as the vice president of the New England Museum Association, and as the treasurer of the American Association for State and Local History.
Beaulieu's work has received recognition as the author of Financial Fundamentals for Historic House Museums (Rowman & Littlefield, 2017) and Endowment Essentials for Museums (Rowman & Littlefield, 2022).
Raised in Milwaukee, Beaulieu holds a PhD from Boston University in American and New England Studies with her dissertation Historic House Museums and America's Urban Midwest offering underrepresented scholarship in the field.
Beaulieu also holds a masters in Art History and Museum Studies from the University of Wisconsin-Milwaukee, a masters in Arts Administration from Columbia University and a bachelors in American Studies from The George Washington University.
In addition to her current roles, she has also held positions at the Bowdoin College Museum of Art (Brunswick, Maine), the Milwaukee County Historical Society (Milwaukee, Wis.), and Lookingglass Theatre Company (Chicago, Ill.)
"We are delighted to welcome Becky as the next President and CEO of the Taft, and excited to have her and her husband Patrick become part of our vibrant community in Cincinnati," says Jill T. McGruder, board of director's vice chair. "Becky will bring her impressive skills in community engagement, staff support and financial management to the museum at an important moment in its history, having recently celebrated our bicentennial and preservation of our landmark home."
This appointment marks a critical era for the Taft, whose world-renowned collection and regional legacy make it an important national treasure. Beaulieu will build upon the organization's community-centered engagement and excitement following the museum's Bicentennial Infrastructure Project, sparking a renewed creative energy around the unique cultural gem.
"I am absolutely thrilled to be joining the Taft Museum of Art and look forward to collaborating with its visionary board of directors and exceptional staff to steward the museum into its exciting next chapter as a beacon of 21st century preservation and engagement. It is a true honor to be selected to lead an institution that is renowned for its commitment to excellence, and to join the dynamic arts community of Cincinnati," says Beaulieu.
Beaulieu will officially join the museum as Louise Taft Semple President and CEO on Sept. 19, 2022.
The board-appointed selection committee conducted a nationwide search, retaining executive search consultants Museum Search & Reference, LLC.
Editor's Notes: i) The press release above was issued Aug. 1, 2022 by the Taft Museum of Art.
ii) Tucked away in downtown Cincinnati, Ohio, the Taft Museum of Art is a living landmark where art and history are everywhere you look. Built around 1820 as a private home for several of Cincinnati's most prominent citizens, the Taft Museum of Art is now one of the finest small art museums in America and holds National Historic Landmark status for its historic house and Duncanson murals. For more information, visit taftmuseum.org.