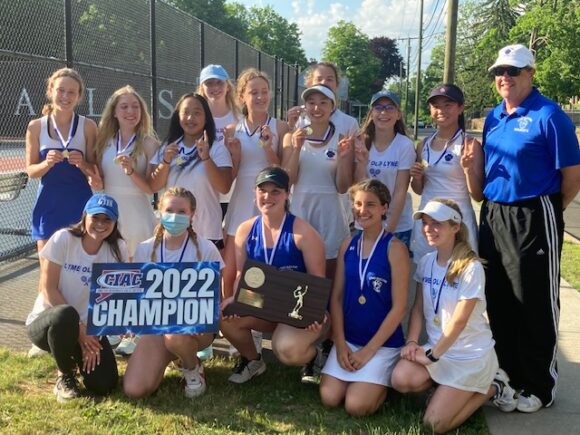 MIDDLETOWN — UPDATED 6/6/ WITH COACH RAHR'S COMMENTS: The Old Lyme girls defeated Westbrook 4-3 in Saturday afternoon's CIAC Class S championship final. The thrilling match was played at Wesleyan University in Middletown.
With this tremendous victory, Old Lyme become not only Class S state champions for the second year in a row but also remain undefeated for 43 games in succession!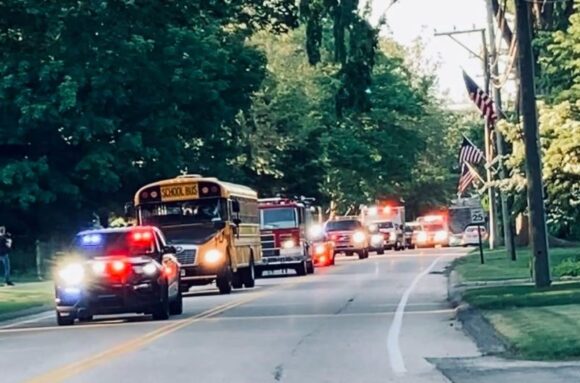 As the team returned to Old Lyme, they received a police escort down Rte. 9 and then on the final leg of their homeward journey, a veritable army of local ambulances, fire-trucks and police cars — all with sirens blaring, bells ringing and horns honking — enthusiastically greeted them (see photo above.)
Asked how she felt about the match and season coach Lauren Rahr told LymeLine exclusively by email, "It is crazy to think that last year we were able to bring the school its first girls' tennis state championship, and this year we followed it up with another one!"
She continued, "Last year, the girls were new to the state stage and soaked in every moment of the experience. This year, you could tell it meant so much more to them. They not only understood the honor a state title holds, but they were able to properly celebrate with their team who have now become their best friends."
Rahr added, "As I said to my family after the big day, "43-0, two undefeated seasons, two state championships, and a group of special girls that became an extension of my family. What gets better than that?""
Looking back at the season, Rahr commented, "I could see how strong and focused they were [throughout the season] while they were playing. When we got to championship week all I wanted to do was to get them to the finals because they all deserved that spotlight after how hard they had been working."
She explained, "It is rare that you find a group of girls this special both on and off the court. They have changed my life. I hope they hold these memories with them throughout all the chapters of their lives."
Noting, "We had a lot of challenges to overcome this season along with the pressure of the repeat from last year, but they handled it with their heads held high and sights focused on their goal," Rahr concluded emphatically, "The title couldn't have gone to a more deserving group of girls."
The match was no push-over for Old Lyme with both the #1 and #3 OL singles players, respectively Abby Sicuranza and Callie Bass, losing their matches, and the OL #3 doubles pair also lost in an intense three-set match.
The #2 and #4 singles players, however, respectively Sam Tan and Elaina Morosky, won convincingly. Tan did not drop a single game winning 6-0, 6-0 and Morosky dropped only one game, winning 6-0, 6-1.
Similarly, the #2 doubles pair of Aggie and Beatrice Hunt did not lose a game in their 6-0, 6-0 victory while the #1 pair — Livie Bass and Alexis Fenton — dropped only one game to win 6-0, 6-1.
Hearty congratulations to the team and Coach Rahr!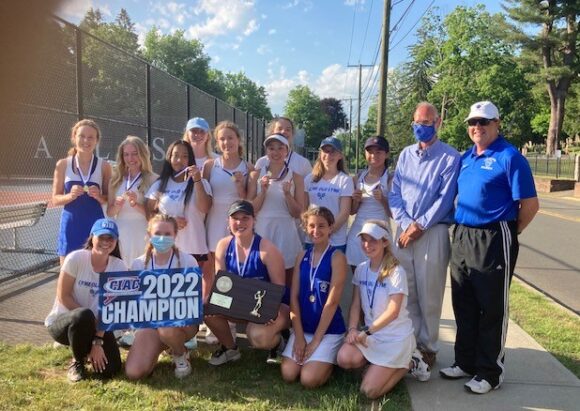 The full game scores from the match (with Old Lyme team members listed first) were as follows:
1st Singles:
Abby Sicuranza vs Julia Farnoli 2-6, 2-6
2nd Singles: 
Sam Tan vs Gianni Salisbury: 6-0, 6-0
3rd Singles:
Callie Bass vs Megan Bache: 3-6, 3-6
4th Singles: 
Elaina Morosky vs Ava:  6-0, 6-1
1st Doubles:
Livie Bass / Alexis Fenton vs. Bree Koplas / Delany Belcourt: 6-0, 6-1
2nd Doubles:  
Aggie Hunt/ Beatrice Hunt vs. Olivia Palumbo / Jami Sacco: 6-0, 6-0
3rd Doubles:
Olivia Schaedler / Izzy Reynolds vs. Xan Zanzalari / Adriana Stranieri: 6-1, 4-6, 4-6