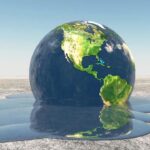 LYME — This evening, Thursday, Jan. 14, at 7 p.m., the Friends of the Lyme Public Library present "Climate Change & You," a Zoom presentation by Climate Reality Leadership Corps member Patricia Sisson.
The presentation will address some of the many specific threats posed by climate change, identify societal approaches for dealing with them and highlight the most powerful actions individuals can take.
To register for this free program and receive the Zoom invitation, send an email to programreg@lymepl.org.