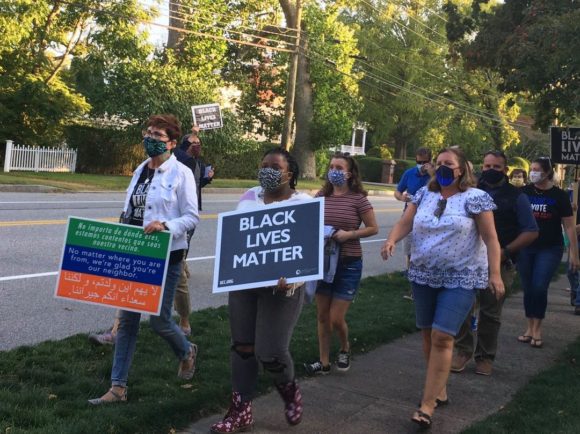 LYME/OLD LYME — Around 80 people showed up for the Lyme-Old Lyme (LOL) Partnership for Social Justice and the Old Saybrook March for Justice march and "teach-in" focused on desegregating Connecticut, which was held  Wednesday, Sept. 23, in front of the First Congregational Church of Old Lyme.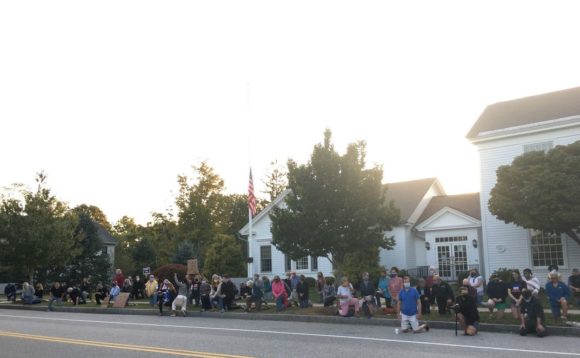 Speakers who addressed the crowd included:
Fionnuala Darby-Hudgens from CT Fair Housing

Luke Reynolds from Desegregate CT

Tony Lyons from the HOPE Partnership

Sadie Frankel, a local high school student

Dave Rubino, candidate for District 23 State Representative

Rev. Steve Jungkeit from the First Congregational Church of Old Lyme
The LOL Partnership's mission is to educate residents on important topics of social justice and call attention to opportunities where citizens can support local, state and national social-justice efforts. 
For more information, visit the Partnership's Facebook page at this link or send an email to LOLPartnership4SJ@gmail.com. 
The Old Saybrook March for Justice is an inclusive and welcoming coalition of friends and neighbors, who care deeply about basic human rights.
Their mission statement states, " We are outraged by centuries of structural racism in this country. We stand with Black Lives Matter. We listen, learn and act. We understand that silence is not an option. We aim to be allies and antiracist. We are respectful, nonpartisan and inclusive. We welcome all who share our values. We educate ourselves and join in weekly marches."
The schedule for subsequent marches is as follows:
Wednesday, Sept. 30:  Deep River – in front of Town Hall with speaker Professor O'Leary.
Wednesday, Oct. 7: Old Saybrook – in front of the Kate with speaker Professor Blight, the author of the Pulitzer Prize-winning biography of Frederick Douglass.
All marches are on Wednesdays from 5:30 to 6:30 p.m.
For further information and to raise any questions, email
osbmarch@gmail.com
 with any questions.