LYME — Describing it as "one of the most heart-lifting events that I've ever been a part of," Lyme Consolidated School music teacher Melissa Rostkoski explained that the inspiration for the 35-strong car parade that wound through the streets of Lyme on Tuesday afternoon lay in social media.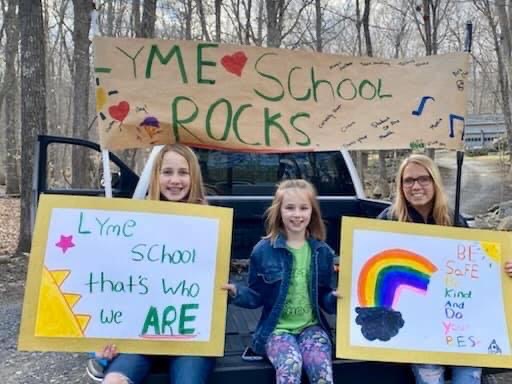 She had seen a video-clip of a motivational car parade being held "nowhere round here" shortly after Lyme-Old Lyme Schools were closed March 13 due to the COVID-19 crisis and it started her thinking about trying to do the same thing in Lyme.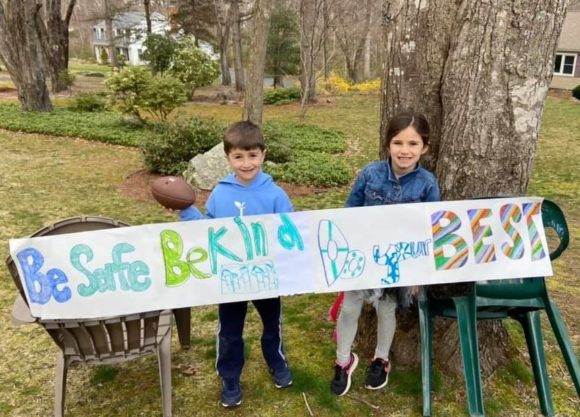 Rostkoski said she shared the video with her colleague and friend, Lyme School's Physical Education teacher Bonnie Ambruso, and together they rapidly agreed, "We should do this."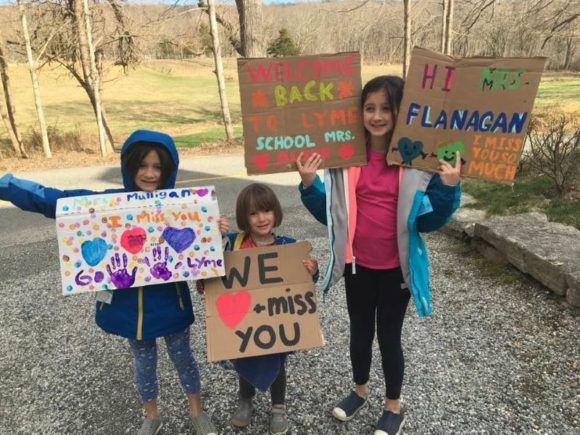 From there, the two teachers set out to enlist broad parental and faculty support for the idea and gain all the necessary approvals from the Lyme-Old Lyme Schools, Police and Fire Departments. Rostkoski noted that after, "lots of back and forth," a date was set and then the detailed planning really started.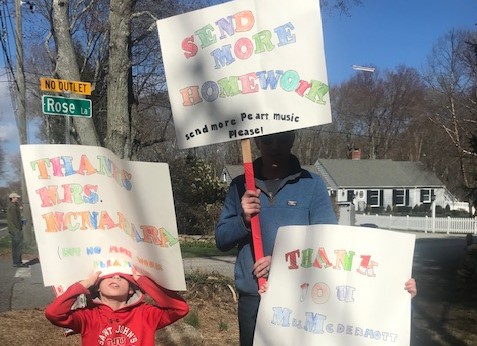 Emily Reynolds, who has two girls at the school and also runs Lyme School's Facebook page, was soon involved. She said, "I looked at all the Lyme School bus routes and developed a master route," adding with a smile that it turned out to be an exercise that, "required a PhD in logistics!"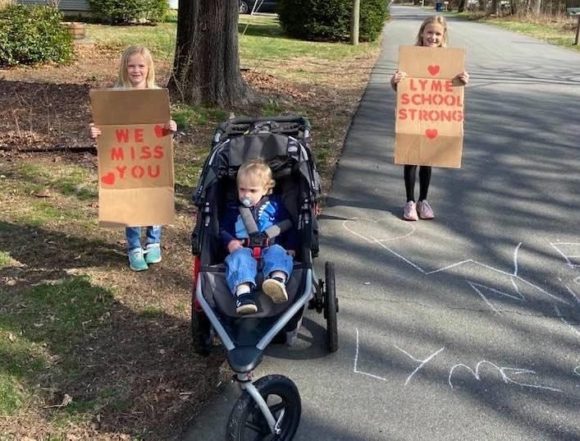 Another parent, Adam McEwen was soon on board and, in Reynolds' words, "He tested the route," and moreover, "… it worked!"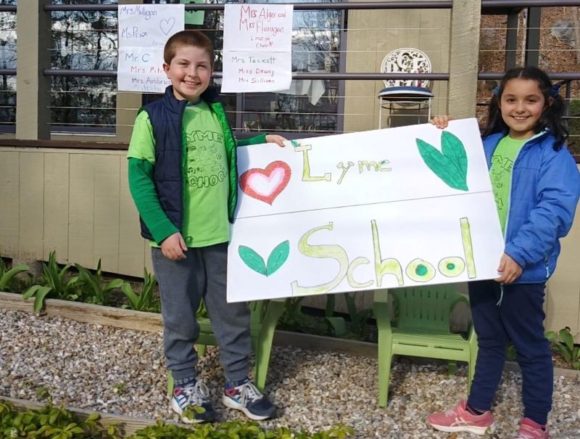 Stacey Leonardo, who is president of Lyme School's Parent Teacher Organization (PTO) and also a Region 18 Board of Education member, joined the effort and Reynolds described how Leonardo, "Put her graphic designs skills to work and developed a flier which we posted to the Lyme PTO pages and shared to all room parents to disseminate to the families."
Reynolds said that, at that point, the parade concept had "really created a movement within the town."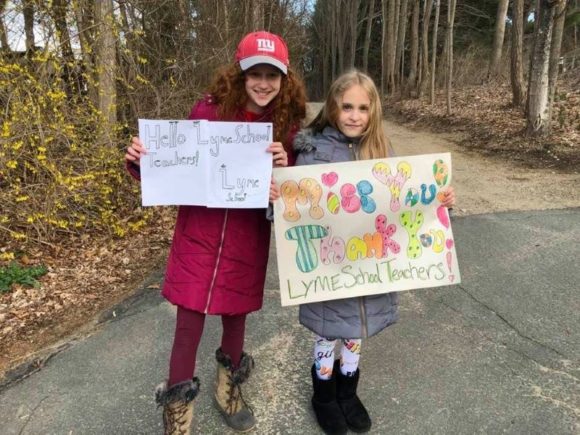 A few days prior to the event, Reynolds said, "Old Lyme Fire Department member Jarrod Flagg, who has children at Lyme School, reached out and wanted to help coordinate fire department support.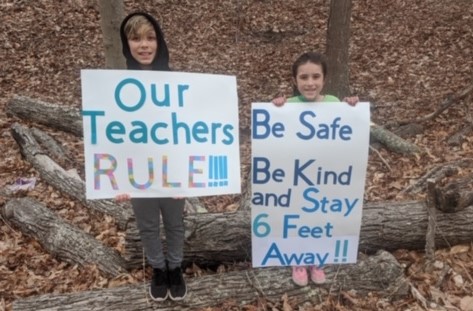 The Lyme and Old Lyme Fire Departments then went to work, and got drivers and firetrucks ready for the event." She noted, "Jarrod was really committed to making this a special event for the kids."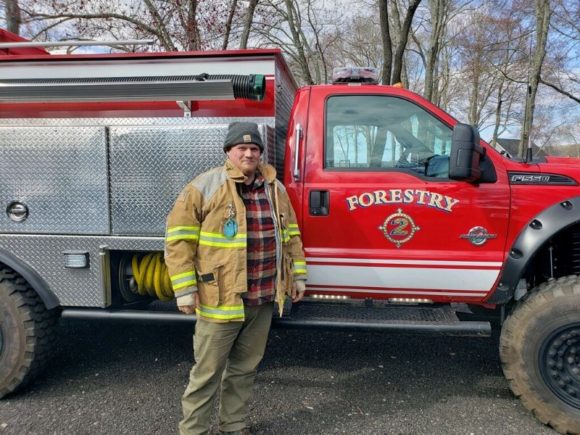 Keeping things in the family, so as to speak, the Lyme firetruck driver was Lyme School alumnus Will Firgelewski, pictured above, who graduated from Lyme-Old Lyme High School in 2005.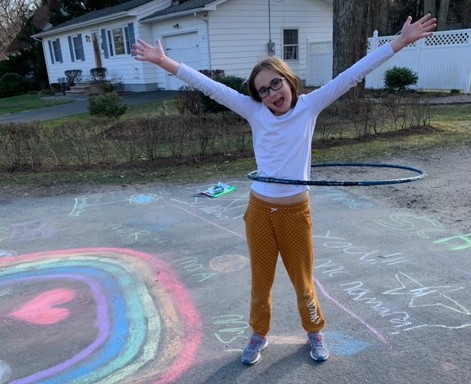 Finally, in the true spirit of community, the Old Lyme Resident Trooper contacted Rostkoski March 30 and said he too "wanted to be part of it" and would help take care of the safety aspects of the parade.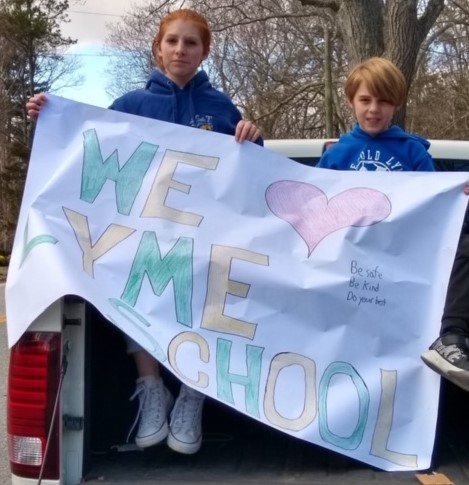 And so it came to pass that all the Lyme School teachers, Instructional Assistants and nurse, along with Principal Jim Cavalieri gathered in the Rogers Lake parking lot a little before 4 p.m. last Tuesday in preparation for the parade. The route had taken McEwen around a little over an hour when he tested it — this time it took more than twice that length of time.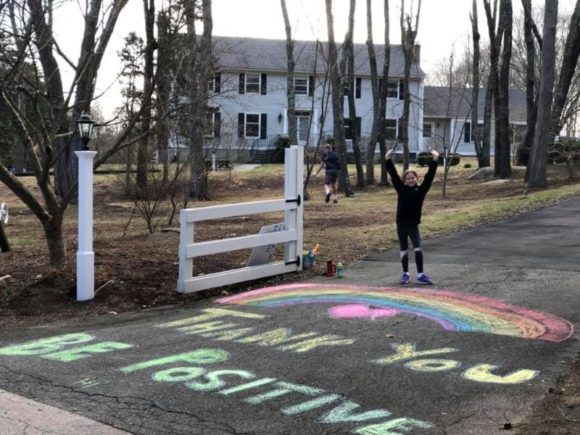 The streets were filled — but always at a safe social distance — with children and parents holding wonderful, often amusing homemade signs, waving and cheering as the parade of cars filled with their teachers and support staff drove past.  In many cases, the cars were bedecked with balloons and the drivers regularly blew their horns.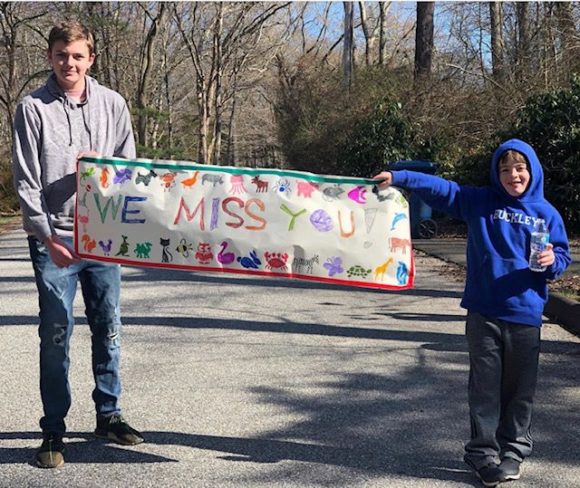 Rostkoski said, "It made everyone incredibly happy.  There were definitely some tears.  It was very therapeutic for everyone. We wanted the kids to know that we miss them terribly and would much rather be in a building with them than driving by them."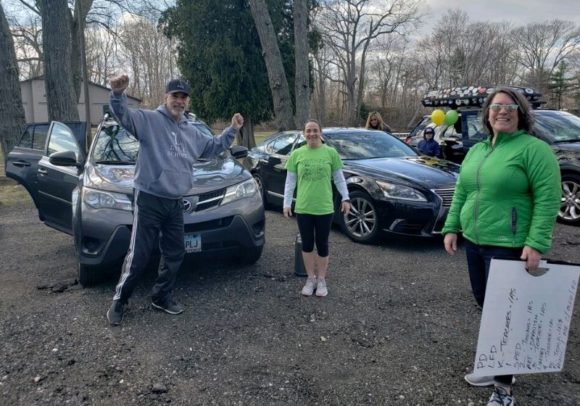 Reynolds added, "The turnout was extraordinary. The goal [of the parade] was really to remind all of these young people that even though we are all apart, the amazing teachers of Lyme School are here for them, care about them and will support them through this challenging time. It's all about connection – we are wired to be connected and this parade achieved that; it made everyone feel part of this special community."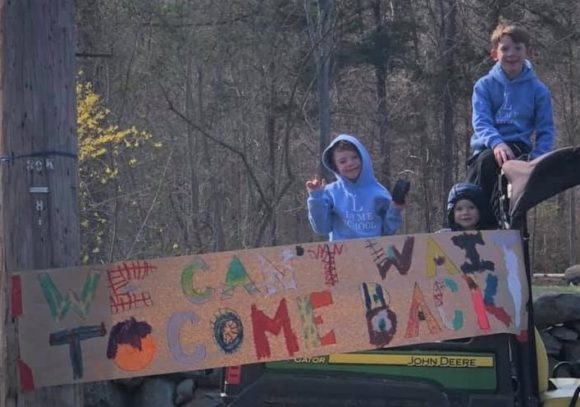 Cavalieri commented, "My staff wanted to bring a little "normal" back into the students lives. Hopefully this was accomplished as we drove by the smiling faces of the students and parents. We wanted to give them hope during this time of uncertainty. All of the students want to be back in school with their teachers and friends. They just want life to be back to normal."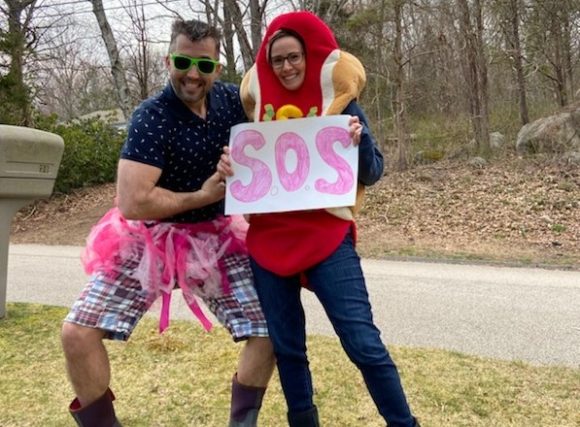 Rostkoski was anxious to express her thanks to, "Everyone that made the parade flow so beautifully and kept it safe."  Cavalieri similarly wanted to give, "A big thank you to the Lyme and Old Lyme Fire and Police for their support and guidance in making this parade so fabulous," concluding, "We all want to be safe and remain healthy, but we all want to get back to what we do best … being in our classrooms and teaching the kids."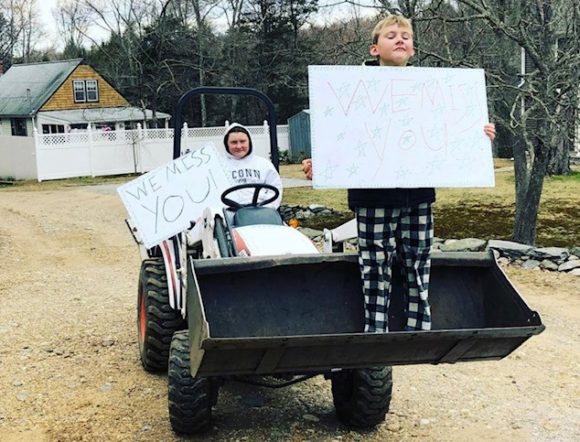 Editor's Note: We apologize that we do not know the names of all the students, teachers and parents in these photos. Please send us those details if you wish us to add them. And we received so many wonderful photos from the parade that, contrary to our normal policy of only publishing a limited number of photos with an article, we have published almost all of them!