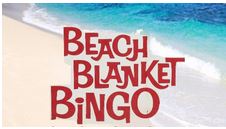 UPDATE 4:20pm: DUE TO THE THREAT OF SEVERE THUNDERSTORMS, TONIGHT'S 'BINGO ON THE BEACH' HAS BEEN CANCELLED.
Play Beach Blanket Bingo Wednesday evening, Aug. 7, from 6 to 8 p.m. at White Sand Beach.
Hosted by Lymes' Youth Service Bureau (LYSB), the price for this fun, family evening is $5 per person or $20 per family. All are welcome.
A pizza dinner is included and prizes will be awarded to Bingo! winners.
Bring your beach blanket, bug spray … and your appetite!
This event is open to all Lyme and Old Lyme families.
Check the LYSB website or Facebook page after 5 p.m. for possible weather postponements.