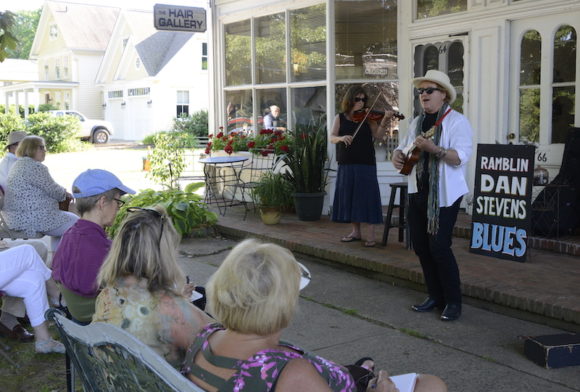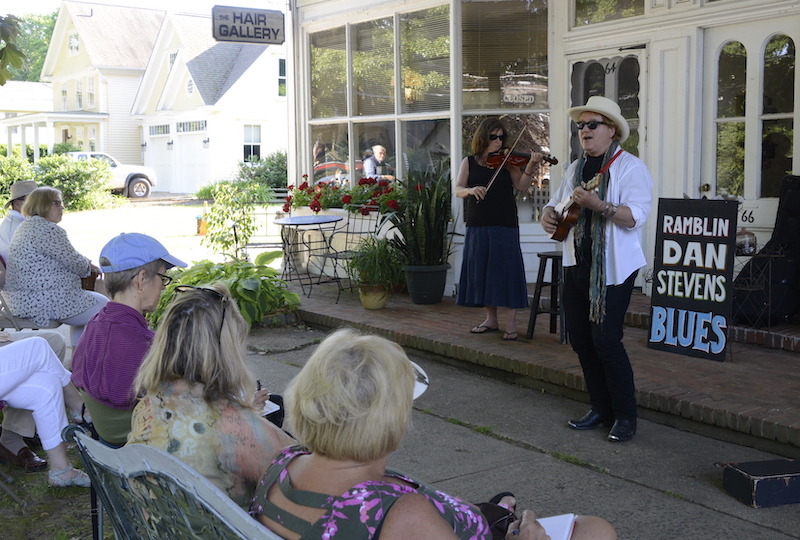 OLD LYME — A children's concert, modern dance, and a late day stroll with street musicians are just some of the highlights of Old Lyme's Make Music Day celebration this coming Friday, June 21. An international celebration of free music for all, the Old Lyme Arts District is producing the town's event in conjunction with the Southeastern Connecticut Cultural Coalition and the MusicNow Foundation.
Launched in France in 1982, Make Music Day is an international musical festival open to all who would like to participate, and takes place in over 1,000 cities in 120 countries on June 21, the summer solstice. The State of Connecticut Office of the Arts debuted the State's effort in 2018 with 528 free musical performances at 224 locations across the state, including Old Lyme.
Like 2018, the Make Music Old Lyme celebration will take place on Lyme Street, from the First Congregational Church of Old Lyme (corner of Lyme Street and Ferry Road) to Nightingale's Acoustic Café (68 Lyme Street), and include a special finale dance performance at Studio 80 + Sculpture Gardens (80-1 Lyme Street.)
The celebration begins at 4 p.m., when a family concert will be held at the Lyme Youth Services Bureau (59 Lyme Street). A free musical performance will be provided by Sunny Train, a local duo popular with young children. Families are encouraged to bring a chair or blanket to enjoy the concert.
From 5 to 7 p.m. Lyme Street hosts over a dozen musicians along its sidewalks and in front of businesses along the half-mile length of Lyme Street (see below for a complete profile of musicians.) Genres include bluegrass, folk, indie-rock, and pop. Musicians along the Stroll include Whiskey & Aspirin, Eben Salter & Willoughby Gap, Ramblin' Dan Stevens, Five Bean Row, Forever Fool, Woodsmoke, Sophia Griswold, Nightingale Fiddlers, Jess Kegler, Michael DeGaetano, Chris Gregor, Lonestar Caviar, and Gilead Road.
A teen open mic event for all genres of music will be held at the First Congregational Church during the stroll. This "Teen Hoot" will include several emerging artists such as Sophie Spaner, Cameron Gagnon, and Haley Stevens.
On the front lawn of Center School (49 Lyme Street), the String of Pearls orchestra will play a selection of big band sounds from the 1940s to today. Also on the front lawn, the Lyme-Old Lyme Lions Club will have grill items including hamburgers and hot dogs for sale during the concert from 5 to 7 p.m.
Other events welcome participation, including a Pickin' Party, where guitarists, banjo players, and others are invited to join in for a strumming twist to a drumming circle concept. Children's crafts will be available on the front lawn of the Old Lyme-Phoebe Griffin Noyes Library. Impromptu "ukulele parades" are expected to sprout up New Orleans style.
A number of businesses on Lyme Street will be open during the Stroll including The Cooley Gallery, The Chocolate Shell, Old Lyme Ice Cream Shoppe, and Nightingale's.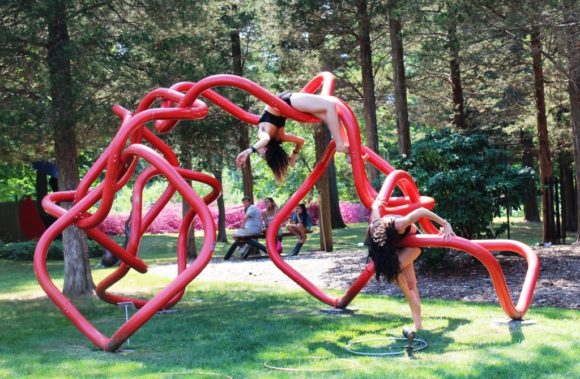 At the conclusion of the street music, all are welcomed to Studio 80+ Sculpture Grounds for a Finale to the event. GUSTO, a modern dance troupe, will perform a 10-15 minute piece "Gratitude: Solstice Dances" at 7:10 p.m.
Lawn chairs or blankets are encouraged for the String of Pearls, Teen Hoot, Studio 80 dance finale, as well as the Sunny Train pre-stroll concert.
According to Cheryl Poirier, one of the organizers of the event, "We were delighted to bring this event to life last year, and are excited to create an even bigger and better event this year. Lyme Street is the perfect location to enjoy a summer evening and catch the music of so many local performers. Musicians, including everyone from high school students to retired adults, are going to create a phenomenal evening."
For a complete lineup of activities (including weather contingencies), check back to OldLymeArtsDistrict.com.  
The District is a partnership of a dozen organizations and businesses promoting arts and culture on Lyme Street. Sponsors include LymeLine.com, Pasta Vita, Essex Financial Services/Essex Savings Bank, Paul Burdick Oil, the Merchants of Old Lyme Marketplace, William Pitt Sotheby's International Realty, Coldwell Banker of Old Lyme, Caliber Computer, and Zelek Electric.
Additional Web Addresses for reference:

Southeastern CT Cultural Coalition: culturesect.org
Lyme-Old Lyme  Chamber of Commerce: visitoldlyme.com
MusicNow Foundation and Nightingale's Acoustic Cafe: musicnowfoundation.org
International Make Music Day: makemusicday.org
Lymes Youth Services Bureau: lysb.org
Studio 80 + Sculpture Grounds: sculpturegrounds.com
Lyme-Old Lyme Lions Club: lymeoldlymelions.org
The full line-up of events as at  June 11, is as follows:
PRE-STROLL
4-5pm
Lymes Youth Services Bureau at 59 Lyme Street, Old Lyme
Sunny Train
Genre: Kids
Sing, dance, and play with LaLa and ChiChi of Sunny Train, Connecticut's favorite rockin' railroad family band! Kids and grownups alike adore their toe-tapping happy harmony filled original songs and catchy jams. While you listen to Sunny Train, enjoy Face Painting, Cotton candy, and oodles of fun in LYSB's back yard. Bring a chair or blanket.
http://www.sunnytrain.com
MASS APPEAL EVENTS DURING MUSIC STROLL ALONG LYME STREET
(Mass Appeal events are deemed so by the Make Music organization because anyone can join in and participate, as opposed to watching a free performance)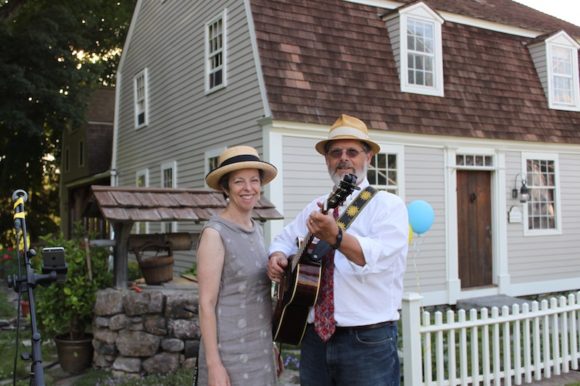 5pm-6:45pm
Old Lyme-Phoebe Griffins Noyes Library – Two Library Lane, Old Lyme
Children's Crafts (Mass Appeal Activity)
Join us at the public library and enjoy making a children's craft perfect for this Make Music summer celebration! (You'll be able to hear the live music coming from across Lyme Street at the ice cream shop!)
Impromptu Fun between 5pm-7pm
Ukulele Parade (Mass Appeal Event)
Watch for Ramblin' Dan Stevens and his kazoo- and ukulele-toting friends for a New Orleans style impromptu Ukulele Parade! Join us whether you have an instrument or not (clapping your hands to the beat counts!). We'll be handing out kazoos and harmonicas as supplies last. It's a celebration of the summer solstice!
https://www.facebook.com/danstevensblues/videos/2504195462946316/
https://www.facebook.com/danstevensblues/videos/2504187279613801/
5-7pm
First Congregational Church at 2 Ferry Road (corner of Lyme Street and Ferry), Old Lyme
Teen Hoot Open Mic (Mass Appeal event)
All Genres
Participate in the Open Mic music session for teens, or come and enjoy with your lawn chair! You'll find Sophie Spaner, Haley Stevens, Cameron Gagnon and more at this great emerging artist venue.
Nightingale Acoustic Cafe's Pickin' Party (Mass Appeal)
68 Lyme Street, Old Lyme
All Genres – Bluegrass – Country – Rock – Folk
Bring your strings to the Café's sideyard and join the Pickin' Party! Ramblin' Dan Stevens will be on hand along with the Tuesday night Pickin' crew to keep things moving around the circle and to do some harmonizing. All levels of strumming and fingerpicking appreciated. Think drumming circle but with guitars, banjos and other strings.
https://www.facebook.com/groups/1561935124034063/
MUSIC STROLL ALONG LYME STREET (in addition to playing to audiences in the above listed Mass Appeal events)
All the following artists will perform between 5 and 7pm
Nightingale Fiddlers
Bluegrass Country
Select Nightingale fiddlers will entertain with their mix of bluegrass, country, and toe-tappin' classicst
Eben Salter and Willoughby Gap
Americana Bluegrass – folk – singer/songwriter
Willoughby Gap is an acoustic band rooted in bluegrass and mountain folk music. The band, which gets its name from a mountain gap in Vermont, sings and plays traditional and original songs of life and death in the old Appalachian style. With influences like the Carter Family, Bill Monroe and Gillian Welch, Willoughby Gap is sure to please their audiences with original and traditional songs comprised of innovative harmonies and novel arrangements that touch the heart and soul of the listener.  
Whiskey & Aspirin
Singer/Songwriter/Indy-Folk/Americana
John "Mustang" Brown and David "JPD" Gregoire met two years ago at a Tuesday night picking party. Shortly after, John had a gig and needed someone to step in since his original side man had to cancel. Dave sat in for the set and thus Whiskey & Aspirin was born. While sharing the love of Americana music, they have introduced each other to a number of artists in addition to each writing their own songs.
https://www.youtube.com/watch?time_continue=2&v=EOrlXtcVBw
https://www.facebook.com/whiskeyandaspirin/
Five Bean Row
Americana-Folk-Blues music featuring Clayton Allen on lead guitar, Butch Foster and John Wood on acoustic, Joe Cavanaugh on bass, and Melissa Turner on fiddle!
https://www.youtube.com/watch?v=sblx5KVGaVo
https://www.facebook.com/Five-Bean-Row-634639890045184/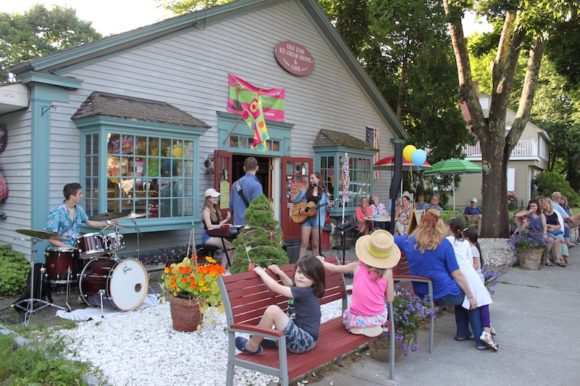 Sophia Griswold and Friends
Jazz – Indy Folk –  Indy Rock – pop
Sophia brings jazz and lively pop to Lyme Street with a mix of instrumentalists and vocalist friends. You'll hear current favorites and standards, and be amazed at the emerging talent here in Old Lyme.
https://pikstagram.com/sophia_griswold_music
Center School – 49 Lyme Street
String of Pearls
Standards – Swing
Bring your lawn chair and enjoy the Big Band sounds of String of Pearls, bringing you dance tunes from the '40's to present. Count Basie, Duke Ellington, Glen Miller, and Sammy Nestico are just some of the influences of this bands great songlist. https://www.facebook.com/stringofpearlsbigband/
Ramblin' Dan Stevens
Nightingale's Acoustic Café – 68 Lyme Street
Blues – Folk — Early country blues
If he isn't pickin' with the party or leading a ukulele parade, you'll find Ramblin' Dan on the Café front porch with traditional and rockin' finger-picking acoustic blues.
http://ramblindan.weebly.com
https://www.youtube.com/watch?v=Na4TaYvYhr0
Emerging Artists Jess Kegler and Michael DeGaetano
Singer/songwriter –  Pop – Indy Folk
Two multi-talented emerging artists, Jess and Michael will each delight their audiences with everything from indy folk to soft rock.
Sophie Spaner
Pop – Singer/Songwriter
Sophie Spaner is an emerging artist singer/songwriter who uses her ukulele and pop sensibility to entertain. If you combine the musical styles of Jenny Lewis and Rilo Kiley you get Sophie!.
https://www.youtube.com/attribution_link?a=bIahgl2Wdok&u=%2Fwatch%3Fv%3DivXHzdcvnRE%26feature%3Dshare&fbclid=IwAR1UvJFrLvHArZ-D5CRediqBPhAVZO3IDo0v-xmwB-mlwjZInVc0YX1GW_s
Woodsmoke
Americana Folk
Woodsmoke is as easy as a summer sunset –acoustic folk and Americana music that will have you leaning back and tapping your toes. Beautiful folky originals and covers with great guitar arrangements –Poignant and entertaining!
https://www.facebook.com/Woodsmoke-564029097033738/
Forever Fool
Singer/Songwriter – Rock – Soft Rock
Forever Fool plays a large variety of original songs from soft, mellow ballads like Simple Melodies to folk punk like Red and Blue. Singer/Songwriter Drew Cathcart is always up to entertain.
https://foreverfoolmusic.bandcamp.com
https://www.facebook.com/foreverfoolmusic/
Lone Star Caviar
Indy Folk Rock – Singer/songwriters
Kipp Sturgeon and Jack Hardesty bring great harmonies and strong string melodies to their duo which includes strong influences from Texas country and folksy blues.
Chris Gregor
Pop – Soul – Soft Rock
Emerging Artist Chris Gregor wows his audiences with his soulful melodies and harmonies. A voice that doesn't stop matched only by his soulful guitar.
Gilead Road
Soft Rock and Folk
Gilead Road is an acoustic duo singing originals sprinkled with gems of contemporary and traditional songwriting. Their songs tell stories of personal history, reflect on life and search for humor in today's wild world.
https://gileadroad.com
POST STROLL
7-7:30pm
Studio 80 + Sculpture Grounds
80-1 Lyme Street, Old Lyme
Gusto Dance Troupe with Accompanying Music
https://www.facebook.com/GUSTODance/
(bring lawn chairs or a blanket to enjoy the performance)
GUSTO Dance is thrilled to again perform at the stunning treasure of Studio 80 + Sculpture Grounds in a two-part series of dance pieces, on Friday, June 21, the Summer Solstice, during the cool Old Lyme Make Music Day 2019!
"'GRATITUDE' and 'RADIANCE' are two, site-specific pieces in the new series, "Solstice Dances," which GUSTO Dance is psyched to continue with future solstices," said Chloe Carlson, Artistic Director of Gusto Dance adding, "Pagan motifs associated with the feast day of summer solstice inspire the work, e.g. gratitude to the sun, appreciation of nature, light, fire, sunflowers, oak trees, deer, and celebration. And the abundant beauty of the Sculpture Grounds continues to provide endless fuel for our dancing!"
'GRATITUDE: SOLSTICE DANCES' is a dynamic homage to the pagan tradition of dancing gratefully to the sun for providing light for crops, as well as to the magic of the Sculpture Grounds and this community music festival. Celtic and other pagan motifs, like fire, light, the 'turning of the wheel' (seasons), reds and golds, and jubilation spark GUSTO's dancing.
Come celebrate the Summer Solstice with dancers Chloe Carlson, Paula Fagan, Sara Gregory, Meghan Bowden Peterson, and Christine Poland.