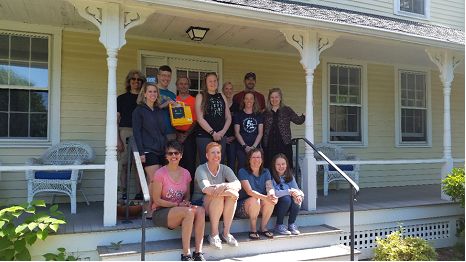 Lymes' Youth Service Bureau (LYSB) has installed an Automated External Defibrillator (AED) in their main Activity Center on Lyme Street. The addition of the LYSB's new AED contributes to the growing number of readily available lifesaving tools and skills that are part of the Connecticut Department of Public Health's "HEARTSafe Community" award to the Town of Old Lyme.
Critical Skills Education & Training owners Colleen Atkinson and Doug Lo Presti are local Emergency Medical Technicians and American Heart Association Instructors, who have coordinated the Town's HEARTSafe Community award through three renewals, continuing the placement of AEDs and training of hundreds of individuals who live and work in Old Lyme. Training consists of Adult, Child and Infant CPR, use of an AED and relieving an obstructed airway.
The purchase of the AED for LYSB was funded partially by contributions made by Critical Skills through classes held at LYSB but the principal contribution came from the non-profit group CT Trailmixers, a Southington-based trail-running club, whose members are passionate about sharing the love and use of trails in the state of Connecticut.
The Trailmixers' mission also includes making donations to a variety of causes and organizations, including the Southington YMCA and the Connecticut Forest & Parks Association. Proceeds also go to the CT Trailmixers' Shoe Scholarship Program which, in partnership with Fleet Feet West Hartford, gives free shoes to children in need, who wish to run cross-country or track in school.
Michael Lo Presti, CT Trailblazers Founder and President, reached out to Critical Skills on candidates for donations and Lo Presti and Atkinson suggested the idea of an AED for LYSB.
The Trailmixers' generous donation not only completed but surpassed the fundraising effort and LYSB purchased and installed the AED in May.
The AED purchased is a Public Access Defibrillator (PAD) and available to trained and untrained bystanders alike in case of emergency. LYSB is committed to providing services to the people who live, work and play in Old Lyme and has been a central point of service for generations of children. The acquisition of the AED helps to ensure the best care for the existing population and for generations to come.
In addition to LYSB, Public Access Defibrillators in Old Lyme are now located in
Old Lyme Town Hall
OL-PGN Library
Town Woods Park
SNAP Fitness
Old Lyme Wellness
Soundview Community Center
Old Lyme Country Club
Black Hall Golf Club
Mile Creek School
Lyme-Old Lyme Middle School
Center School
Lyme-Old Lyme High School
Saint Ann's Episcopal Church
First Congregational Church of Old Lyme
L & M Primary Care
Lymes' Senior Center
Old Lyme Beach ClubIf you are interested in acquiring an AED or in American Heart Association CPR/AED training, call Critical Skills at 860-304-8471 or 860-391-3779 or visit www.criticalskillseducation.com.