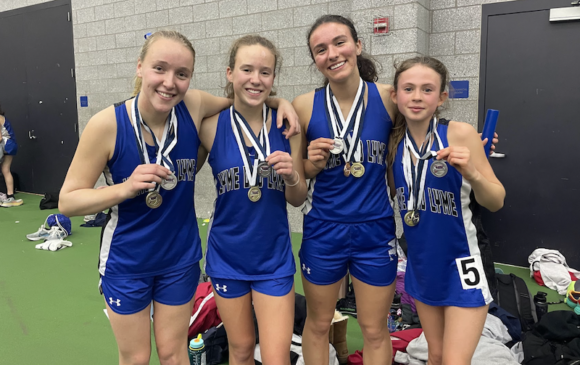 NEW HAVEN — On Thursday, the Old Lyme Girls Indoor Track & Field team came second in the State Class S championship behind Bloomfield, and ahead of Old Saybrook, while the Old Lyme boys notched 11th place overall.
Chase Gilbert took first place in the girls 3200m setting a new school record time of 10:54.12.
She was also a member of the 4 x 800 and 4 x 400 relay teams, which finished first and second respectively, and both of which set new school records.
The girls' relay team of Maddy Morgado, Aggie Hunt, Lyla Powers, and Gilbert recorded times of 4.32.83 and 9:49.96 in the 4 x 400 and 4 x 800 respectively.
The girls' split times in the winning 4 x 800 race were 2:30, 2:31, 2:31, 2:16 respectively and in the 4 x 400, in which they finished second, their split times were 65.8, 65.7, 64.1, 64.1 respectively.
With these times, the 4 x 800 girls' team and Gilbert in the 3200m have now qualified for the State Opens at Hillhouse in New Haven on Feb. 18.
Other key results for both Old Lyme teams were: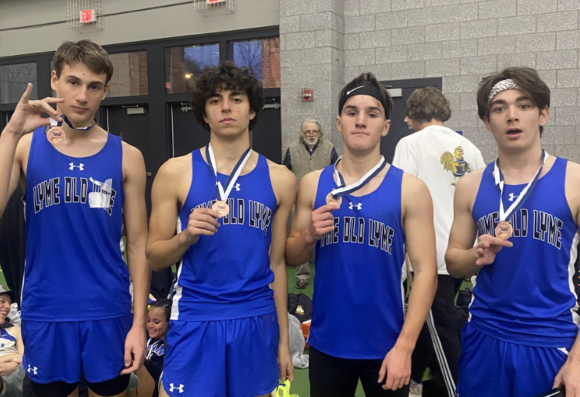 3rd place Boys 4×800: Eric Dagher, Gabe Tooker, Dylan Hovey, Marco Supersano 8:41.79 (splits: 2:11, 2:09, 2:10, 2:09 respectively) 
1st place boys shot put: Dylan Sheehan 51'2″
3rd place girls 600m: Lyla Powers 1:43.45
4th place girls 1000m: Maddy Morgado 3:11.95
2nd place girls 55 Hurdles: Zoe Eastman-Grossel 9.09 (9.05 during the prelims)
Additional Old Lyme athletes may qualify for the State Open dependent on the remainder of the Class S results achieved in subsequent day events.
Congratulations from all of us at LymeLine to both teams on such a remarkable season!