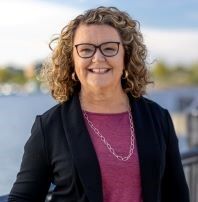 Martha Marx has been a trusted local leader for decades. As a visiting nurse for over thirty years, she advocated for her patients. As a two term city councilor, she collaborated with her colleagues to bring meaningful change to the city she loved. As a union president for over a decade, she fought for fair pay and better working conditions. And as a Waterford native, raising children in New London, she understands both the strengths and the improvements needed to make this district all it can be. Martha Marx has never stopped listening to her neighbors and never will.
1.What is the most serious problem currently facing the state of Connecticut? Why is it the most serious problem? What would you do to help solve the problem?
The most serious problem facing our state is overall affordability, but especially with regards to housing. The 20th district is booming with employment opportunities from Electric Boat to healthcare to education and social services. We will not be able to attract the most skilled work force without having workforce housing. Seniors who have worked in our district their entire lives find it difficult to stay in the 20th in a home they can care for and afford. We must make this an urgent priority, working with the municipalities and the corporations to find solutions to our housing needs.
2. If elected/re-elected, which issues (excluding the one you have described in Q1) would be your primary focus during your term?
Affordability will be my primary focus. Not only in housing but in healthcare, taxes, and transportation. We must continue to fund the public transportation system to help take cars off the roads and make our lives cleaner, more affordable and more efficient. We must work on healthcare costs, offer a public option and continue to make prescriptions more affordable. The regressive car tax needs to be updated. School lunches should be free for all students, not only to make families budgets go further but also to ensure that all children have access to a healthy meal at school each day. All of this is possible while we continue to keep our rainy day fund fully funded.
3. Why are you running for this position?
I am running for state senate of the 20th district because I love the people of this district and I will be a strong advocate in Hartford. I have lived here almost my entire life. As a nurse, my first responsibility is being my patient's advocate. I know the pulse of the district. I sit in constituents' homes daily and listen to the concerns of seniors, veterans, people with developmental and physical disabilities and those with chronic disease including mental illness. I am in sober homes, senior housing, board and care homes, group homes, veterans housing and seniors homes struggling to age at home. I know I will be the voice of many when I get to Hartford.