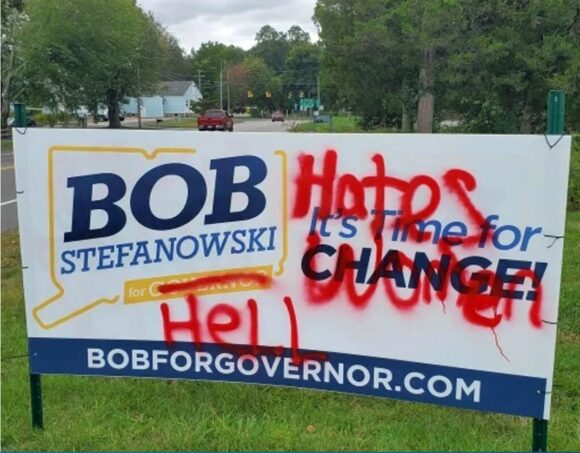 OLD LYME — Less than 24 hours after they were put up along a busy street in Old Lyme, two large signs promoting Republican gubernatorial candidate Bob Stefanowski were defaced with red graffiti, according to property owner J. David Kelsey.
Kelsey, who co-founded the Old Lyme-based real estate private-equity investment company Hamilton Point Investments LLC, is a Republican currently serving as chairman of the town's Board of Finance. Kelsey also funded the launch in 2019 of the CTExaminer, and in February he contributed $500,000 to the launch of a Super PAC that is supporting Stefanowski's campaign.
He said the signs were installed on his land around 2 p.m. Saturday and on Sunday were found defaced.
"It's a little disappointing," Kelsey said. He added …
Read the full article, titled, Political Signs Reportedly Defaced In Old Lyme, which was written by Christine Stuart and published Oct. 2, on CTNewsJunkie.com, at this link. Both CTNewsJunkie.com and LymeLine.com are members of the national organization LION (Local Independent Online News) Publishers.