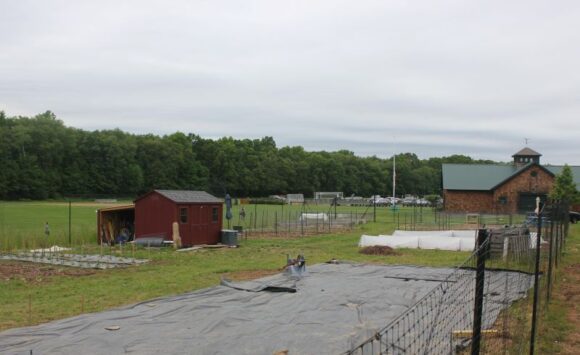 Growing.  Caring.  Sharing. 
OLD LYME — American horticulturist and botanist Liberty Hyde Bailey offered a tasty kernel of wisdom when he noted, "Plants do not grow merely to satisfy ambitions or to fulfill good intentions. They thrive because someone expended effort on them."
The good intentions of the Lyme-Old Lyme Food Share Garden (LOLFSG) began in earnest one year ago when volunteers convened at Town Woods Park during the first weekend of June 2021 to build a garden.
A flurry of 'firsts' soon followed – first trench, first fence, first raised beds – and one year later, the LOLFSG is on the verge of its first harvest!  The garden now boasts more than 30 in-ground rows and six raised beds.  Planted crops include peas, carrots, lettuce, tomatoes, peppers, cucumbers, kale, squash and more.
The 'someone' or more aptly, 'someones" expending effort to cultivate the LOLFSG's goals are the intrepid volunteers who dig trenches, haul mulch, erect fencing, plant seeds, water, weed and more.
LOLFSG is a nonprofit organization fully run by volunteers and without their concerted and ongoing efforts, the goal to support access to healthy food and reduce food insecurity by growing produce and donating it to local food pantries and kitchens would not be possible.
As the garden expands, the need for volunteers also grows.  The LOLFSG invites individuals of all ages to participate, including supervised children.   Teens interested in earning community service hours are also encouraged to volunteer.
Workdays are Wednesday and Saturday mornings from 9 a.m. to 12 p.m.   No gardening experience is necessary and tools/equipment are provided, including toddler-sized varieties.  Come when you can and leave when you must … every hour of work advances the mission of the garden.
An email is sent prior to each work session to identify tasks for the upcoming work session.
To join the volunteer mailing list, contact amelia.malsbury@gmail.com.
Updates and additional information and photos are available through Facebook, Instagram or https://www.lolfoodsharegarden.org/.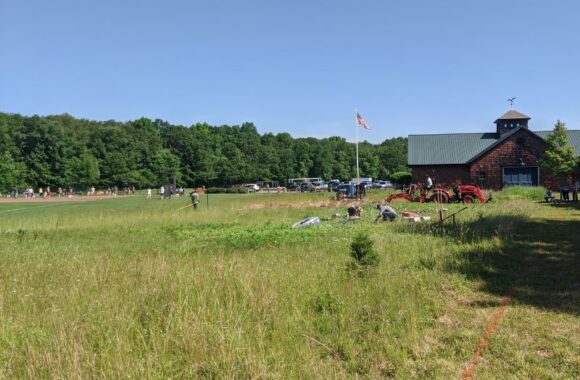 Editor's Note: Congratulations and kudos to all involved in this remarkable project, especially Jim Ward, who both conceived the idea and has subsequently led the project from its inception.