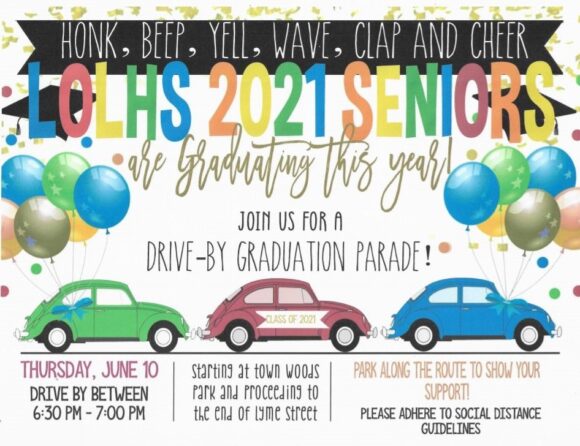 OLD LYME — Following on from the highly successful tradition started last year when a full graduation ceremony at Lyme-Old Lyme High School could not be held due to COVID-19 restrictions, another car parade will be held through Old Lyme to celebrate the graduating seniors.
The actual graduation event, which can be held in full this year with all the associated pomp and ceremony, will be held the following day, Friday, June 11, at the high school.
On the evening of Thursday, June 10, starting at 6:30 p.m., LOLHS seniors will form a parade of their personally-decorated cars in Town Woods Park. The parade will proceed from there to Boston Post Rd. and then follow that to Lyme Street continuing to the foot of the McCurdy.
The Old Lyme Fire, Police and Ambulance Departments will be participating.
The hope is that the townspeople will line the route to celebrate the graduates with cheering, waving signs, honking horns and generally making a supportive noise.  All those celebrating along the route are urged to follow social distancing guidelines at all times.
The parade is anticipated to last until 7 p.m.
The parade organizers are Donna Dean, and Brian and Pam Greenho, who are parents of graduating seniors. Dean commented, "You can feel the excitement in the town for the parade! People are so happy for these kids, happy that they may actually have a "normal" graduation."