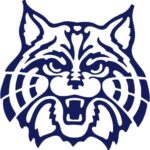 LYME-OLD LYME — Kirk Kaczor's boys continued their extraordinarily successful run this season taking their record to 11-1 with yet another win last night, this time over East Hampton.
Old Lyme outlasted the Bellringers 65-51.  Leading the Wildcats were the duo of Aedan Using and Jared Ritchie, who scored 21 and 20 points respectively. Brady Sheffield chipped in with 11.  Using also had 17 rebounds and five blocks, while Ray Doll notched six assists.
Tye Lynch and Stephen Brady scored 16 and 14 points respectively for East Hampton.