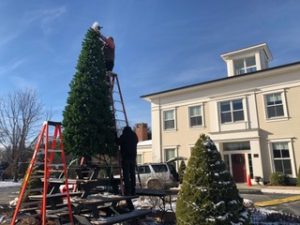 OLD LYME — The Lyme Academy of Fine Arts starts a new tradition this afternoon at 4 p.m. and invites the whole community to join them! With a fir tree towering high into the air in front of the Elisabeth Gordon Chandler Center, the Academy is hosting a tree-lighting the like of which Old Lyme has not seen for many years. All are welcome to attend this fun-filled evening and ring in the holiday season.
Stacey Leonardo, who serves as Executive Assistant at the Academy, explains that the idea for the event was conceived because, "The Academy wanted … to bring the community together to welcome in the holiday season." As members of the Academy began to prepare for the event, they soon felt, in Leonardo's words, at they, "Wanted to add in some additional family friendly activities to make the evening even more special."
The result is that the original idea for just the tree-lighting has now turned into a much more extenive family-friendly event that will feature a musical performance by the Lyme-Old Lyme Middle School Band led by Carrie Wind, who will play festive holiday classics in the Stobart Barn.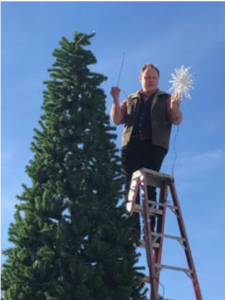 Inside the Chandler Center, children will be able to make an ornament for their homes and also bring their Christmas lists to Santa's Elves in the lecture room.  The Elves in turn may have a treat or two in store for the children in the form of candy canes and more!
Meanwhile, adults can enjoy the Hauthschild Exhibit of paintings of steam locomotives, which is on loan from the Valley Railroad Company in Essex and will be on display outside the Chauncey Stillman Gallery in the Chandler Building.
And to ensure no one goes hungry or thirsty, families can enjoy hot chocolate and cookies generously provided by Essex Savings Bank in the reception area.
In order to host this event, the Academy has partnered with a number of generous sponsors, which include Essex Savings Bank, Lyme-Old Lyme Chamber of Commerce, Beautigasm Makeup Artistry, and Doug Hampton Dowson Photography.
The Academy invites those who attend to bring a donation of non-perishable food for the Shoreline Food Kitchens.