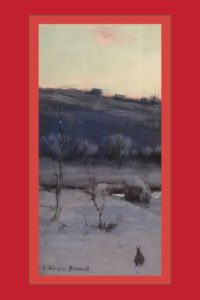 OLD LYME — The Cooley Gallery 's annual holiday sale featuring an eclectic mix of art and objects in all sizes is on view at 25 Lyme Street in Old Lyme through Jan. 7, 2020.
Located in the beautiful little village of Old Lyme, The Cooley Gallery is an ideal spot to enjoy among the best of American art while celebrating the season with a great New England tradition.
Founded in 1981 and located in the heart of historic Old Lyme, the Cooley Gallery specializes in fine American paintings from the 19th, 20th, and 21st centuries, including the Hudson River School, American Impressionism, and select contemporary artists.
Gallery hours are Thursday through Saturday 12 to 5 p.m. and Sunday 12 to 4 p.m. or online anytime at www.cooleygallery.com