Starting in November 2017, Florence Griswold Museum Art Education Director Julie Garvin Riggs and her assistants have been leading art classes with Adult English Language Learners from New London Adult Education.
Each month, the art educators present different techniques and mediums such as print making, ceramics, mask-making, and collage to culminate in a show to be held at Expressiones Gallery in May under the direction of Jose Garaycochea.
It is part of the Expressiones' mission to be a community gallery and an opportunity to "give voice" and "expression" to adults challenging themselves to learn English. The project demonstrates clearly how the students not only grow in their abilities, but also experience great joy as their exposure to art increases. For some, it is their first time creating art or visiting a museum such as the Florence Griswold or both. For others, their baking, cooking, sewing or masonry experience translates well into fine motor skills applicable to art. And for those leading and supporting this project, they find it equally rewarding to see students flourish with their innate or experienced talent.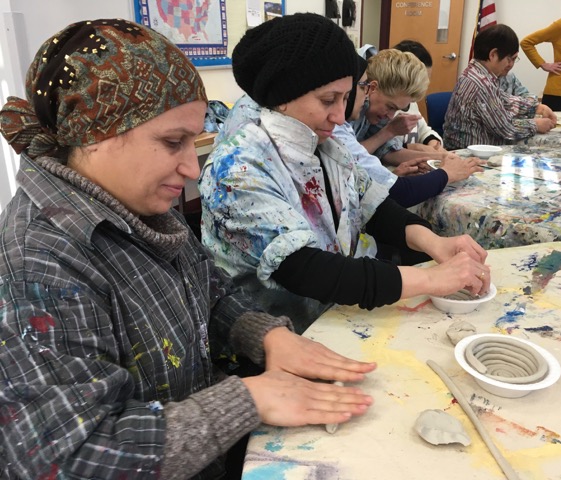 During the most recent January session, students worked with clay to make coil pots (see photo above), which will air dry before being painted. A number of the bowls were very elaborate and even decorated with snails.