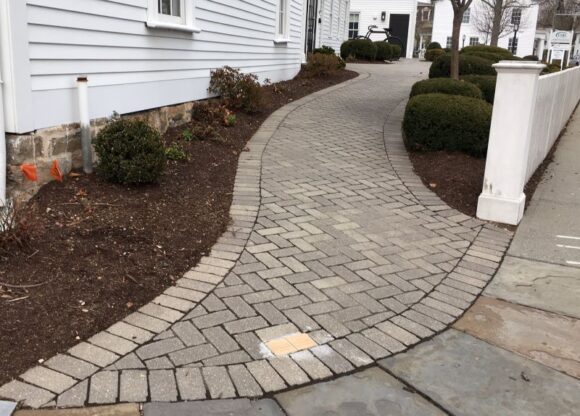 Project Will Install Historical Plaques Honoring Lives of Enslaved Individuals from Old Lyme; Introduce Educational Curriculum in Schools; Raise Awareness of Local History
Partnership Members are Phoebe Griffin Noyes Library, Florence Griswold Museum, First Congregational Church of Old Lyme and Lyme-Old Lyme Schools 
OLD LYME — The Old Lyme Witness Stones Partnership has launched a public education and engagement effort that will introduce an educational curriculum for seventh-grade students of Lyme-Old Lyme Schools that will raise awareness of the town's history. 
The project will also involve the installation of small historical plaques on Lyme Street commemorating the lives of individuals, who were once enslaved in Old Lyme.
Each historical plaque – or "witness stone" – will include the name of an enslaved individual, along with important details about their lives and circumstances derived from land records, emancipation certificates and other available historical documents. Middle school students will research these historical materials to explore the experiences of these vital but forgotten members of the community.
Amy Kurtz Lansing, the Florence Griswold Museum Curator, notes that the Museum, "Seeks to broaden awareness of American art, history and landscape."
Commenting on the Museum's involvement in the project, she says, "Just as we have been expanding narratives and bringing alternative voices into our exhibitions and interpretations, we see the Witness Stones project as a framework for parallel efforts in the community."
Kurtz Lansing adds, "By marking the sites where enslaved people lived, the Witness Stones project reveals hidden histories and broaden narratives about Old Lyme's past."
Lyme-Old Lyme Schools are introducing the Witness Stones project curriculum this semester to seventh-grade social studies and language arts classes and will continue to include it as part of the educational curriculum through 2026.
Ian Neviaser, Superintendent of Lyme-Old Lyme Schools, comments, "The Lyme-Old Lyme Schools are pleased to bring history alive by partnering with our community members to help our students better understand the history of our area through this project.  The use of primary source documents helps develop in our students the ability to analyze and understand what life was like generations ago."
It is anticipated that 12 witness stones providing the names of persons enslaved on properties along Lyme Street will be installed in late May to coincide with completion of the seventh-grade curriculum. The installation ceremony will feature projects designed by the local student-historians. 
The witness stones in Old Lyme will correspond to those installed in other Connecticut towns.  Each will consist of a four-inch square engraved bronze plaque installed flush with the ground.
Volunteers from the First Congregational Church of Old Lyme will maintain the plaques, which will be polished twice yearly by its Sunday School and youth group members. 
The Phoebe Griffin Noyes Library will install a sign that includes a map showing sites of enslavement on Lyme Street. Katie Huffman, Director of the Phoebe Griffin Noyes Library says the library is proud to be a partner in the development and implementation of the Old Lyme Witness Stones Project. 
She remarks, "While the Library will not have a marker on its grounds, we are honored to help remember the history of enslaved individuals in our community in this meaningful and lasting way.  As one of the local institutions committed to preserving Old Lyme history, we recognize the importance of telling these untold stories." 
"It is our hope," she says, "that telling them will bring a new awareness and understanding of Old Lyme's history to our community."
The Witness Stones Project was started by Dennis Culliton, a retired Guilford school teacher, who modeled it after the Stolpersteine Project in Berlin, which commemorates the lives of individuals persecuted by the Nazis before and during World War II. 
Guilford, Madison, Farmington and West Hartford are among the Connecticut towns participating in the project. The Old Lyme Witness Stones Partnership will extend the project along the Connecticut shoreline.  
Steven Jungkeit, Senior Minister of the First Congregational Church of Old Lyme, explains why the church has joined the initiative in these words, "I'm so pleased that Old Lyme is participating in the Witness Stones project. And I'm grateful to partner with so many other organizations in town as we resurrect the memory of those who were enslaved in Old Lyme across more than 150 years."
He points out, "Too often, we assume that New England had no relationship to slavery, and that the infernal institution only existed in the South. The Witness Stones help to correct that myth, and help us to see our past with greater clarity."
Jungkeit concludes, "Together, we'll learn to say the names of those who labored in bondage in Old Lyme: Temperance and Jane, Oxford and Moses, Nancy and Lewis, and so many more.  By remembering forgotten voices, we can help bring about the racial justice and healing that our world, our country, our state, our town, and our very lives so desperately need."
Editor's Note: i) The Old Lyme Witness Stones Partnership's goal is to expand the understanding of local history and honor the humanity and the contributions of those formerly enslaved in the community. This new partnership is part of a growing regional coalition of organizations raising awareness of New England's forgotten history that includes the Bush-Holley House in Greenwich, Historic Deerfield in Massachusetts, the Stopping Stones Project in Vermont and the Martha's Vineyard African-American Heritage Project.
ii) This article was prepared from a press release sent by the Old Lyme Witness Stones Partnership.