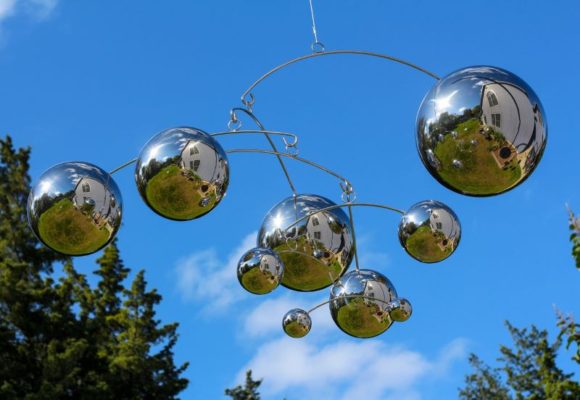 OLD LYME — The New Canaan Land Trust (NCLT) and the Carriage Barn Arts Center recently announced the eight artists whose work has been selected for their 'first of a kind' outdoor public art exhibition, the New Canaan Sculpture Trail. One of those selected from the more than 70 submissions made is Gilbert Boro, whose residence and studio are both located on Lyme St. in Old Lyme.
Asked how he felt about his selection, Boro told LymeLine, "We are excited and, of course, honored to be participating in the New Canaan Sculpture Trail. Their goal is to connect audiences in a united call for creativity, innovation, and ambition as a way of recognizing the 50th anniversary of Earth Day." He added, "Considering the environmental, social and political disorder all about us, I believe that these public art displays bring some semblance of beauty to all of us who take the time to look."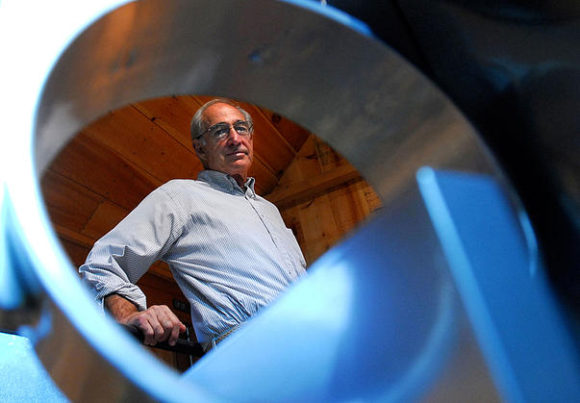 Boro's work selected for the Sculpture Trail is After Alex I/14, which Boro describes as, "a hanging, kinetic sculpture made of welded stainless steel and highly-polished stainless steel spheres."  He notes that the piece is inspired by the works of Alexander Calder and "is one of a series created during a surge of activity titled, "Balls, Beams, and Curves."
Expanding further on the series, Boro explains that these sculptures were designed and fabricated in his studio over a period of nine to 10 years and can be installed indoors or outdoors.  He points out, "These kinetic sculptures are constructed to take advantage of the principle of equilibrium – a state in which opposing forces or influences are balanced," adding, "The mirrored spheres have many meanings for me as an artist."
A firm believer that "three-dimensional art should be handled, touched, and experienced in three dimensions," Boro's four-and-a-half-acre sculpture grounds adjacent to his studio at 80-1 Lyme Street, known as Studio 80 +Sculpture Grounds, offer free admission to the public year-round and offer the opportunity for all visitors, in Boro's words, "to not only view my art, but touch and explore it."  He says with passion, "It brings me great joy to watch people of all ages interacting with my sculptures."
When asked to comment further on the specific piece chosen for the New Canaan Sculpture Trail, it is therefore no surprise in light of his personal philosophy that Boro says, "Most importantly, the viewers of the sculpture become part of the spheres, and thus, in turn, become a dynamic part of the space and subject material."
The New Canaan Sculpture Trail will feature the selected outdoor sculptures at six New Canaan Land Trust preserves, the front lawn of the New Canaan Town Hall, and the courtyard of the Carriage Barn Arts Center. The four-month exhibit will run from April 1 through July 31, 2020, in celebration of the 50th anniversary of Earth Day, which takes place on April 22. An Opening Celebration for the New Canaan Sculpture Trail will be held Saturday, April 25, at the Carriage Barn Arts Center.
The Exhibition Advisory Committee evaluated the submissions on their ability to respond to the scale, geography, and context of the properties and meet the criteria of being visually engaging, interactive, and distinctive. The committee included Hilary Wittmann, Executive Director of the Carriage Barn Arts Center, Richard Klein, Exhibitions Director at the Aldrich Contemporary Art Museum, Thea Lanzisero, President of the Sculptors Guild, and Aaron Lefland, Executive Director of the New Canaan Land Trust.
"We are thrilled by the caliber and number of the submissions that we received," commented Wittmann. "We believe the Sculpture Trail's range of works and artists will draw both New Canaan residents and visitors alike to this inaugural exhibition."
Artists throughout the New York metro area, New England, and as far as Illinois submitted the selected sculptures. The mediums of the planned sculptures range from a series of steel frames holding acrylic sheets, welded steel, wood, rocks, and even a fallen, "upcycled" tree harvested from one of the Land Trust's preserves.  
Aaron Lefland elaborated: "Connecting audiences to art and nature on our preserves is a wonderful way to recognize the 50th anniversary of Earth Day. We are overwhelmed by the number of submissions and the diversity of the sculptures."
Apart from Boro, the artists selected to participate are Thomas S. Berntsen of Norwalk, CT; Joe Chirchirillo of North Bennington, VT; Carlos Davila of Bridgeport, CT; Christopher Kaczmarek of New York, NY; Elizabeth Knowles of New York, NY and William Thielesen of Illinois; Anthony Heinz May of Brooklyn, NY; and Matthius Neumann of Brooklyn, NY.
The New Canaan Sculpture Trail has been made possible by the generous support of Harlan and Lois Anderson Foundation, who serve as the lead sponsor for the exhibition. Their sponsorship, along with three contributing sponsors — Stuart Higley Family Foundation, AP Construction, and the Town of New Canaan — will help cover the costs of artist stipends, property preparation, maintenance, and promotional expenses.
Editor's Notes:
For more information about Gil Boro, visit www.gilbertboro.com  For more information about the New Canaan Land Trust, visit www.newcanaanlandtrust.org  For more information about the Carriage Barn Arts Center, visit https://carriagebarn.org