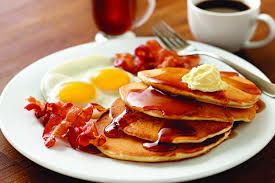 The annual Super Bowl 'Scholarship Breakfast' hosted by the Lyme-Old Lyme Lions promises yet again to be a lively and delicious event this year.
Scheduled for Sunday, Feb. 3, from 8 to 11:30 a.m. at the Lyme-Old Lyme High School cafeteria, this year's breakfast hosts 'The Voice' superstar Braiden Sunshine, who will provide musical entertainment during the event.  Enjoy the Good News Clowns and their balloon creations, face painting and silly antics.
Meanwhile, the school's award-winning Techno Ticks FIRST Robotics Team 236 will also be on hand to demonstrate their new robotic creations up close … and personal!
Feast on a hearty menu of blueberry pancakes, breakfast sandwiches, scrambled eggs, sausage, bacon, tater tots, fresh fruit, coffee and OJ. Door prizes include restaurant and salon certificates, and other items donated by local businesses.
During the event, the Lyme-Old Lyme Lions will conduct free, quick, non-contact eye screenings for people 2 to 92 years of age, using "Spot," an instrument resembling a Polaroid camera. From a distance of three feet, "Spot" checks for six eye diseases, and within seconds it produces a detailed test report.  This state-of-the-art equipment is used in the new Lions' PediaVision preschool eye screening program.
The Lyme-Old Lyme community is invited to participate in this fun event.  The annual breakfast is the Lions' primary fundraiser for four $1,500 Lions' scholarships awarded each year to deserving high school students resident in Lyme or Old Lyme.
Tickets are $10 for adults, $8 for seniors, and $5 for children under 12.  For more information on Lions' scholarships and the PediaVision program, visit www.lymeoldlymelions.org.