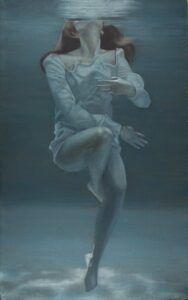 OLD LYME — Lyme Youth Service Bureau (LYSB)'s annual Youth Art Show, which is now in its 36th year, celebrates the artistic achievements of K through 12 students, who attend Lyme-Old Lyme (LOL) Schools. The show includes many pieces that have recently won impressive awards in state and local competitions.
The show is a collaboration between LYSB, LOL Schools, and Lyme Academy  of Fine Arts. The show features drawings, paintings, graphic, and ceramic arts and is held in the Academy's Sill House Gallery.
The show opens on Thursday, April 7, with a reception from 4 to 5:30 p.m. for Grades K to 5, followed immediately by one for Grades 6 to 12 from 5:30 to 7 p.m.
The show will be on view from 10 a.m. to 4 p.m. daily for the next two days, Friday April 8, and Saturday April 9, and also on Saturday, April 16.
All are welcome and admission is free.
The Sill House Gallery at Lyme Academy of Fine Arts is located at 84 Lyme St. in Old Lyme.
For more information, contact Lymes' Youth Service Bureau at 860-434-7208 or visit www.lysb.org.