When:
February 13, 2022 @ 8:30 am – 11:30 am
2022-02-13T08:30:00-05:00
2022-02-13T11:30:00-05:00
Where:
Lyme-Old Lyme High School Cafteria

Lyme-Old Lyme Lions Club Hosts Annual Pancake Breakfast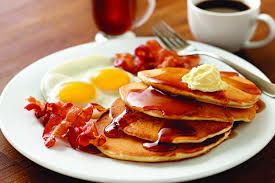 On Super Bowl Sunday, Feb. 13, the L-OL Lions Club will offer its annual pancake breakfast to the public, which has been interrupted only once, in 2021, in 30 plus years by the pandemic.
Lyme-Old Lyme High School Cafeteria is the place, and all ages are welcome.
The All-You-Can-Eat Breakfast Menu includes pancakes (plain, blueberry, chocolate chip), eggs, sausage, hash browns, a fruit cup, juice, coffee and tea.
There will be door prizes on display, and a 50-50 raffle!  The Robotics team "Technoticks" will be entertaining old and young alike.
Please buy tickets at the door.  Age 2 and under eat FREE. Children 3-12 are $8, Adults are $12, and Seniors 60+ are $10.  All funds raised go toward our Lions scholarships for graduating seniors.
Everyone wear a mask, please!
For more information, contact Bev Lewis (860) 460-5908.