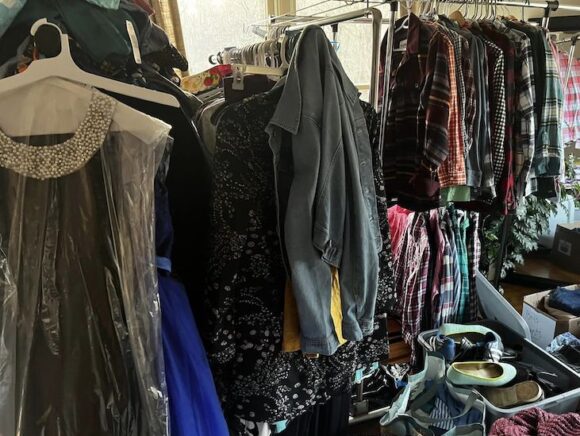 OLD LYME — A senior at Lyme-Old Lyme High School (LOLHS) is "doing her bit" for both the local community and the environment tomorrow.
Maddie McCulloch is holding a free Pop-Up Closet tomorrow, Saturday, March 4, from 11 a.m. to 2 p.m. at the Rogers Lake Clubhouse. All are welcome and there is no charge for admission. Although the target audience for the clothing is primarily middle and high schoolers, some youth boy/girls' clothes are available too.
Maddie McCulloch is hosting the event as part of her LOLHS Senior Project. Asked why she chose this project specifically, she responded that she saw it as, "An extension to my community service efforts called Small Efforts, Big Impact, which I have been doing since 2019 as a way to try and keep Lyme and Old Lyme a bit cleaner by picking up trash on the side of the road."
McCulloch added, "I also chose it because fast fashion has been on the rise recently and as a result, the environment has suffered greatly. This project is a more environmentally-friendly way of shopping for clothes and allows quality pieces to be given a new home for free."
Noting that she has received an "amazing" amount of donated clothes and other fashion accessories, she points out that quality is the key to all the items in the 'Closet' and that some even still have their original sales tags. McCulloch is asking that no resale of the clothes should occur.
She has already made plans for any clothing remaining after the 2 p.m. closing time, explaining, "Any left-over clothing is going to the Free Treasures Den, which is part of the Saybrook Community Church in Old Saybrook." She adds, "And any left over formal/prom dresses are going to a women, who collects those dresses for at-risk women in the Hartford area."
Editor's Note: Good luck with this worthwhile endeavor, Maddie! We hope it is a huge success.